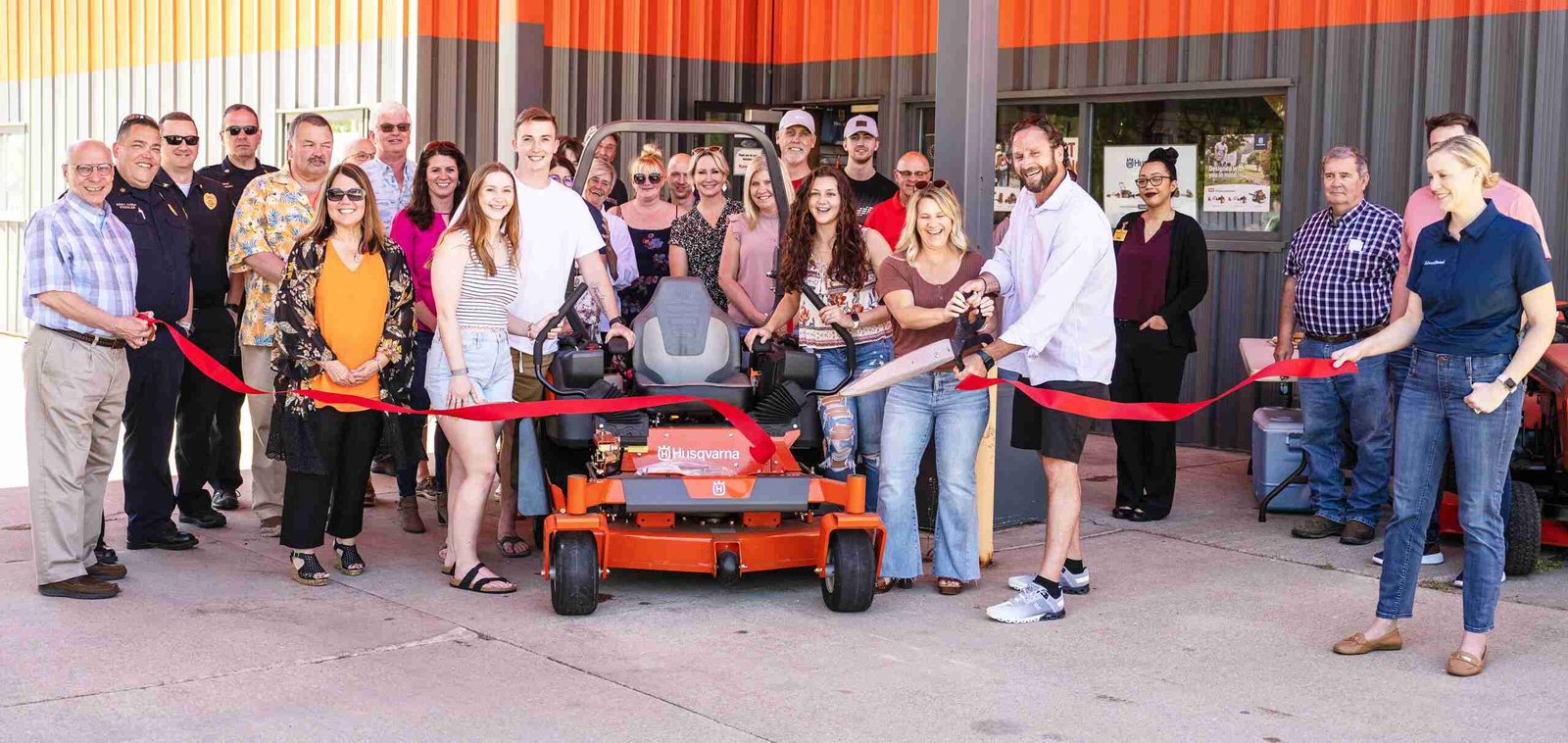 RIBBON CUTTING… Thom and Jamie Giguere hold the ceremonial scissors to cut the ribbon from the Chamber of Commerce for their new business. In attendance were local businesses and members of the Chamber of Commerce, officials from The City of Wauseon, as well as friends and family. (PHOTO BY JACOB KESSLER, STAFF)
---
By: Jacob Kessler
All In One Sales and Service, located at 270 East Linfoot Street in Wauseon, held a ribbon cutting on Friday, May 13th. The ribbon cutting took place to celebrate new ownership of the business.
All In One offers numerous small engine services pertaining to all kinds of yard equipment. Some of these services include tune ups, oil changes, spark plug work, full engine rebuilds, and overhauls.
The business also sells outdoor equipment from brands like Husqvarna, Briggs and Stratton, DR Power Equipment, and Carlton.
The new ownership also includes the barber shop next store, run by Denny Rupp, and the self-storage lot that has been a staple in the community and has been known for their low prices.
All of these parts of the business were acquired by Thom and Jamie Giguere.
Their daughter Avery and son-in-law Elliot are also partners with them for the business. This family team has been working to provide the same expected service to their past and present customers.
Mr. Giguere explained that the inspiration to buy the business came to him one day while he was inside picking up his lawn mower.
"It was a Saturday morning, and I came in and picked up my lawn mower. When I was there, I was asked if I wanted to buy the place."
"I went home and told my wife that I had been offered the business and she said that we were going to buy it."
Not too many people get to partner with their children. My parents and son-in-law are also involved and so are our friends and family which is what gave us the courage to do it. The other part has been the community."
Thom and Jamie Giguere would like to thank Bob and Jody Weber, their mechanics Jake Campbell and Cade Smith, Doug Shaw and Dave Gerken from Farmers and Merchants State Bank, Bob Bohmer and Mark Hagans from Rupp, Hagans & Bohmer, LLP, the Chamber of Commerce and all of their customers who continue to support them.
Jacob can be reached at jacob@thevillagereporter.com
---