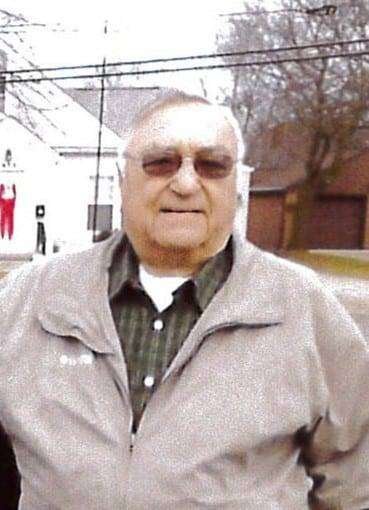 Richard Allen "Mouse" Colon, age 83, of Wauseon died suddenly Friday February 27, 2015. Prior to his retirement he had worked for Wayne Lammon & Sons, Toledo Edison Company, Colon-Gype Motors, Allan AMC-Jeep, Zehr & Company, Young Spring and Wire and then retired from the Corrections Center of Northwest Ohio. In his retirement he had worked for 17 years for Nofziger Farm Service.
Mr. Colon was born on November 8, 1931 in Metamora, Ohio to the late Ernest and Lettie (Apt) Colon. On May 5, 1956 he married the former Carolyn Sue Spring and she survives. He graduated from Wauseon High School in 1950 and served in the US Navy from 1951-1955. He was a member of the First Church of God in Wauseon where he served on the Board of Trustees and the Church Council, a life member of the American Legion Post 265 in Wauseon, VFW Post 7424 in Wauseon, the USS Pine Island and USS Philippine Sea Associations. From 1960-1970 he served on the Wauseon Fire Department. He was a volunteer driver for the Fulton County Senior Center and delivered Meals on Wheels for the Fulton County Health Center. He also Managed and coached the American Legion Youth Baseball Team for 13 years, 1973-1986.
Surviving is his wife of 58 years, Sue, children, Roy (Diane) Colon of Pettisville, and Christine (Darrell) Peckham of Leander, Texas. Also surviving are grandchildren, Adam Colon, Tiffany (Bret) Silveus, Eric and Kiefer Peckham, great-grandchildren; Adilyn Colon, Drew, Ehren and Kirstin Silveus, sisters, Oletha England (Wendell) Newcomb and Ernestine Young. Preceding him in death were brothers, William, Kahl and Alva and sisters Mary England and Leora Hovis and Brothers-in-law Everett England and Clyde Young.
A memorial service will be held on Saturday March 7, 2015 at 4:00pm at the First Church of God in Wauseon with Pastor Paul Flores officiating. The family requests that memorial contributions be made to the First Church of God. Online condolences may be made to the family at www.GrisierFH.com. The Edgar-Grisier Funeral Home in Wauseon has been entrusted with arrangements.