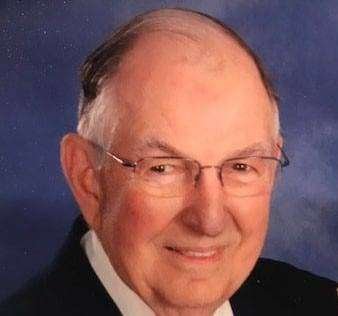 Robert H. Bauer, age 87, of Edon, Ohio, passed away at 4:05 P.M. on Monday, March 19, 2018, at Community Hospitals and Wellness Center in Bryan, Ohio, where he was a patient, after a brief illness.  Mr. Bauer was a 1948 graduate of Edon High School and proudly served his country in the United States Army and was deployed to the Korean Conflict from 1951-1953.  He was awarded the Korean Service Medal with four bronze stars, the United Nations Service Medal and the Republic of Korea Presidential Unit Citation.
Always a patriot, Bob was very active as a Life member of Edon American Legion Post #662.  He was instrumental in the planning and building of the Williams County Veterans Memorial Building and was recognized by the Williams County Commissioners for his efforts along with three other "Bobs" by naming the walkway approaching the building "Bob's Boulevard."  Bob was a member of St. Peter's Lutheran Church in Edon and was also a Life member of Bryan VFW Post #2489.  A loyal and devoted husband, he was always there for his kids, ready and willing to help with anything and everything at anytime.
Robert H. Bauer was born at home in Edon on November 4, 1930, the son of Carl and Thelma (Houk) Bauer.  He married the love of his life, Lucille E. Rathge at St. Peter's Lutheran Church in Ridgeville Corners, Ohio, on November 8, 1953.  They made their home in Edon, purchasing a 100 acre farm, which he worked for thirty-five years while working as a machinist for The Aro Corporation, retiring in 1992.
Survivors include his wife of sixty-four years, Lucille; their children, Sandra Bauer, of Montpelier, Ohio, Perry (Teresa) Bauer, of Selma, North Carolina, and James (Tricia) Bauer, of Hudson, Michigan; seven grandchildren; nine great-grandchildren; and one brother, William (Erma) Bauer, of Montpelier.  He was preceded in death by his parents and an infant daughter, Dawn Renee Bauer.
Visitation will be held on Thursday, March 22, 2018, from 4:00-8:00 P.M. in the Krill Funeral Home, 204 West Indiana Street, Edon.  Services will be held on Friday, March 23, 2018, at 1:30 P.M. in St. Peter's Lutheran Church in Edon, with Reverend Roger Marlow officiating.
Interment will follow in the Edon Cemetery with grave side military rites conducted by Edon American Legion Post #662 and the United States Army Honor Guard.
Memorials are requested to St. Peter's Lutheran Church or to the Williams County Veterans Building.
To sign the online register or to send condolences, please visit www.krillfuneralservice.com.