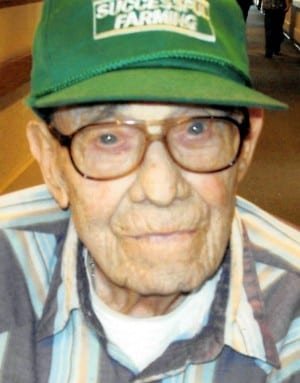 Russell Earl Dunseth, 94, of Montpelier passed away on Sunday February 28, 2016 at Hillside Country Living in rural Bryan. He was born on June 21, 1921 in Mitchell, South Dakota to Sylvester A. and Minnie (Yates) Dunseth. Russell graduated from Metea High School in Metea, Indiana in 1940. He attended both Defiance College and Indiana University. He proudly served his country in the United States Army Air Corps during WWII. After his service in the war, Russell married Betty J. Durham on May 30, 1947 in Williams Center, Ohio and she preceded him in death in January of 2012.
Russell worked as a heat treat supervisor at Aro Corp in Bryan for 42 years until his retirement in 1984. He was also a farmer. Russell was a lifelong member of the Bryan V.F.W. Post #2489, where he was the last of the surviving WWII veterans and a dedicated member of the honor guard. He was also a lifelong member of the Military Order of Cooties, Williams County Coon Hunters, Montpelier Moose and the Eagles in Bryan and Montpelier. He attended West Bethesda Presbyterian Church.
Russell is survived by his four sons, Marvin (Connie) Dunseth of Bryan, Melvin Dunseth of Bryan, Maurice Dunseth of Houston, Missouri and Max (Tina) Dunseth of Coldwater, Michigan; two daughters, Marilyn Moor of Montpelier and Millie (George) Bible of West Unity; twelve grandchildren; several great grandchildren; brother-in-law Don Kretzer of Sherwood, Ohio; sister-in-law Norma Jones of Edgerton; and numerous nieces and nephews.
He was preceded in death by his parents; wife Betty J. Dunseth; three brothers, Robert, Roy and Kenneth Dunseth; and two sisters Sylvia Barrow and Lucille Lilly.
Visitation for Russell will be held on Friday March 4, 2016 from 2-7 pm at Thompson Geesey Funeral Home, Empire Street Chapel, 335 Empire Street in Montpelier. A funeral service will take place on Saturday March 5, 2016 at 11 am at the funeral home with Pastor Brad Faler to officiate. Interment will follow at Ney Cemetery in Ney, Ohio, with military rites being presented by the Bryan V.F.W. Post #2489.
Memorial contributions may be made in Russell's memory to the Bryan V.F.W. or the Williams County Coon Hunters. Online condolences may be left for the family at www.thethompsonfuneralhome.com.