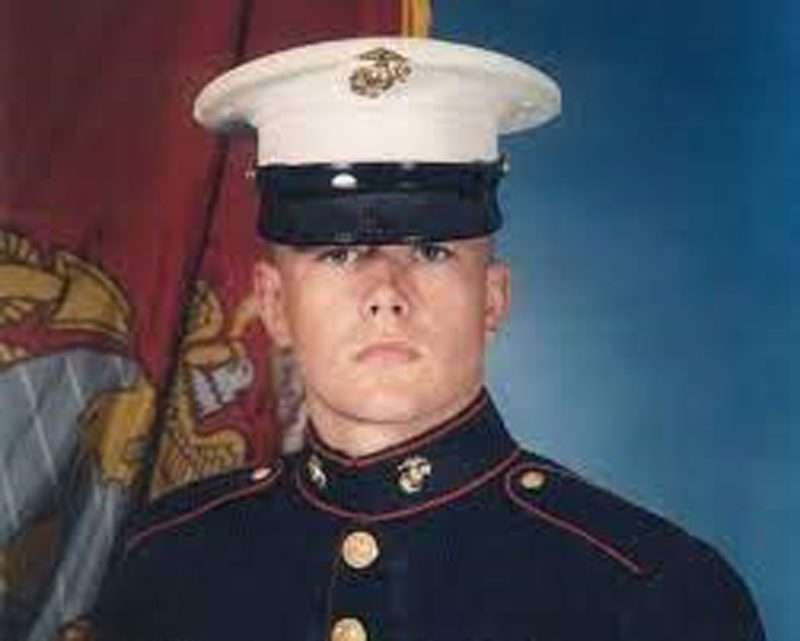 ---
By: Rebecca Miller
Sergeant Michael P. Hodshire, the son of Montpelier resident and business owner Tarry Eicher Fickel, is being honored by the state of Michigan where he lived.
Hodshire, who was only 25 years old and lived in Adams, Michigan, died in October of 2005 from wounds sustained during combat in Iraq. He was assigned to 2nd Battalion, 2nd Marine Regiment, 2nd Marine Division, II Marine Expeditionary Force, Camp Lejeune, North Carolina.
Legislation was passed and signed into law on November 8, 2021, to honor Sergeant Hodshire by naming a portion of M-49 in Hillsdale County after him. The legislation was introduced by State Representative Andrew Fink, Republican-Hillsdale.
The portion of highway is between W. Montgomery and Austin Roads, located in Camden Township and the official name which will be posted is "Marine Sergeant Michael P. Hodshire Memorial Highway."
Representative Fink was quoted in a few news outlets in Michigan as stating, "This designation is the least we can do to recognize Sergeant Hodshire's sacrifice and that of his family. It is an honor to play a role in ensuring his life and heroism is not forgotten here in Hillsdale County."
In Williams County, Ohio, Michael's mother, Tarry Eicher Fikel, is very active in bringing honor to the fallen, including her son.
Mrs. Fikel, who owns Eicher's Subs in downtown Montpelier and runs a Food Truck by the same name, has been instrumental in bringing a number of Memorial programs to the county.
Her heart is so full of love and memories of her son and she has chosen since 2005 to use that love to energize her active role in never forgetting our fallen heroes.
Tarry has organized a number of "Wreaths Across America" activities and fund raisers and was the push behind bringing the incredible National Tour of Remembering the Fallen Tribute Towers to the Veteran Building on the Montpelier Fairgrounds.
On September 6, 2019 she stood beside Montpelier Mayor Steve Yagelski as he read a proclamation opening the display in memory of our fallen men and women.
Tarry was the organizer of the event coming to Northwest Ohio and stood proudly as a Gold Star Mother along with Noala Fritz of Remembering Our Fallen.
She is so proud of her son and is blessed that the state of Michigan has voted into law the naming of a road in his memory.
"I think it is a great honor," she said in tears. "This is Wreaths across America week and from September through December are really hard for me so I stay really busy."
"It warms my heart when anyone mentions my son or does something like this, and I am so thankful. I am just a proud mom… I was always proud of my son and it is a great honor for them to honor him in this way."
Rebecca can be reached at rebecca@thevillagereporter.com
---