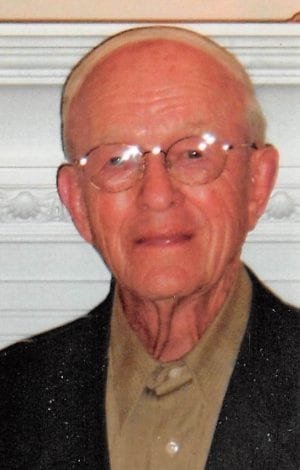 Stanley L. Martin, 93, of Pioneer, passed away on Monday, December 12, 2016 at Hillside Country Living in Bryan. He was born on April 20, 1923 in Pioneer to Loyal H. and Vera M. (Throne) Martin. He graduated from Pioneer High School and from Fort Wayne International Business College. On July 18, 1943, he married Mary Ann Clapper in rural Bryan and she survives.
Stanley worked as a draftsman designer and a salesman for his father's company, Throne Monument Works in Pioneer. He was a member of Pleasant Ridge Dunkard Bethren Church. Stanley loved flying planes, enjoyed motorcycles and traveling.
He is survived by his wife, Mary Ann Martin; four children, Carol Coats of Sugar Land, TX, Robert (Ruth) Martin, Shirley Martin and Sharon Martin, all of Pioneer; eight grandchildren, Scott (Gretchen) Coats, Amy (Ray) Caywood, Melanie (Michael) Truong, Angela (Jon) Garnes, Shane (Erica) Martin, Cara (Brent) Sloan, Misty (Ethan) Stivers and Jason (Jenilea) Martin; twenty-three great grandchildren; one great great grandchild; and brother, Carmon (Maxine) Martin of Archbold, OH.
Stanley was preceded in death by his parents, son, Dr. Jerry Martin and one great grandchild.
Visitation will be on Friday, December 16, 2016 from 2-8 p.m. at the Thompson Funeral Home in Pioneer. A funeral service will take place on Saturday, December 17, 2016 at 11:00 a.m. at Pleasant Ridge Dunkard Brethren Church, 12091 County Road 16, West Unity, with Pastor Dennis St. John and Pastor Harley Flory to officiate. Interment will follow at Floral Grove Cemetery in Pioneer.
Donations can be made to the church or Hillside Country Living Activity Fund. Online condolences may be left at www.thethompsonfuneralhome.com