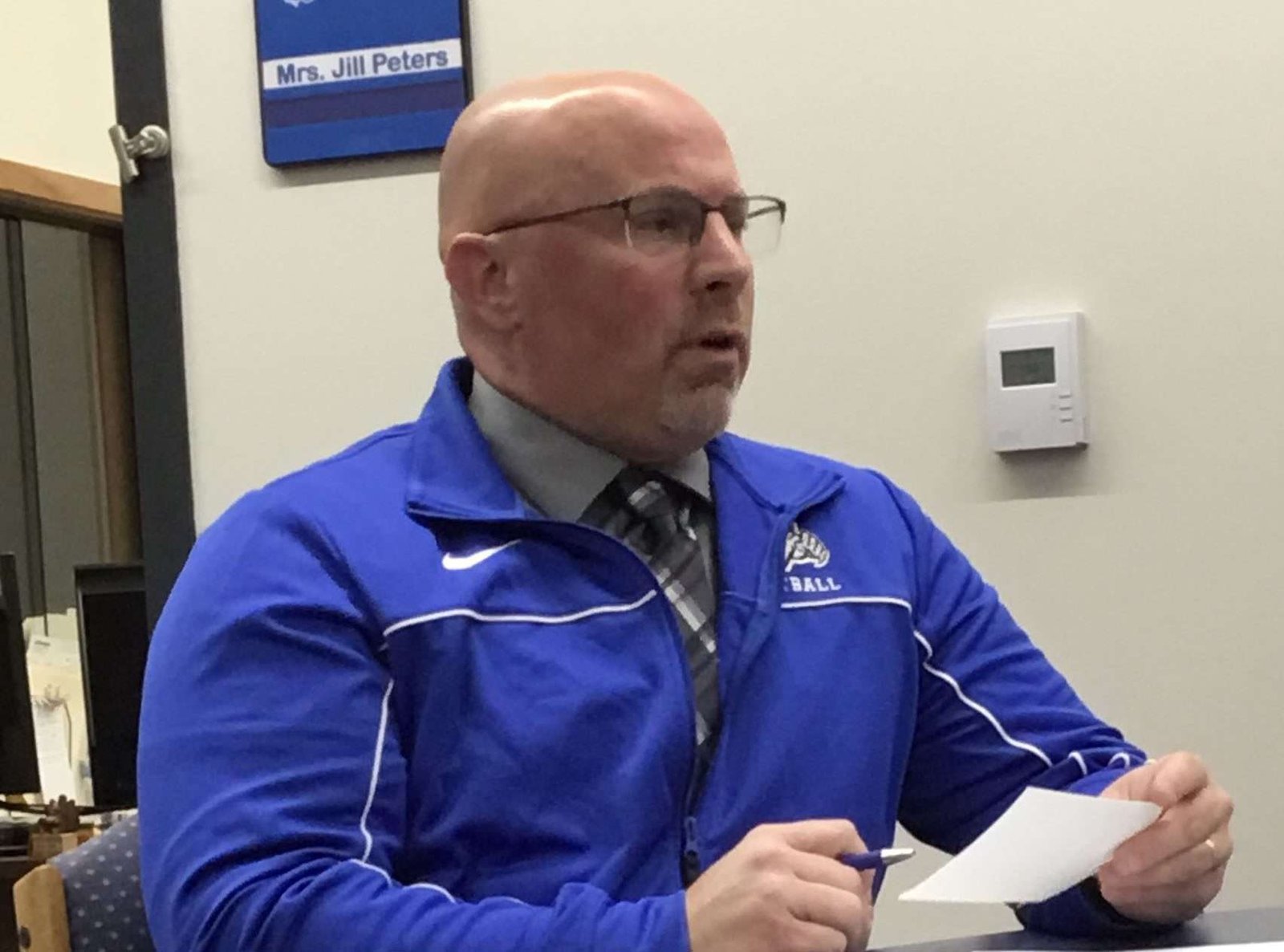 STRYKER ATHLETIC DIRECTOR … As a part of the November 15, 2021 Stryker School Board meeting, the new Athletic Director Kent Holsopple gave a report on how things are going so far. (PHOTO BY REBECCA MILLER, STAFF)
---
By: Rebecca Miller
Following some discussion over the past few months between Stryker Schools Superintendent Nate Johnson, Athletic Director Kent Holsopple and others, a Resolution was presented to the School Board for their approval.
The Resolution will eliminate all Sports-related contact by Coaches and Student Athletes on Sundays, and similar limited contact in all Preceding Months of July, for a specific amount of time. Mr. Johnson clarified that the time in July will be set around the Fourth of July holiday, thus allowing families to plan vacations during that period, probably seven to ten days.
He also stated that this allows the student athletes to have a set "day of rest" on Sundays, and a time when families can know that their student athlete will not have any conflicting practices or games during the family vacation, if they schedule it during the July dates.
Those dates will be determined and announced far enough ahead for parents to schedule time off with their jobs and plan their holidays, as it will be more predictable.
The full resolution clarifies that this includes, for example, "shoot-a-rounds, team bonding events, Coach, Assistant Coaches, volunteer Coaches, or any type or means of organized team or individual based coaching or contact of any athlete or teams governed under OHSAA rules and regulations pertaining to sports offered by Stryker Local Schools."
It does state, "Only special circumstances beyond control of the district, may Sunday contact be permitted," saying that it will only be "permitted for Tournament Changes, or weather related issues that affect League or OHSAA tournament competition." Following discussion, the School Board voted unanimously to approve the resolution as presented.
The other Superintendent recommendation approved was the Tutor Daily rate be increased to $125.00 per day, effective November 15, 2021, when students are in session for the remainder of the 21-22 school year.
The Superintendent's Personnel Recommendations which were approved included: the resignation for the 21-22 school year of HS Track Assistant Megan DeGroff and Jr. High Track Renee Hahn; moving Megan DeGroff to be a Track Volunteer for 21-22 school year, contingent upon viable season starts and school related openings/closings; the following personnel – Beth Morr for 5-year contract as Dean of Students, Trudy Partee Retired Teacher, based on Article XII of the Association Agreement for the remainder of 21-22 school year, and Eric Nicely as Tutor for the remainder of the 21-22 school year; Supplemental Contract for 21-22 for Alexa Moore to be Assistant High School Track Coach.
The School Board also approved the Treasurer/CFO Financial Reports and Recommendations – General fund cash balance of $8,605,220.71, Total Revenue $463,865.76 and Total expenses $488,860.92; Grateful acceptance of Donations – $108 for Stryker Student Council fund from Stryker Athletic Boosters, $5,056.40 for Stryker FFA Fund from Batterson Farms, $855 for Jr. Class Fund from an anonymous donor, and $100 for Stryker FFA Fund from Sam Speiser family.
Dean of Students, Beth Morr, informed the Board that Family Fun Night which was held on October 22, had a total of 425 in attendance, counting staff and high school volunteers.
The Third graders took their State ELA fall test on October 21 and the results will come in during December and be sent to parents via letters in January. The school had a great Right to Read Week from October 25-29, which also encompassed Grandparents Day on the 29th, which had a huge turnout.
Kindergarten has finished all the final KRA assessments and Rimps for K-3. Parent Teacher Conferences are scheduled for Monday and Tuesday November 22 and 23 from 3:30-6:30 and on Wednesday, November 24 from 8:30 – 3:30 (even though students will not have school that day).
The Elementary Pre-K through 3rd Grade will put on a Christmas Program on December 10 at 6 p.m. Ms. Morr said that they plan for the 4-6 grades to have a Spring Arts Show.
As High School Principal, Mr. Dave Schultz, was not present for the meeting, Ms. Morr also shared his report. The October Student of the Month was Teyvon Harris for Honesty and was sponsored by Clubhouse Pizza.
On November 16, Christmas for Kids was scheduled to be held with the students raising over $4000. The Varsity and JV Quiz Bowl was set for November 18 at 9 a.m. at the ESC. Girls Basketball Season opens with a Home game against Pettisville on November 19. The Parent Teacher Conferences were mentioned again.
On November 23 there will be a JH Band Concert; November 25-29 is Fall Break; November 26 Boys Basketball Season opens with an away game against Maumee Valley Country Day School; Fall AIR (Senior Government Test) will be on December 8; and the 6-8th graders will have a Karuna House visit on December 10th.
Athletic Director Kent Holsopple gave an update on what has been accomplished since he began in the fall.
For both High School and Junior High, there have been 29 athletes in football, 33 in volleyball, 12 in golf, 8 in cross country and 11 in cheering.
"We are still trending downwards, but we are trying to engage the students more and get them to find out what will help trigger them to those teams. We are also combating some eligibility issues, but we have tutors and other means to help them to get to the point they can participate."
"We are giving kids opportunities and that is the goal," Holsopple said. He shared that the hosting of the BBC Jr. High Volleyball Tournament went well and he was thankful for all the help he had.
He gave kudos to the 8th grade team for coming in second and to the 7th grade team who are this year's Champions.
He felt the fall programs, and bridging the gap between the youth programs that bring in the elementary students an opportunity to begin learning and develop their skills, were very positive.
They had over 40 participants in Flag Football Youth Camp for grades 2-5. He said that Family Fun Night was great and shared some other opportunities the younger students have had.
The high school and varsity athletes are relating well with the younger children and helping them grow athletically. There is a new upgraded Weight Room with an athletic trainer, Mr. Glen and a schedule that helps the athletes stay in shape.
They have a Training App for the athletes for strengthening, conditioning and performance. On Social Media he is spreading the word about the good things that are happening. They are looking for a Baseball Coach and taking resumes for that position.
He commented that the resolution for no contact time lets families know that sports does not need to completely dominate their child's time. His hope is that the Athletic Programs will "encourage healthy activities for the students of all ages."
Looking at possibilities for spring sports and summer rec, Mr. Holsopple said that there is a need to find more volunteer coaches for the program at the school.
He is hoping to coordinate with the Summer Rec Program during the summer to get some Coach Training going for parents who are interested in helping out.
"We just want to get the kids the help and resources that they need," he said. When asked if he is enjoying the job, he said that he definitely is liking it. "This is the district where I wanted to be and I appreciate all the help."
The next School Board meeting is scheduled for December 13, 2021 at 5:30 in the High School Meeting room. Mr. Johnson also scheduled a Building and Grounds Committee for after that meeting.
Rebecca can be reached at rebecca@thevillagereporter.com
---