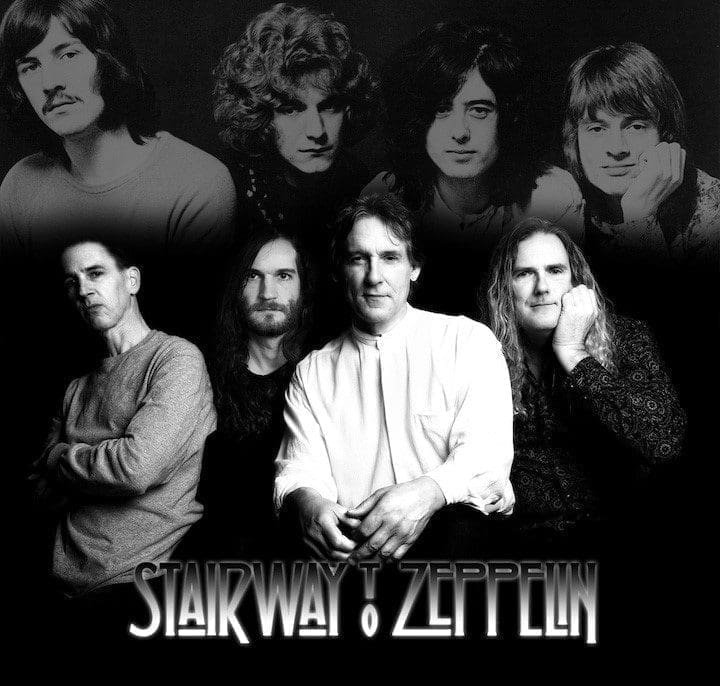 ---
Archbold, OH – Stairway to Zeppelin, one of the world's premier Led Zeppelin Tribute Bands, will be live at Sauder Village on Saturday, July 29 for our summer concert.
Tickets are now on sale for this special evening concert on the 1920s Main Street at Sauder Village.
"We're excited to have live music back at Sauder Village with a spectacular concert featuring Stairway to Zeppelin, a band that pays homage to one of the greatest rock and roll bands Led Zeppelin," shared Jeanette Smith, Director, Marketing.
"At this concert on Main Street you'll hear songs like Rock N Roll, Stairway to Heaven, Whole Lotta Love, Heartbreaker, All of My Love and many more!"
Led Zeppelin was an English rock band formed in London in 1968. The group comprised vocalist Robert Plant, guitarist Jimmy Page, bassist and keyboardist John Paul Jones, and drummer John Bonham.
With a heavy, guitar-driven sound, they are cited as one of the progenitors of hard rock and heavy metal, although their style drew from a variety of influences, including blues and folk music.
Led Zeppelin has been credited as significantly impacting the nature of the music industry, particularly in the development of album-oriented rock (AOR) and stadium rock.
Tribute band, Stairway to Zeppelin is the real deal. The group is made up of four of Nashville's most talented and eclectic musicians – consisting of an award winning vocalist Chris Pietrangelo, Paul Scholten; Drummer—owner and producer at ASCAP award winning County Q Studios in Nashville.
Paul O'Conner; lead guitar & vocals for  Garth Brooks, Heart, REO, The Tubes, Richard Marx, Quiet Riot, Little River Band and Rascal Flatt and  Eric Swanson; Bass &Vocalist, composes for Universal, Warner Brothers, Mattel, The Voice, MTV and more.
Doors for the concert will open at 6:00 p.m. on July 29 with local artist Lee Warren performing at 6:30 p.m. and Stairway to Zeppelin taking the stage at 8:00 p.m.
There will be sandwiches & snacks available for purchase on Main Street and the Soda Fountain will be open with sundaes, chocolate malts, cherry phosphates, and other delicious treats for sale.
Guests can stop by the Main Street Confections candy shop to purchase fudge, popcorn and other old-time candy, and adults can order wine, craft beers, and the latest Prohibition cocktails at The Broken Barrel Speakeasy and along Main Street.
Concert tickets are available for $30 for general seating: and $25.00 for Sauder Village Members:
Tickets can be purchased on the Sauder Village website at saudervillage.org
While some bleacher seating will be available, guests are encouraged to bring lawn chairs to relax and enjoy the concert on the 1920s Main Street. Coolers are not allowed at this evening event.
Sauder Village is located at 22611 State Route 2 in Archbold – just minutes from Exit 25 of the Ohio Turnpike.
The Historic Village is open Wednesday through Saturday from 10:00 a.m.-5:00 p.m.  The Village is closed on Sundays, Mondays, and Tuesdays this season.
Check our website for upcoming events and activities.
For more information about the Stairway to Zeppelin Concert or planning a trip to Sauder Village call 800.590.9755, visit www.saudervillage.org, like us on Facebook, or follow us on Twitter, Instagram and TikTok.
---