---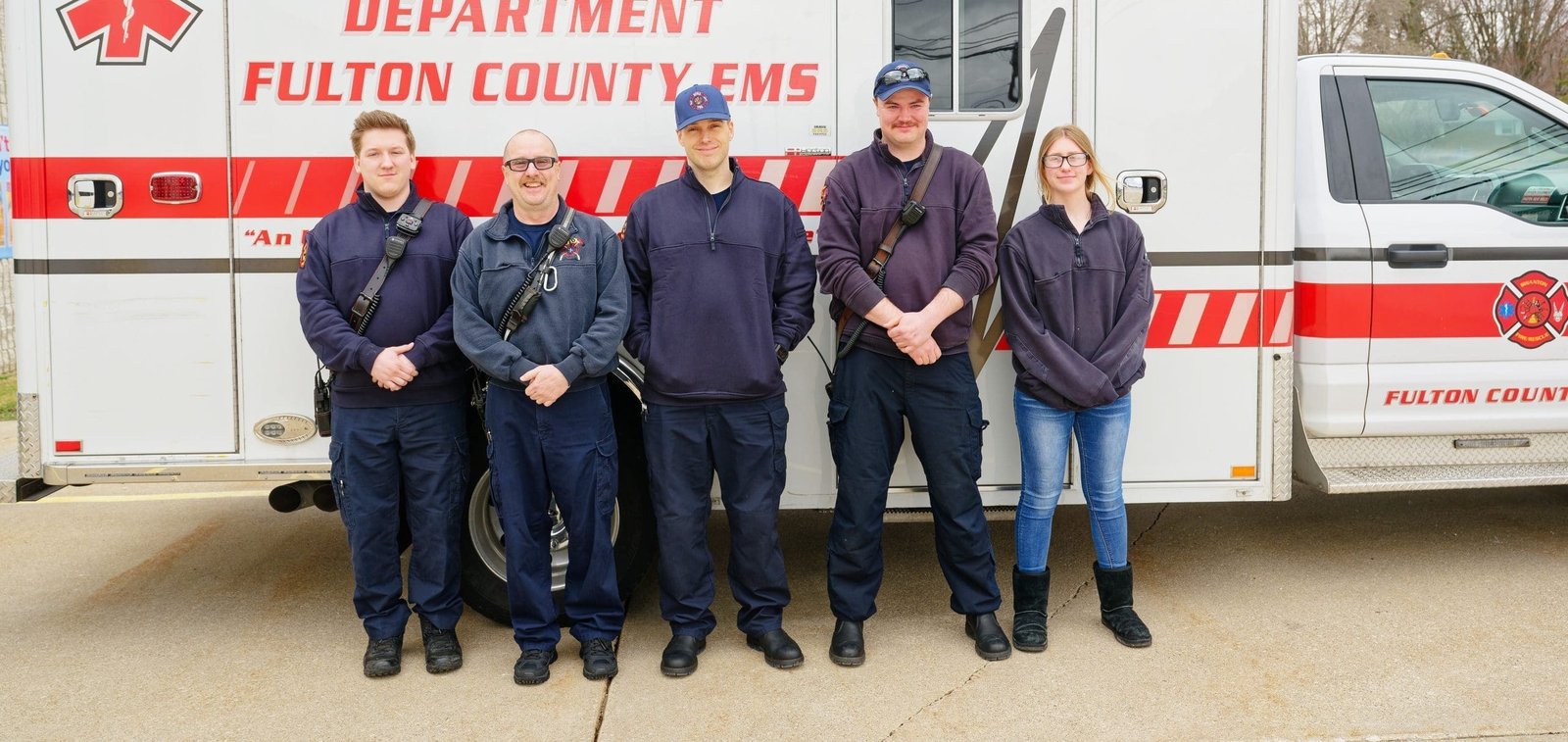 THE CREW … Firefighter/Paramedic Bryan Pouter, Firefighter/Paramedic Jeff Dawson, Firefighter Drew Brennan, Firefighter/EMT Colin Fessenden, and Swanton Fire Cadet Nataley Smith stand to the side of ALS 7. Swanton's Advanced Life Support Ambulance. (PHOTO BY JACOB KESSLER, STAFF)
---
By: Jacob Kessler
Swanton Fire and Rescue Personnel helped to deliver a baby during their shift on February 24th. B shift, as they are called at the department, were dispatched to an unknown medical at 2:47 p.m.
ALS 7 immediately responded to the incident which was located at Swanton Meadows on County Road 4.
While enroute, the call was upgraded to a possible Obstetrical with a noted language barrier.
Once on scene, medical personnel knocked on the door and were greeted by a man who informed them that no one at the address was pregnant.
Dispatch then provided a different lot number and the crew proceeded to the new location. This time after knocking on the door there was no answer.
The door was unlocked so they started to slowly make their way into the residence while calling out and informing whoever was inside that they were the Fire Department.
After taking a few steps inside, Paramedic Jeff Dawson informed EMT Colin Fessenden, who was in front of him, not to turn around or look down.
Colin immediately turned around and looked down to see what appeared to be a face and arm inside a bag staring back at him.
This later turned out to be the head of a horse. All members then left the residence, staged across the street and called for a sheriff's deputy to come on scene.
Moments later, a woman opened the door and started yelling. The crew made their way over to her and noticed a pool of blood running down the patients legs.
The patient next, laid down and went into a delivery stance. Jeff Dawson was just about to get the "mega mover," which is used to help transfer patients to the ambulance, when he heard Colin Fessenden tell him to look.
Seconds later the baby was born, and the crew had two patients to transport.
Fire members present that day for the call were Firefighter/Paramedic Jeff Dawson, Firefighter Drew Brennan, Firefighter/EMT Colin Fessenden, Firefighter/Paramedic Bryan Pouter, and Swanton Fire Cadet Nataley Smith.
Jeff explained that this incident took place during his second day at work for the Swanton Fire Department, and during his first 24-hour shift there.
"This was my second day here but was only my first 24-hour shift. I had not yet worked with any of these guys.
I've been a paramedic for 27 years and this is my third delivery out in the field. It couldn't have gone any better."
"It went smooth, and no one freaked out. There was good teamwork, and it was like we worked together for years."
"It was run seven for the day, so it had been a busy day already, but it went the way you would want, and I couldn't have asked for a better crew."
All of the members were asked how the experience made them feel and this was their response.
"The biggest take away for me is that it was an honor to do it. A lot of people go their whole career without delivering a baby, so with me being able to do it so early in mine is an honor."
"Despite all the obstacles faced it was a really rewarding experience," said Drew Brennan.
"It was a life changing experience. It was a day I was not looking forward to, but it was a very rewarding experience."
"To see a life come in instead of going out so early in my career was an honor. The teamwork was phenomenal like we had all worked together through our whole career," said Colin Fessenden.
"I think it was a great experience. Going through class you want to take time to go through an OB at the hospital. I did not have that chance due to COVID."
"Since it was all unknown with the language barrier, we tried to treat it like any other call. It was a surreal experience for us to help bring in life."
"I was able to help cut the cord which was a really cool experience. It was especially a relief that it was as healthy as could be and was an overall good experience," said Bryan Pouter.
"For starters Jeff was showing me the kit on the way there. Where it is, what's in it and everything. He pulled it out and said that we won't need it, but it will be there in case."
"Honestly though the whole experience was really cool. Not having any certifications, it was nice to sit back and watch them work."
"It was interesting and the communication that they had was really educational," said Swanton Fire Cadet Nataley Smith.
Every single day while at work in the fire service leads to the unknown. There is no ability to anticipate what may be coming on any given day, hour, minute, or second.
The men and woman out there doing this job are truly hero's to us all, and especially to the new baby boy.
Jacob can be reached at jacob@thevillagereporter.com
---