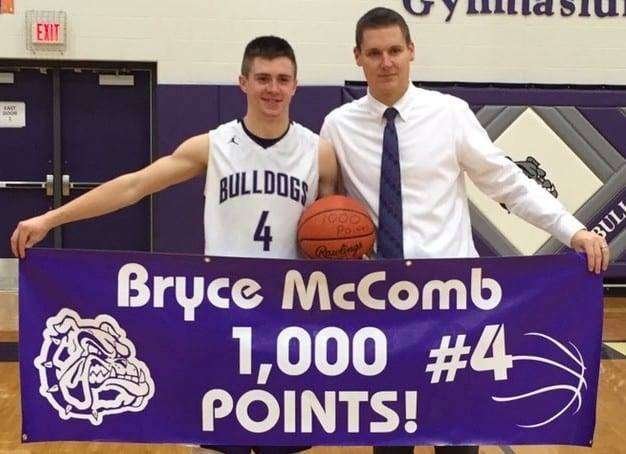 By: Bill Bray – THE VILLAGE REPORTER
"Be your Best"! A catch phrase that has reverberated through Swanton High School this school year. The football team was certainly their best, and now to follow his football exploits, senior Bryce McComb continues to be his best on the basketball court.
After leading his gridiron mates to a second round state playoff game and a share of the NWOAL football title, McComb has surpassed the 1000-point barrier on the hardwood.
The Bulldogs have had a struggling athletic program for the last several years. In fact, the football team made their first playoff appearance in 20 seasons this last fall.
"It was in the 8th grade going into freshman year that we started talking about wanting to make a difference with the athletic program," the senior signal caller said. And make a difference he, as well as Robbie Gilsdorf and Gunnar Oakes, just to name a few, have made.
With the success on the football field over the last two seasons, the winning spilled over onto the basketball court where the Bulldogs shared a league title last season and are out to repeat this season. "It (success on the football field) played a big role," McComb said. "Most of our basketball team played football and we knew what it was like to win a league title and the great feeling it was sharing it with the community. So we carried that ambition into the offseason and regular season and ended up winning a share of the league football title this fall."
McComb's basketball career is like most his age. "I have been playing the game since I was in first grade in North Carolina before I moved to Ohio and ever since then I have been in love with the game."
Yet, for the busy senior participation happens in three sports through the school year and, not surprisingly, he excels in all three. This year in football McComb was named second team All-Ohio in football from his quarterback position and is well on his way to at least making the all league team in basketball. When the winter ends, he picks up his baseball bat and heads out to the diamond where he is a starter for the Bulldogs where his presence is also noticed.
"I did have very little time in the off seasons so I just managed my time and juggled it between the three sports during the summer", McComb said.
This basketball season, though his fourth, has been different. With his football team playing two extra weeks, the preparations were cut short to tune in on his winter sport. "I guess the biggest challenge is going to be to live up to the expectations from last year's season. We are hoping to carry the same "mojo" into the winter from football. It's not everyday you win a share of the league title and make it to the playoffs."
But as most great young athletes, all the individual acclaim is taking a backseat to the team mates McComb cares so much about. "Individual awards are good but the team awards are greater than that. I mean, yes, being named 2nd team All-Ohio was a great honor, but winning a league title and winning the first ever playoff game in Swanton history with my brothers was by far greater."
So with the successful football season behind him, McComb finds himself a part of an elite group of NWOAL 1000-point scorers to start the basketball season. "I do have a new understanding of what it takes to get to that elite group," McComb began, "It takes A LOT of time in the offseason working hard during practice and finding a nice rhythm in games to be able to score 1000 points. My sophomore year going into my junior year was the summer that I was constantly in the gym shooting 500+ shots every other day." Coach (Matt) Smith told me that if I wanted to be a great scorer then this is the sacrifice that I would have to make to get it. I honestly did not anticipate it after my freshman season because at the end of the year I had only scored 114 points so I didn't think reaching the 1000 point goal would be possible."
Bryce McComb ability to be a standout athlete was best summed up by his basketball coach Matt Smith. " He is not afraid to take on a big challenge," coach Smith began.
"For example, he has been our key scorer for three seasons now. He gets every team's attention and typically they try to shut him down and really make him take some tough shots. He doesn't back down and looks forward to the challenge. He knows we are counting on him and he is going to have to produce. If shots aren't falling or things aren't going well, he will shoulder the blame and he doesn't shy away from that responsibility.
"Another thing that I think makes him a standout is he is not afraid to work hard and get better. Each season we will talk about trying to get better at a few different aspects of his game. He will work and try to improve at his weaknesses. This is not an easy task as he doesn't get much of an off-season. He plays football, baseball, basketball, AAU basketball, and even ran some track invitational events last year."
Every great athlete needs guidance and advice from his or her coaches and Swanton has a few of the best. "Coach Vicars and Smith are like dads to me," McComb continued. "They know what is best for me and push me to my full potential in whatever I am doing whether it is on the court, field or in the classroom. They always have their eye on me making sure I am the guy that the little kids look up to. "
After this current basketball season ends, McComb will take his final bow to Swanton High School from the baseball diamond and he is already thinking about what he would like to accomplish during his final sports season for the Purple and White. " I am hoping to win a league title in baseball this year. We have great potential in the spring as well as the winter and I think we are very capable of doing that. Also winning a sectional title which has not been done by a Swanton team in 20+ years."
And when all is said and done, the Swanton senior class will be left some great memories along with McComb. " I hope that everyone takes us as one of the best classes in Swanton history. We have done a ton of great things that this community has not seen in a long time."
Upon graduation the All-Ohioan, 1000-point scorer and successful left fielder hopes to continue on to college. "I plan on attending a four-year college getting a degree majoring in Psychology and playing basketball."
No matter where Bryce McComb ends up he will certainly always "be his best."
[showad block=3]