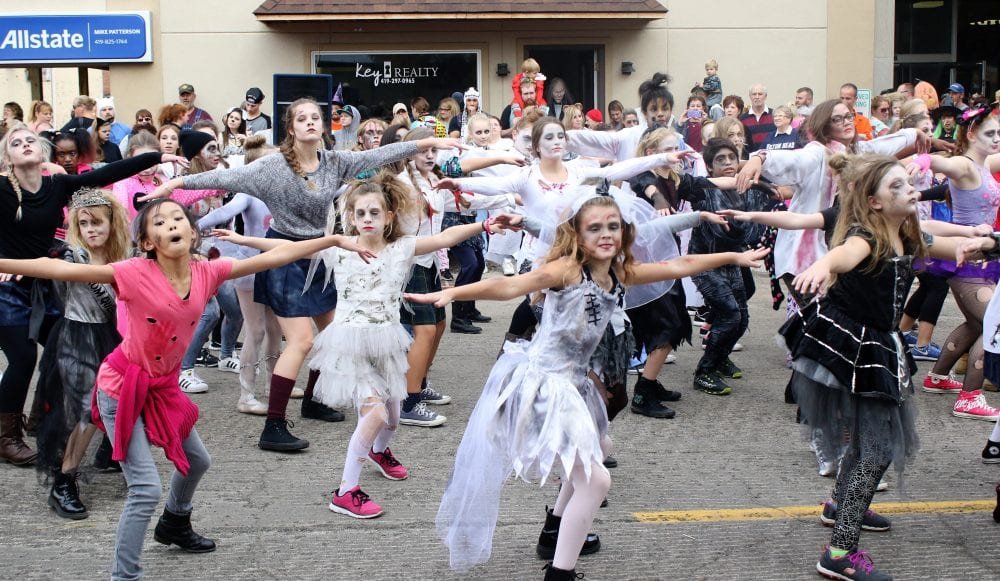 Despite the logistical transportation nightmare created in the Village of Swanton by the Ohio Department of Transportation (ODOT) construction project, the annual Halloween Hoopla played to host of hundreds of kids and parents who came dressed in every kind of costume imaginable to enjoy the hot dogs, popcorn, cookies and bouncy houses put out by the Swanton Lions Club on Saturday, October 29.
Somehow, the revelers navigated their way through the orange construction barrels on Airport Highway, around the bridge closing on South Main Street and into the middle of town where the asphalt had been chewed up and put into dump trucks just days before, leaving behind a grated street with pot holes and exposed bricks from days gone by.
Nothing was going to stop these costumed kiddies and the many equally costumed adults from strolling up and down Main Street and filling their bags with candy being passed out by all the local businesses or grabbing a donut or two from the Swanton Fire Department.
Of the dozens of different kinds of costumes the best two, debatably, may have been of Hilary Clinton and Donald Trump, worn by two adults whose only political agenda was to Make America Laugh Again.The Hoopla hours were from 3:00 pm to 5:00 pm which gave everyone just enough time to head home, empty their bags, take a quick nap and head back out at 6:00 pm for the Village's more traditional house-to-house Halloween.
Bill O'Connell may be reached at publisher@thevillagereporter.com