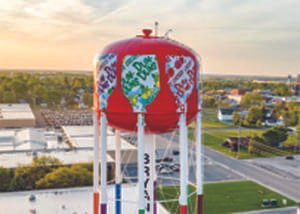 ---
(PRESS RELEASE) Bryan, OH – Since 2006, Tnemec has celebrated the innovative and creative uses of its coatings on water tanks with the annual Tank of the Year contest.
Each year, potable water tanks of all varieties from across the U.S. and Canada are narrowed down to determine the most impressive coatings projects in the water tank industry.
The recently completed Dum-Dums painting on the City of Bryan's water tower at the Spangler Candy Company campus has been submitted for the People's Choice award. Voting is now open until Friday, October 13, 2023, at 5pm central time.
The People's Choice announcement will be made on Monday, October 16, 2023. A Tnemec committee of water tank enthusiasts will then choose eleven other finalists and consider them along with the People's Choice to decide the official Tank of the Year. The Tank of the Year announcement will be made on Friday, October 20, 2023.
We would encourage all to vote by Friday, October 13, 2023, at 5pm, and share the included link or QR code with friends, neighbors, and colleagues to make the City of Bryan's Dum-Dums water tower the Tank of the Year!
To vote, see other tanks in the running and follow our progress please visit: https://www.tankoftheyear.com/tank-of-the-year-2023/ or use the QR code.
Thank you for your support of the Dum-Dums water tower and the City of Bryan.
---