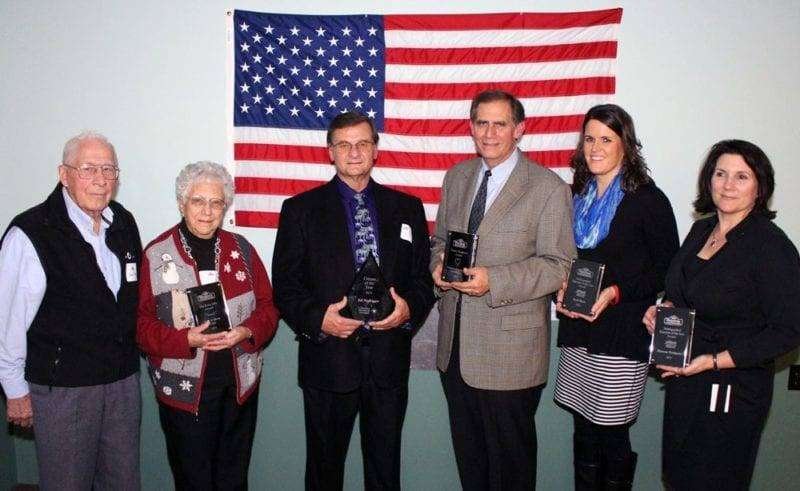 The Wauseon Chamber of Commerce recently convened for their annual banquet to recognize those individuals and businesses who have gone above and beyond in their efforts towards the betterment of Wauseon. As Wauseon Chamber Board President Cabe Cordy pointed out prior to the honoring of the award recipients, "In Wauseon it seems that we have a never ending procession of dedicated community members who are both passionate and selfless when it comes to community involvement. This year is no different. We are here this evening to recognize a dedicated businessman, two individuals who saw needs that needed to be met, two educators that saw a need beyond the classroom and a community organization that has a passion to improve Fulton Street."
The I Love Wauseon Award was presented to Jim Kerr, who accepted the award of behalf of the Wauseon Downtown Assocation. Cordy explained that "this organization comprised of volunteers brought back the Farmers Market, organizes the Christmas parade, and works diligently on numerous other projects. This year they have instituted the Wauseon Window Wonderland."
In his introduction of the Extra Mile Aawrd, which was presented to Vern and Mary Oyer, Cordy explained that "Tonight's recipients of the Extra Mile Award have gone much further than an Extra Mile – they have gone hundreds of extra miles."
Vern and Mary raised four children while Mary taught school for over 30 years and while Vern was a banker for 40 years. Mary additionally taught piano lessons after school and on weekends during that time – and continues to do so. She has also been a member and an officer of the Wauseon Women's Club as well has sat on the Ives Scholarship Board where she served as the Secretary/Treasurer; she continues to sit on the Ives Board even now. May was also served as a member and an officer of the Northwest Ohio Music Teachers' Association and both she and Vern continue to be very active members of Cross Roads Church in Wauseon.
Vern has also been heavily active in the community over the years. He has served as a member and an officer of the Kiwanis Club and has been an active member of the Salvation Army of Fulton County. Vern has been in charge of the Bell Ringers for years. The couple has additionally volunteered their time and energies at the Black Swamp event at the fair for several years.
The Distinguished Editors of the Year Award was presented to both Theresa Vietmeier and April Beck.
Theresa Vietmeier graduated from The Ohio State University and began her career teaching High School Band / Choir in Lorain, Ohio. She also taught elementary music and high school band in her home town of Wintersville, Ohio before moving to Wauseon in 1998. She obtained her Masters of Music Education from the University of Toledo and her Masters of Educational Leadership & Administration from the University of Findlay. Theresa is married to husband, Larry, with three grown children, Joe and twins Sarah and Jessica. She is an avid tennis player and loves to read and play the piano in her free time.
April Beck graduated from Pettisville High School in 1993. She attended Eastern Mennonite University and graduated in 1997 with a degree in Elementary Education, minoring in coaching and Spanish. Before moving back to Ohio, April taught third grade in Virginia for two years, while coaching volleyball at Eastern Mennonite University. Since graduating from college, April obtained her Masters in Educational Administration and principal's license as well as her TESOL Endorsement. At Wauseon, April has taught 4th grade and was the English Language Learners Coordinator. She is currently in her third year as a 5th grade teacher.
April and her husband,Reggie, live on a farm just outside of Pettisville with their three children: twins Jaret and Leah, and their 4 year old Jamison. She enjoys gardening, walking, trips to Florida, volleyball, and biking.
Cordy explained that the two educators were chosen to be honored due to their initiative with the Wauseon Primary and Elementary Schools' food pantry.
"Not only have these individuals distinguished themselves in the classroom and administration but they also saw a need in the community that someone needed to fill. Rather than saying, 'someone should do something about this', they took action. They decided that Wauseon needed a food pantry to help with the nutrition needs of the students…
The original pantry started at Wauseon Primary in January of 2008 by Stephanie King. April Beck started it in 2009 at the elementary school with the support of Theresa Vietmeier.
It began due to Stephanie's vision of Wauseon students having supper each night. Both Stephanie and April had students come to us telling us they didn't get meals other than the school breakfast and lunch. This program only supports students and families at Wauseon Schools. And the food all comes from donations. The food pantry in the 3-8 building runs on donations and has always had enough food to fulfill the requests for students at Wauseon.
Food is distributed daily as requests come in. The number of students who use the pantry each week varies. There are currently about 15 families in grades 3-8 who are using the pantry at least once a week."
The Citizen of the Year Award was presented to Ed Nofziger. Ed is the owner of Haas Door in Wauseon and has enjoyed driving his own semi to deliver overhead garage door parts and visiting with customers. He enjoys using his farm tractors to maintain the land he's placed into conservation reserve. A parcel located on the northwest corner of SR 2 and CR 19 has played host to popular events where Monarch butterflies have been tagged and released.
After graduating from Archbold High School in 1965, Ed worked at various jobs, including at an overhead door firm in Defiance and at Napoleon Spring Works, a manufacturer of overhead door parts, in Archbold. Ed did alternative service in lieu of military service as an orderly at the Good Samaritan Hospital in Portland, Oregon from 1967 to 1969.
In 1969 he became a partner with his father in the overhead door business and in 1972 he married Carol Alcorn. In addition to raising their three sons, Carol has been the treasurer of the companies Ed has owned.
In 1995, Ed purchased Haas Door in Perrysburg from a company that had difficulty running it. He moved the operation to Wauseon, where there was a large building available. Today, Haas Door employs 225 people. Nofziger Door Sales was sold to Tom Rufenacht and his son, Jon, on Oct. 1, 2010. Ed's efforts in business have been recognized; he received the Ernst & Young Entrepreneur of the Year award in 2000, the International Door Association member service award in 2009 and the Archbold Citizen of the Year Award in 2011.
Ed has been a lifetime member of Central Mennonite Church and through his church he became involved in the Mennonite Economic Development Associates. The group promotes economic development worldwide. Erie Sauder, founder of Sauder Woodworking, was one of the founding members. Lester Rich was part of the board and Ed took Lester's spot in late 1980. He has since left the MEDA board.
Ed is also part of Gideons International, which is famous for distributing Bibles around the world.
He and his family also have been involved with the Laurelville Mennonite Church Center in western Pennsylvania since he and Carol were married. The center hosts 300 to 400 children from Pittsburgh on four or five weekends a year for spiritual and fun activities. He has served on its board.
He is a member of Rotary International, first in Archbold and later transferring to Wauseon.
He also is a member of the board that oversees Fairlawn Haven and the Sauder Village board. He is a former board member of the Adriel organization, which provides services to children in need.
It is behind the scenes where Ed makes his biggest mark. While never one to toot his own horn, he admits he has donated money and material to a wide variety of causes.
Some of his donations have been in the form of challenge grants; if a group raises a certain amount of money, he would match the amount. Ed has helped many needy people; he is a very compassionate person and says that part of his work is about "planting seeds." "You never know what you do that could help someone. It gives you a good feeling when somebody comes up to you, and says, 'remember when you did that?'"
INFORMATION PROVIDED