---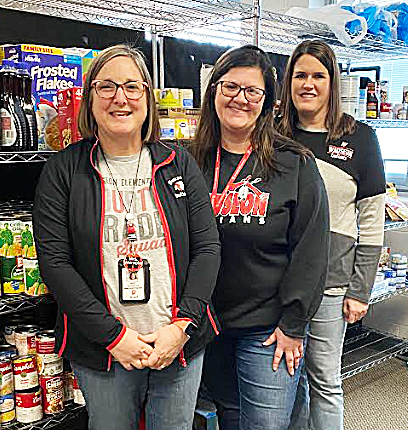 IT TAKES A VILLAGE … The WEVS School Pantry Committee L to R:  Amy Warncke, Tara Delgado, and April Beck, along with many other teachers, WEVS staff, and community members keep the pantry going strong.  (PHOTO PROVIDED BY WEVS)
---
By: Amy Wendt
What started out years ago with one Wauseon Exempted Village School District (WEVS) Primary School teacher recognizing a need in her classroom has since blossomed over the years into the WEVS Food Pantry, a school-operated organization with a mission "to provide food to students to take home to their families on a confidential basis, while also making sure that children have access to school meals."
According to Elementary Principal Theresa Vietmeier, it started years ago "at the primary school with a teacher that just simply saw the need in her classroom."
The teacher began bringing food to school for one of her students in need and stored it in a spare locker.
Vietmeier continued, "From there, it then kind of grew to other teachers bringing in food for classroom needs," until a locker could no longer hold everything.
As time went on, the operation was moved to the elementary building where a general space was designated for the pantry and it was turned into a district-wide service for students and their families.
Today, some students use the pantry five days a week for their meals including dinners after school hours.
A Food Pantry Committee comprised of WEVS teachers and staff was also established to maintain the pantry which is a fairly large undertaking.
April Beck, who is also a full-time elementary school teacher, coordinates the day-to-day operations of the pantry.
The committee keeps the pantry fully stocked and when the supply begins to run low, they go on a shopping trip using donated funds received from teachers and the community.
On a daily basis, teachers and staff volunteer their downtime and breaks during the school day to stock shelves, fill food bags and get evening meals ready.
Special meals are given to recipients who have a food allergy and other health issues such as diabetes.
During the holiday season, the Committee, teachers, and staff fill holiday bags for families that include ham, vegetables, and some sort of dessert mix.
"We have a huge amount of teacher support.  All of the teachers fill the bags at Christmas time and go out and deliver to every single family," added Vietmeier.
"We have a few teachers that have a heart for this and are willing to give up the time to do it."
"If we didn't have that, it wouldn't happen. We have some really pretty amazing teachers here.  They're just really-I don't even have words to tell you how hard they work," Veitmeier continued.
To utilize the pantry, the only requirement is that the recipient must be a student in Wauseon Schools since it is a school-based pantry, rather than one that is available to the entire community.
"We don't want to keep track of financials, we don't want to keep track of W-2s or qualifying factors," explained Vietmeier.
"We truly just don't have time for that. If you ask you will receive it."  Great care is taken to ensure requests remain anonymous.
The pantry relies heavily on community support and is financed through teachers, community members, and community organizations.
Local farmers donate meat, and churches are also supportive.
"So many community organizations like Rotary Club and things like that are just so supportive."
"People don't really know how many organizations in the community help our students," Vietmeier shared.
"We don't ask. They will hear about it, know about it, and contribute toward it, which is a beautiful thing."
The program also benefits the school. The Wauseon FFA (Future Farmers of America) donates eggs to the pantry; the students tend to the chickens, and pantry families reap the reward.
Furthermore, Wauseon NHS / NJHS students volunteer their time and simultaneously receive their service hours.
Monetary donations may be directed to any of the WEVS school buildings, and they will be put into the pantry fund to replenish food stocks.
Of course, non-expired food donations are always welcome and may be dropped off at the elementary school.
Amy can be reached at amy@thevillagereporter.com
---