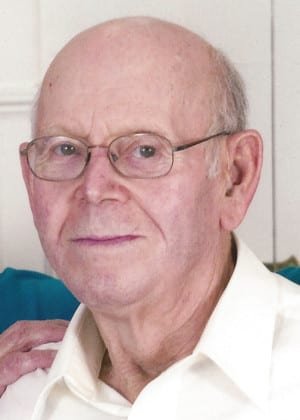 Wendell Eugene Sutton, 87, of Archbold, formerly of Fayette, died Tuesday, February 2, 2016, at CHP Inpatient Hospice Center in Defiance, OH. He was born April 26, 1928, in Wright Township, MI, to the late Clifford and Herma (Sayers) Sutton. He married Margaret Krohn on October 14, 1951, at the Fayette United Methodist Church, and she survives.
Wendell was a 1946 graduate of Gorham-Fayette High School, and was a life-long farmer. He had a passion for the Gospel and wanted to share with everyone that Jesus was his Savior. Wendell had strong convictions to the things to which he committed his life to, especially his family and the joy of working on his land. He was a member of the Fayette Lions Club, Fulton County Soil and Water Conservation Board, and the Archbold Evangelical Church.
Surviving Wendell in addition to his wife of nearly 65 years, Margaret, are two daughters, Luann Bacon of Archbold, and Karen (Milt) Whitmer of Maumee, OH; a sister, Janice (Ralph) Figgins of Fayette; five grandchildren, Tyler Bacon and Treasure Bacon, Rachael (Jimmy) Martin, Rebekah (Daniel) Kostreva, and Gabe (Katelyn) Whitmer; and nine great-grandchildren, with one on-the-way.
A funeral service for Wendell will be held Monday, February 8, 2016, at 11:00 a.m. at the Archbold Evangelical Church with Pastor Jesse Kahler officiating. Burial will take place at Pleasant View Union Cemetery in Fayette. The family will receive friends for visitation on Sunday, February 7, 2016 from 2:00-7:00 p.m. at the Archbold Evangelical Church. Arrangements are being handled by the Eagle Funeral Home in Fayette.
Those planning an expression of sympathy may consider memorial donations in honor of Wendell to Archbold Evangelical Church or Gideons International. Friends can share memories and words of comfort to the family online atwww.eaglefuneralhomes.com.