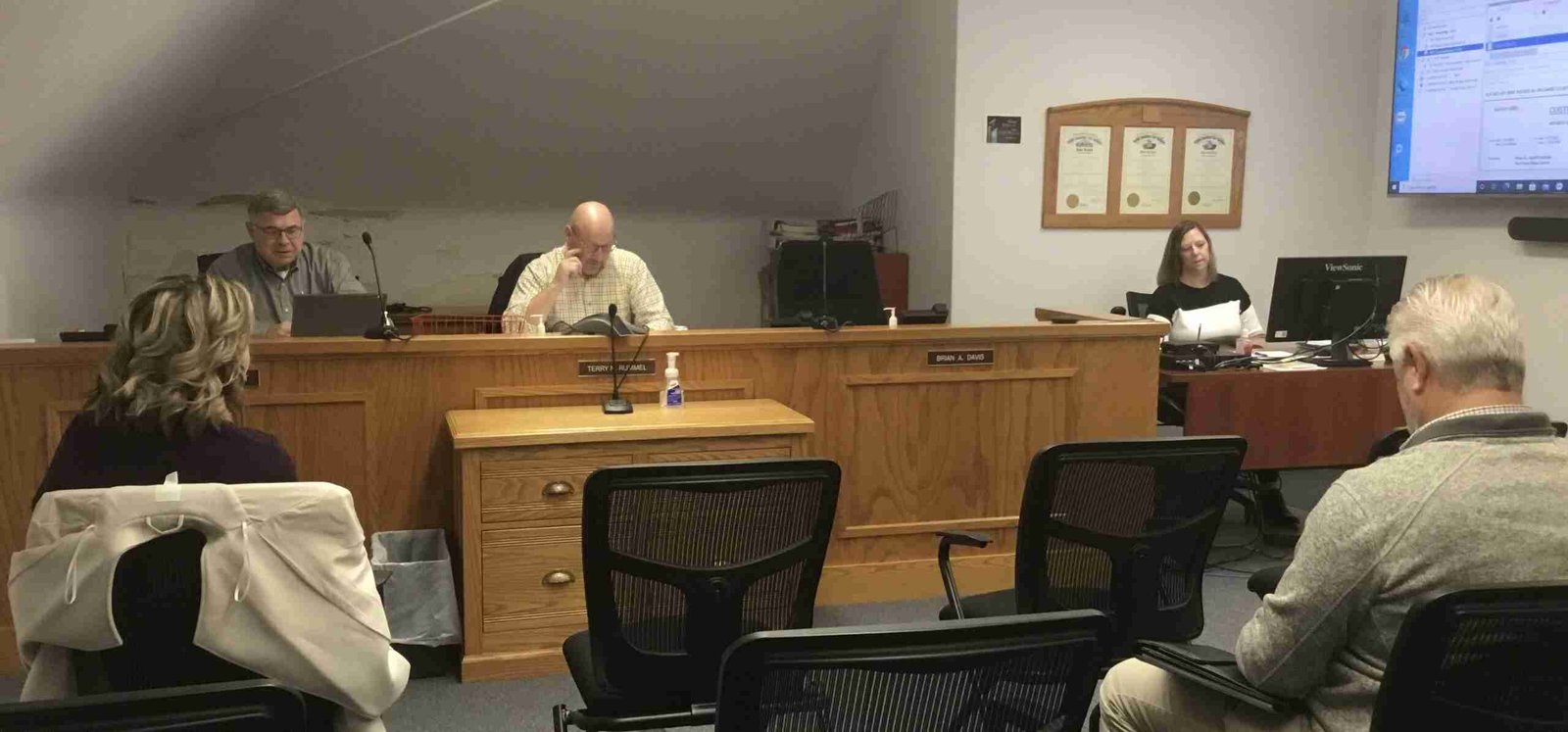 WC COMMISSIONERS SESSION … Williams County Commissioners Lew Hilkert and Terry Rummel approved resolutions which were read by Assistant Clerk Robin Kemp at the Thursday morning, November 4, 2021 meeting. Present for the regular portion of the meeting were Dawn Fitzcharles, Bart Westfall, and (not pictured) Patti Rockey. (PHOTO BY REBECCA MILLER, STAFF)
---
By: Rebecca Miller
After the Williams County Commissioners had gone into recess to sign the bills and then adjourn for the Thursday morning meeting, November 4, 2021, they "had a last minute visitor come in."
Commissioner Terry Rummel was in charge that day as President Brian Davis was not present, and he invited the visitor, Dean Frisbie, to "have the floor." Mr. Frisbie expressed his sadness and shock that the Edon Chief of Police, Tom Szymczak, was "picked to teach county employees or anybody in CPR classes."
He recalled the incident in June 2017 in which Chief Szymczak shot John Anderson in the back, sharing his thoughts and feelings that it was totally uncalled for for him to even be there at the scene. "Mick had it under control," he said.
Rummel said, "I hear what your are saying but you know we are not the courts so are you just questioning why?"
Frisbie said, yes, "Why of all the people, all the EMT's, all the people who could have done that, they pick this …person to teach lifesaving skills to Williams county people and employees?"
He further said, "Had he stayed in Edon that day, Mr. Anderson today no doubt would be dead, he had cancer. And I think that was probably his intent that day.
He wanted to end it but he didn't need shot in the back. If he would have stayed in Edon where he belonged, there was lots of other officers on that, out there that day. Anderson would be dead by now no doubt, but I would still have my nephew", (Officer Mick Frisbie).
Rummel assured Frisbee, "Our hearts go out to you and your family. Get that side of it one hundred percent, but then there is a legal side of it that we have no control over, how that went down."
Rummel added that he has attended Tom S's class and was one of the trainees that he trained and "he did an excellent job." Frisbie asked if the commissioners could do anything to get somebody else as the trainer and "not have him for the poster child of lifesaving when the guy is a murderer."
Rummel pointed out that this is Frisbie's opinion and again said he is sorry. He also said he wouldn't be able to do what Frisbie was suggesting, but reminded him that there are three commissioners and this was his own opinion.
Frisbee then stated, "With your influence in the county I am sure you could at least pass this on to whoever needs to understand." Commissioner Hilkert said, "We can do that."
Frisbie ended his time with the commissioners saying, "I am not the only person in Williams County…there is a lot of people that have the feeling I do. How ironic…a murderer teaching lifesaving skills. I guess that is all I got."
The commissioners thanked him for coming up to see them and Rummel said again, "I am sorry. It is just a horrible situation all the way around."
Previous to this visit, the Commissioners held regular session to approve the following:
-Supplemental Appropriations; Minutes of October 25, 2021; and payment of bills
-Resolution 351 Entering into a Service Agreement for Hillside Country Living
-Resolution 352 Entering into a Nursing Facility Laboratory Agreement on behalf of Hillside
-Resolution 353 Entering into a Software Support Agreement on behalf of Sheriff's office
-Resolution 354 Entering into a Lease Agreement on behalf of Communications (Rummel stated that this "is the old tower. MARCS is replacing that tower but we have agreed to keep that on for another year." It is being left up to, as Commissioner Hilkert said, "to give everyone ample time to convert to MARCS."
-Resolution 355 Entering into an MOU on behalf of Common Pleas Court
-Resolution 356 Entering into an Agreement with Lucas County Coroner
-Resolution 357 Entering into an MOU on behalf of EMS
Also signed: Motorola Solutions Contract Milestone Acknowledgement; Dog Warden weekly reports for weeks of Oct 18-24 and 25-31, 2021 as well as the Monthly report for October; Credit Card appropriation requests from Recorder and Engineer's office; Travel request for Commissioner Hilkert to attend Winter Conference in Columbus; Notice of Retirement from D. Thiel with Department of Aging; change order #1 for Bridge and Culver replacement program; Treasurer's financial statement to county commissioners; Checklist for tile or ditch repair #2021-02 filed by Corey Oberlin; PY 2021 CDBG Allocation Grant Agreement; AMP Ohio 2021 Update for Asset Retirement Obligation Due Diligence.
Following the comments from Dean Frisbie, with no further business, the meeting adjourned.
Rebecca can be reached at rebecca@thevillagereporter.com
---