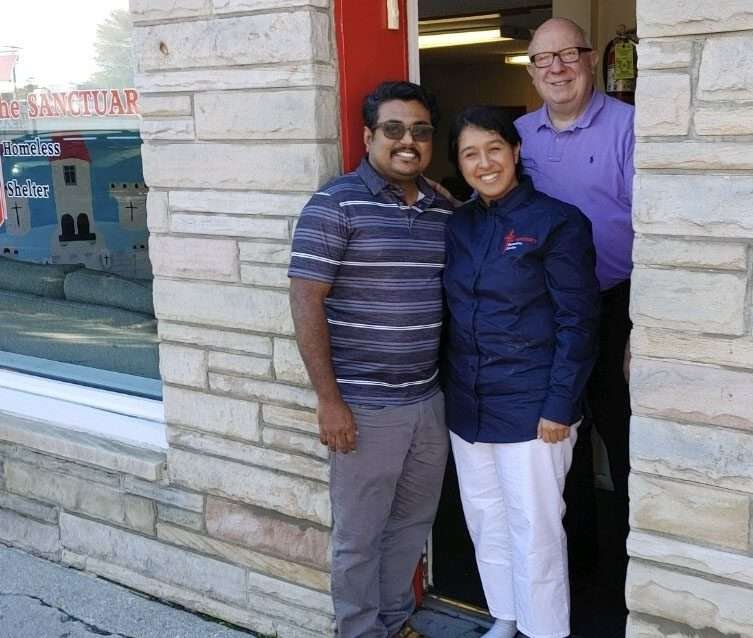 CHANGING OF THE GUARD … These three excited leaders, Sibin Sam, Pheba Banerjee-Sam and Pastor Mike Kelly are so looking forward together to when Pheba will step into the position of Director of the Sanctuary of Bryan homeless shelter. That will take place as soon as her Religious Visa comes through. (PHOTO PROVIDED)
---
By: Rebecca Miller
Pheba Banerjee-Sam may not be able to immediately step into the position of Director at the Sanctuary of Bryan, but she is excited, and more than prepared, to move into this next step to which God has led her and her family.
Pastor Mike Kelly, who is the Executive Director and Chairman of the Board at the Sanctuary, is thrilled with how God is providing for this position and looks forward to the day that Mrs. Sam can step into the role of Director.
So what's the problem? Pheba (who is the lady who offered the benediction at the Bryan Area Christian Prayer Breakfast last month) and her husband Sibin Sam and their two children are here in the United States from India.
They are waiting for her Visa, so that she can work full time at the Shelter. Sibin Sam, her husband, is here in the United States with a Student Visa, as he is completing his Masters in Divinity at Moody Bible Institute's campus in Plymouth, Michigan.
Pheba was looking forward to returning to India to minister there after his graduation next May, "but God had other plans," she said in an interview. The Sanctuary has applied Religious Visa (R1), which allows a person to serve in faith related ministries, and they are hoping it comes soon.
Meanwhile, they have moved to a house in Bryan for Sibin to fulfill his Internship requirements for Moody at the Sanctuary of Bryan Shelter. He is loving the opportunity to plug in where his wife will be the director when the time is right.
His internship requirements are easily being met and they are all getting acquainted with their new home and the people with whom they will be spending their days in service.
Their story is a delightful tale of lives being woven together by God's plans, as Pheba and Sibin lived 1500 miles apart in different states of India, but were brought together to serve the Lord Jesus Christ whom they both love.
Pheba is the only believer in her Hindu Brahmin family, and Sibin was raised in an Eastern Orthodox home, which does not approve of faith in Christ outside the Eastern Orthodox Church. When Sibin's father accepted Christ, he and his family were kicked out of their extended family.
Pheba shared that she was raised in the highest caste in her religion, with her family all involved in business. After she became a believer through reading the Bible, she explained, "I planned to be a rich business woman who would invest her resources to start a homeless shelter, hospital and school for the needy people."
She assumed she would go into business, but when the Lord called her to ministry, she began to focus on evangelism. "In India I worked among the poorest, so I have a heart for those who are going through hard times," she added.
These two very intelligent, compassionate people attended a Children's Evangelism Training Camp in India, where Sibin heard Pheba's testimony. He shared it with his mother, who then shared it with his father.
Soon Sibin's father reached out to Pheba and not long after was calling Pheba's father to suggest that maybe their children should consider marriage. "Everyone prayed," she said, "and felt it was right."
In December of 2016 and January of 2017, the two young people were married, twice, once in a church and once for the legal purposes, as India does not recognize most protestant church marriages. Another aspect of life in India is that the name change does not happen automatically.
She was here in the states and he was in Bahrain, plus, Sibin explained, it is time-consuming to get that done, so, as they were heading back to the United States for school, Pheba still has the last name of Banerjee.
She explained that she has made it Banerjee-Sam here in the states, but Sibin and the children have just Sam as theirs.
Pheba had already been in the US, studying at Moody Bible Institute in Chicago in 2014, for a Masters in Christian Counseling. When they returned together in early 2017, they went to the campus in Michigan, where Sibin is presently wrapping up his last year.
During the past five years they have had two lovely children and began a "flourishing online ministry called SEWAC – Serving Effectively With an Attitude of Christ." "I was literally working sixteen hour days in the ministry and praying for a counseling opening, as I already had my license," Pheba explained.
"We were so poor at that time, we didn't have more than a usual homeless person would earn. With Covid, Sibin could not even work any longer. I did not want to work in the States as I really wanted to go back to India."
A counseling position actually opened up for her but "God said no. He wanted me to in the gospel ministry," she said.
A friend suggested that she get a ministry position but she was "not too keen on it." She told her husband, "If Donald Trump loses the election, which can't happen, I will stay and go into ministry."
Laughing as she shared that tidbit of information, Pheba said, "Well, he lost!" Her husband made her keep her word so she applied online for about two weeks. The opening for a new Director at Sanctuary of Bryan had been put online by Pastor Mike in August of 2020 and Pheba sent her resume. Pastor Mike called her for an interview and invited them to come.
Sibin is a Clinical Psychologist and was a professor in India before coming to America. He taught Special Needs Education to upcoming teachers in the university.
Pheba has a Masters in Theology and a Masters in Counseling. The combination of these two well educated people who love Jesus and love people was more than Pastor Mike could have hoped for.
"It is very important to me that correct Theology be here," he said. "We stand on the Word of God and we needed someone who knew theology and counseling."
"The last director was terrific, but needed to step down in order to be more involved with his family, especially so he could go to his kids' events."
When Mike Kelly got Pheba's resume he was a little concerned about the fact that they are from India.
"This is the midwest and there are some issues in small towns for foreigners," he shared, "but she had the two credentials I was really looking for.
She has a Theology degree that would keep us planted. It is really easy to drift. Rob, the former director, was a pastor for 17 years so we needed someone like that. And she has the Masters in
Counseling as well, which is the other half of this job, and the combination is perfect for this job. And it turns out that Sibin has the same credentials.
"So it is working out. I hired one and got two! I needed someone who knew good theology and someone who knew how to deal with people. Everyone here is wounded. "
"There isn't one person who comes to the shelter who isn't struggling. It could be drugs or mental health or relational and we need someone who can come in here and understand the woundedness and show them Christ's love as well as His Healing abilities."
"We are here to show and share the love of Christ but also to demonstrate that Christ heals. People leave here healthier than when they came. Not everyone is a success that way, but many women come here very hurt and we try to show them in Christ's eyes they are incredible people."
He believes that about a third of the people who go to the shelter, leave with some healing and move into a successful life.
Pheba added that her vision for ministry fits right in with what Pastor Mike shared. "This place is a temporary home," she said, "When they come they think it is going to be all bunkbeds, but it is lovely little apartments, like a home, reflecting the glory of God."
"While their housing and stay is completely paid for through the generous donations from the community, one needs to follow the rules while they are housed here."
"There are five rules that apply to the sanctuary and five rules for their personal life and we follow up with each person to be sure they are living by them because this is God's house. We expect something out of them while they stay here."
The rules are designed to make their stay safe, productive and a positive experience.
The rules involve: housekeeping expectations such as keeping the apartment clean and tidy and doing your own laundry; Personal Standards such as not saying or doing anything you would not say or do in a church (residents are required to shower daily and no drugs, alcohol, smoking in the building, theft, intimidation, violence, pets or immorality are allowed.);Expectations include being dressed and ready for the day by 10 a.m., the active pursuit of a job unless unable to do so, and then the faithful attendance on the job; Expenses are based around finding a job and a home. Residents get to keep 20% of their income while the 80% is kept in a bank account for them and used to pay for absolutely necessary bills such as court payments, child support, phone bill and car insurance.
No money is kept by the shelter. When they leave they have ALL of their funds returned to them.; Everyone participates in odd jobs around the shelter and the area churches.
Presently Pheba is praying for the ministry and going out to the area churches to share about what they are doing.
Until she gets her visa she is limited to that, but is hoping that during this time she will be able to help raise around $45,000 for the Shelter. "The need is great," she said, "and I am using this time to talk about the shelter with everyone I can."
Sibin is fulfilling the requirements of his Internship, writing reports, meeting with his college supervisor and learning a lot from Pastor Mike. "You learn a lot in class," Sibin shared, "but the practical aspects of ministry are what I am learning from Pastor Mike."
Sibin and Pheba are looking forward to being free to work more once her visa arrives.
"As a new believer, walking down the streets of Calcutta, I got to see how Mother Theresa and the other sisters served," Pheba said, "and I want to love people and share the gospel like that. "
"My heart breaks when I see the generational cycle of brokenness, homelessness and staying poor. Only the blood of Christ can break these cycles."
"Only in Christ can the chains of their sins be broken, only in Christ there is victory. Our God is able."
Rebecca can be reached at rebecca@thevillagereporter.com
---