---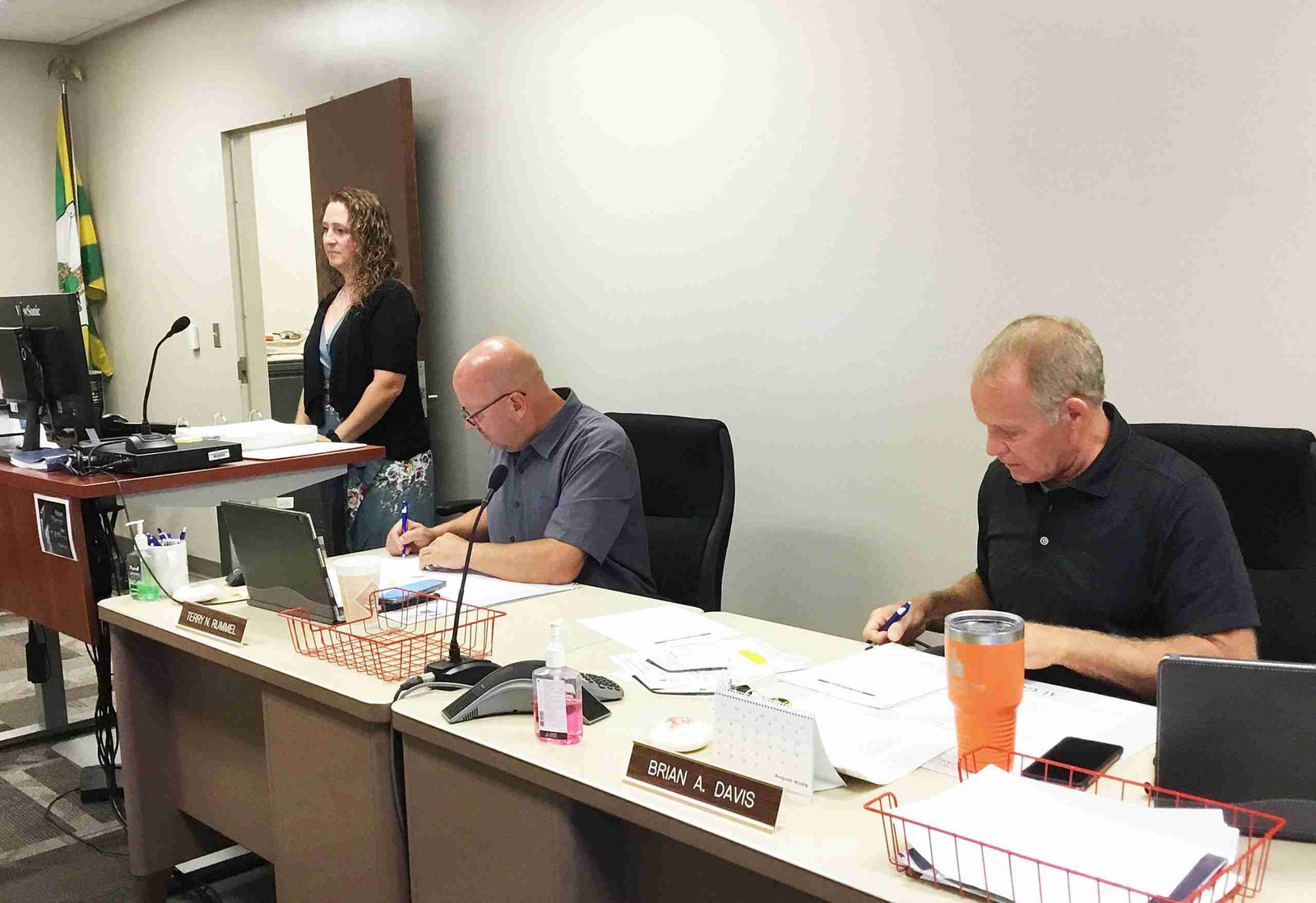 SETTLING IN … Williams County Commissioners Brian Davis and Terry Rummel along with Clerk Anne Retcher are seen here from the screen corner of their small quarters at the East Annex in Bryan. Signing paperwork as they listen to the agenda for the day is part of their job. (PHOTO BY REBECCA MILLER, STAFF)
---
By: Rebecca Miller
The Williams County Commissioners offices and hearing room are in the process of getting moved from the courthouse 4th floor to their new "temporary" home in the East Annex.
Filing cabinets and boxes line the walls. A conference room is set up and the hearing room is up and running.
An executive session to discuss compensation with JFS Director Fred Lord, with Anne Retcher present, was held immediately after beginning the Monday morning, August 8, 2022 session of Williams County Commissioners. The meeting lasted twelve minutes and upon coming out, there was no action taken.
At 9:03, Commissioners Terry Rummel and Brian Davis went back into regular session following a short recess, to approve:
-Resolution 218 Supplemental appropriations: to name a few – 12 gallons of Cutrine Plus for Bible Park Pond for Engineer; purchase bedspreads, washing machine, new gazebo and outdoor benches for Hillside Country Living; purchase new Ricoh copy machine for Juvenile Probate Department
-Resolution 219 in the matter of MVPO Project #2 2022 – Village of West Unity – E. Church St. Sewer Replacement Project – contract documents
-Minutes for previous meeting and payment of bills
-Also Signed: Notice of Award that goes with the West Unity contract; credit card appropriation for the month of August for the engineer's office; IT sent an updated Cyber Hygiene that Rummel needed to sign; and a transfer form for one of the Filing Cabinets from 4th floor in the Courthouse to go to Security Constable.
On Thursday, August 11, 2022, a four-minute meeting saw the approval of:
-Resolution 220 Supplemental appropriations: to name a few – re-seal and re- stripe East Annex parking lot, approved new Stryker EMS contract, engineer's office for 2022 CMC Sierra truck 8' service body, expenses for airport
-Resolution 221 Appointing Prevailing Wage Coordinator (Ron Buda) for all projects for Williams County as needed during the calendar year 2022
-Resolution 222 Advertising for sealed bids for project #5-2022, to be received until 10 a.m. on Monday, August 29, 2022 for 2022 Pavement Marking of various roadways in Williams County.
-Resolution 223 Contract Amendment to Resolution 21-0392 – contract between Williams County JFS and Adriel School, Inc. for supervised visitation and parent coaching, new rates effective July 1, 2022 – September 30, 2022
-Resolution 224 Purchase Agreement – on August 9, 2022, Todd Roth, Williams County Engineer submitted to the Williams County Commissioners a purchase agreement from Cronin Auto, Inc., GMC of Perrysburg Auto mall for the purchase of a 2022 GMC Sierra 2500 BHD Pro at a cost not to exceed $53,589.50
-Also signed: Budget memo for FY 2023 listing deadlines for various offices to get process started; dog warden report for week of August 1-7, 2022; Agreement between Williams County JFS and AFSCME Ohio Council 8. Tentative agreement was approved in July. This is the final agreement, financial statement from treasurer
-Minutes of previous meeting and payment of bills
With no further business, the meeting adjourned.
Rebecca can be reached at publisher@thevillagereporter.com
---