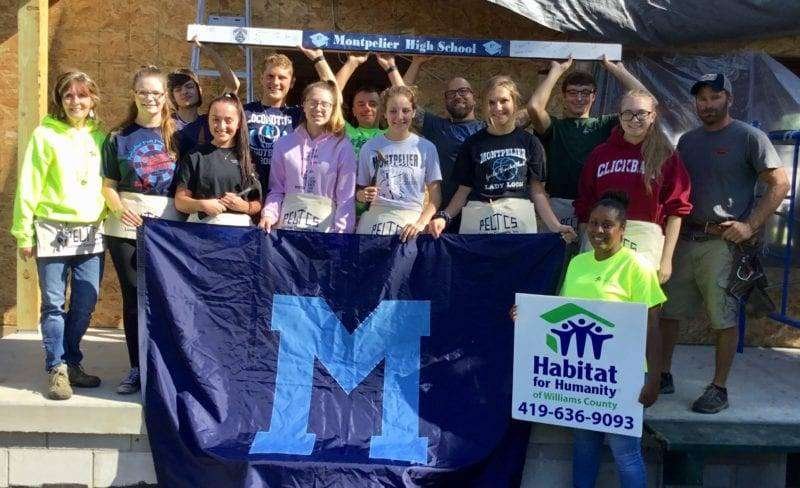 ---
By: Rebecca Miller
Workers were blessed with perfect Fall weather on August 23, as they returned to work on the 2019 Williams County Habitat for Humanity house at 615 E. Bryan St., Bryan, Ohio. That morning was significant for a group of student volunteers, along with their Trade Skills teacher Bernie Davis, who were arriving from Montpelier High School to participate in the labor of love. Also present, to share with the students, were Michael and Gloria Frisby, a couple whose home was built by Habitat for Humanity in Montpelier 20 years ago. 
Williams County HFH Executive Director (and only paid staff member) Maryann Peters, Board Vice President Lisa Whittaker, Build Committee Chair Mic McKarns and head contractor Jacob Leininger were already there and busy when the students arrived. Other volunteers as well as Leininger's two young sons Bo and Mack (whose school doesn't start till the day after Labor Day) were also active on site, prepping for a full day. Habitat Partner/ homeowner, Lisa Miller, arrived with a smile, ready to jump in and work hard right alongside everyone else. 
By this date, the house was framed and construction was focused on getting up the last few interior walls  as well as putting the insulation on the outside. Whittaker explained the blueprint, along with some safety tips, to the students before breaking them into three work teams. Assisting Leininger and McKarns in leadership were Board member/volunteers Mr. Joe Pilarski and Mr. Duane Knisely. Mr. Davis stepped in also to teach how to hold a hammer and pound a nail, and to encourage his students while working alongside them. Some of the students were on totally new ground, but soon were pounding like pros.
Mrs. Peters shared that because the students were from Montpelier, she had invited Montpelier residents, Mr. and Mrs. Frisby to tell them what it has meant to them to be a Habitat Partner. Michael said that since their home was built twenty years ago, they have been able to give back to the community by ministering to children. "We have had over 100 children come through our home," he said. "We now have our home all paid off and that is a true blessing." 
Peters shared that when a family pays off they their home, they can go public with their celebration if they want to, and the Frisbys had celebrated at the Habitat dinner in January. "Many partners keep participating throughout the years and today the meal for the crew is being provided by Michael and Gloria," Peters added, thanking them for coming.
The owners of this home, Lisa Miller and her 12 year old daughter and 9 year old son, have lived in Bryan for a little while and are excited to have been chosen to be a Habitat Partner. Lisa has been a volunteer with Habitat for a few years and understands what an amazing organization it is, as well as what is entailed in becoming a partner.
"They are an amazing group of people to work with," Miller said as she handed a large sheet of foam insulation out the window to "Mr. Joe".  When introducing Lisa to the students, Whittaker explained that she is a hard working woman who holds down a full time job while raising her children, and is more likely to do well in life once she owns her own home.
One mind blowing detail in the construction of this home, is that many of the studs which will soon be covered with drywall, are gorgeously and lovingly decorated and/or signed by over 200 organizations, groups, businesses, individuals and other sponsors. Many are colorful, some have personal messages of love and encouragement, others have hundreds of signatures, but when this home is completed, at the core of it all will be this outpouring of support and love and blessings to the new homeowners.
Lisa Miller said that it is all so kind and overwhelming, and she is happy that her son decorated a board himself with the hopes that it will be in his own bedroom wall. Sponsors were invited to come out on August 24 for Find Your Stud Day, to see just where their signatures, art and blessings for the family is placed.
In an interview, Mrs. Peters, who has been Exec. Director for seven years, said that she was thrilled when Montpelier High School reached out to them at the beginning of the school year. "We are behind about six weeks because of all the rain we had this year," she said. "All the groups that can come will surely be put to work."
Recently the head contractor, Mark Tingle, who has worked with Habitat for quite a few years had to step down due to health issues, "but God provided and we are blessed to have Jacob step up and fill the spot," Peters said.  "We have been working with Lakeview Church of the Brethren, which is a member in the Pioneer Ministerial Association and they send great groups to work on the homes.
Jacob and his wife go there and had already been working with us so he made a natural fit. He makes much less than on a regular building site because he is being paid Habitat wages, but he loves it and we are grateful for him."
---
Williams County Habitat for Humanity has been it's own affiliate, reporting to Habitat International since 1991. They usually build one house a year and this is their thirty-third. "We are so blessed to be a part of changing the misconceptions and perspective about Habitat homes and who live there," Peters said. They work with NOCAC, the villages, and any organization who can help them connect with those who need a home and are unable to pay for one through conventional means.
At this point, there are about 40 Core volunteers who make up the committees, but they receive phone calls everyday from people who want to volunteer. They are recruiting new Board Members and Peters said she is grateful to have a "working board."
"I don't know how I would do it all without these amazing workers!" She said. "We have been blessed. We still have one board member who was on the original board in 1991, Mr. Jim Masten." The present board is made up of President Steve Collins, Vice President Lisa Whittaker, Treasurer Alex Hills, Secretary Roz Wendorf and members Tammy Wood (a previous president), Joe Pilarski, Mic McKarns, Michael Cox, Duane Knisely, Neil Curry, Keira Myers, and Mark DuVernay. To prevent burn-out, when a board member transitions off the board, they need to take a year off before they can get back on it.
The committees that are needed, to pull off this incredible venture, include Finance, Family Selection/Family Nurturing, Building, Site Selection, Fund Raising and Public Relations which currently includes church relations and hospitality. They are headed up by Board Members and filled with volunteers who can plug in their specialties.
Peters clarified that Habitat for Humanity is a Christian ministry set up to share God's love, but since the government is involved it is now considered "a lending institution." To the homeowner, they are equivalent to the bank, but with 0% interest on the mortgage. Peters explained, "The government is just making sure we are abiding by the law. In Williams County our treasurer is the Qualified Loan Originator (QLO)."  
"God gets all the credit for what we are able to accomplish. We are revitalized with the growing new perception, the community involvement, and the people who love being able to give back and use their skills for the glory of God," she added. "We are so grateful for the media and for the great coverage we get! Ron Osborn at The Bryan Times has really helped to drive home that we are a 'hand up, not a hand out.' Every time there is an article like this one, or someone comes by to put a photo in a paper, it aids in the education of the public."  
When the keys are given to the Habitat Partner, at the completion of the house, the care of the home transfers to them, and Habitat for Humanity is now their Mortgage holder. They have been guided and trained by the mentor from the Family Selection/Nurturing committee, on how to care for it, what to watch for, how important the crawl space is in the maintenance of the home, and other important new home owner tips. They now must maintain payments, pay their taxes and get repairs done as needed, just like all homeowners.
Rebecca can be reached at publisher@thevillagereporter.com
---