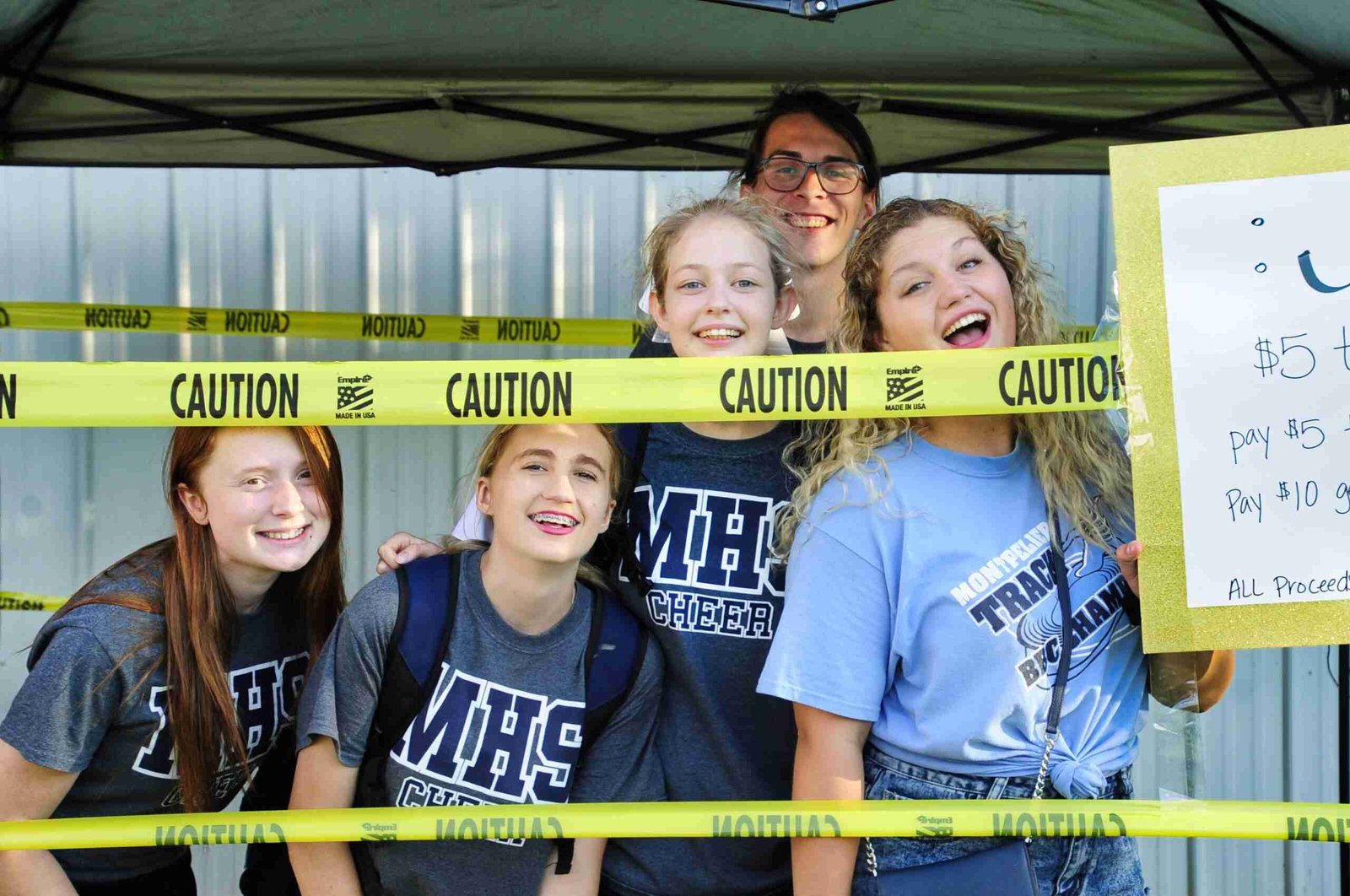 JAIL TIME … Members of the Montpelier Cheer Squad stand in the "jail" at the Relay event. (PHOTOS BY JACOB KESSLER, STAFF)
---
By: Jacob Kessler
The Williams County Relay For Life held their annual scare away cancer event at the Williams County Fairgrounds on Friday August 13th.
The event started at 4PM with food trucks and craft vendors opening up to serve people as they arrived. At 4:30PM the haunted house opened up followed by the opening ceremony at 5PM.
The opening ceremony was held at the track and featured a survivor's lap, caregivers lap, healthcare heroes, and a team lap.
Other events took place throughout the night such as a cornhole tournament, live auction, cheer off, Halloween costume contest, swap or no swap, luminary ceremony, surprise activity and a party with the DJ for games and dancing.
There was also an interactive floor, photo booth, furry overstuffed animal carts, dunk tank, drop coin games, prize wheel, 50/50 raffles, and more. Closing ceremonies took place at 11:30pm and closed out the night.
This big event happens every year and is normally two days long but was scaled back to only one day this year. Apryl Cluckey is also in charge this year for the first time.
"I am blessed to have the opportunity to do this. I was always here as a participant but now seeing it all behind the scenes is much different, and I am grateful to everyone for coming out tonight," said Apryl.
While this event was a successful night for the organization there is much more work to be done to scare away cancer.
Together everyone has a role to play that can lead to beating cancer for good. Anyone that would like to play a part in that can go to the Williams County Relay For Life Facebook page or website for details on how to help.
Jacob can be reached at jacob@thevillagereporter.com
---
MYSTERY MACHINE … Scott & Sherry Conley stand, in costume, in front of their Mystery Machine van.
COSTUME CONTEST … Several children walk around the fairgrounds for people to see their Halloween costumes for the contest.
---