MAPLE SYRUP HISTORY … Local fourth and fifth grade classes learned about the history of Maple Syrup from presenter Maureen Schell, who was sharing how pioneers brought buckets with them. The buckets became an item that the Indians wanted to use for gathering maple syrup so they were traded. Seated at the table, Linda Bechstein chatted with the children later when they walked by to see the display. (PHOTOS BY REBECCA MILLER, STAFF
---
By: Rebecca Miller
Anne Marie Michaels, Administrative Assistant for the Williams County Soil and Water Conservation District, was thrilled about the wonderful weather on March 10, 2022 as it was the date for the annual Maple Syrup Education Day.
With no snow, wind or rain, and a delightful sunny 40 degrees, the fourth and fifth graders of Stryker, Edgerton, St. Mary's, Edon, Montpelier, North Central, St. Patrick's, Bryan and one home school family, seemed to soak it up.
As the students piled off the busses for their field trip, some were directed first to the outdoor portion of the day in the woods and the Sugar Shack, while others began with the indoor History of Maple Syrup.
At a certain point in time, they traded places, allowing all the students to have sufficient time at every station that was set up and ready for them.
Inside the Gillette building at the WC Fairgrounds, with a table full of genuine antiques and some replicas, 40 minutes of Living History with Mrs. Maureen Schell began.
She was great with the kids, answering their delightful questions and fascinating them with the facts of the past.
Linda Bechstein was her assistant and showed the children the items on the table as they got some time to walk past in a row and check them out.
Meanwhile, out on the north side of the fairgrounds, across the covered bridge, students were broken into four different groups, given a guide who went with them, and sent to four different stations.
Every ten minutes, a cowbell was rung and the students rotated to the next spot for their group.
They were given lessons on how Native Americans processed maple syrup, how maple syrup producers of today boil it down from sap to syrup, how to recognize a maple tree and when it is ready to take the sap, as well as other great outdoor information.
The four stations were the Kettle, the Sugar Shack, Science of Sap and Tree Tapping.
The total number of students along with their teachers and chaperones came to 270 this year, with 108 of those in the morning and 162 in the afternoon.
Rebecca can be reached at rebecca@thevillagereporter.com
---
SUGAR SHACK … During their time outside, the students got to watch the sap getting boiled down into syrup. One of the presenters, Jeff Dick who is back on board as the OSU Extension 4-H Educator, is seen here explaining to the students about the evaporation method used to boil down the sap into syrup.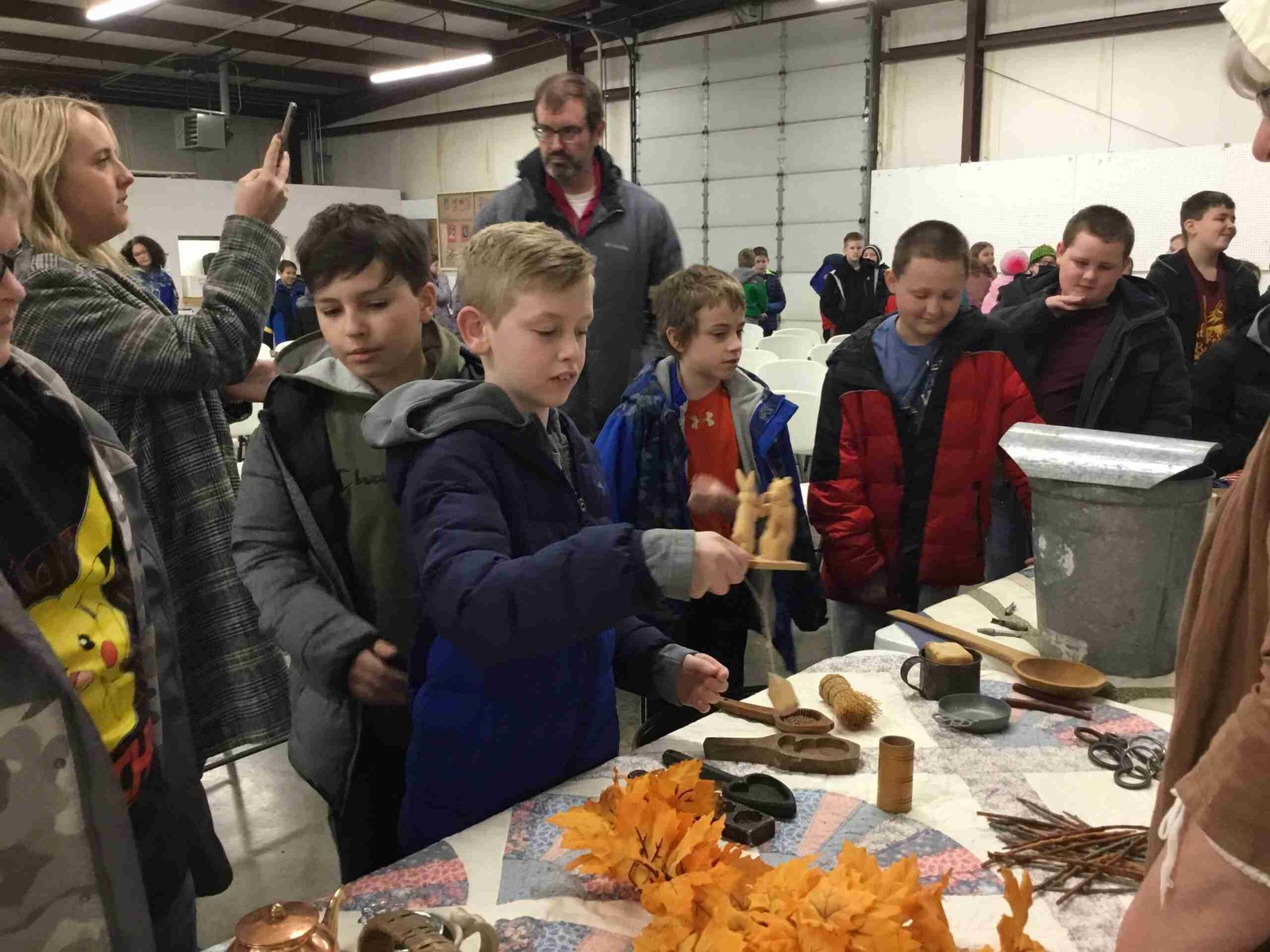 OLD TIME TOY … Oakley Woolace, Stryker student, is seen giving the dancing bear and rabbit a try as he twirled it around to get them to dance. There was a trick to getting it right.
HOT STONES … When Native Americans made maple syrup they heated the sap by putting extremely hot rocks into the sap over and over. It was a long and tedious job which presenter, Mark Dye was happy to share.
---