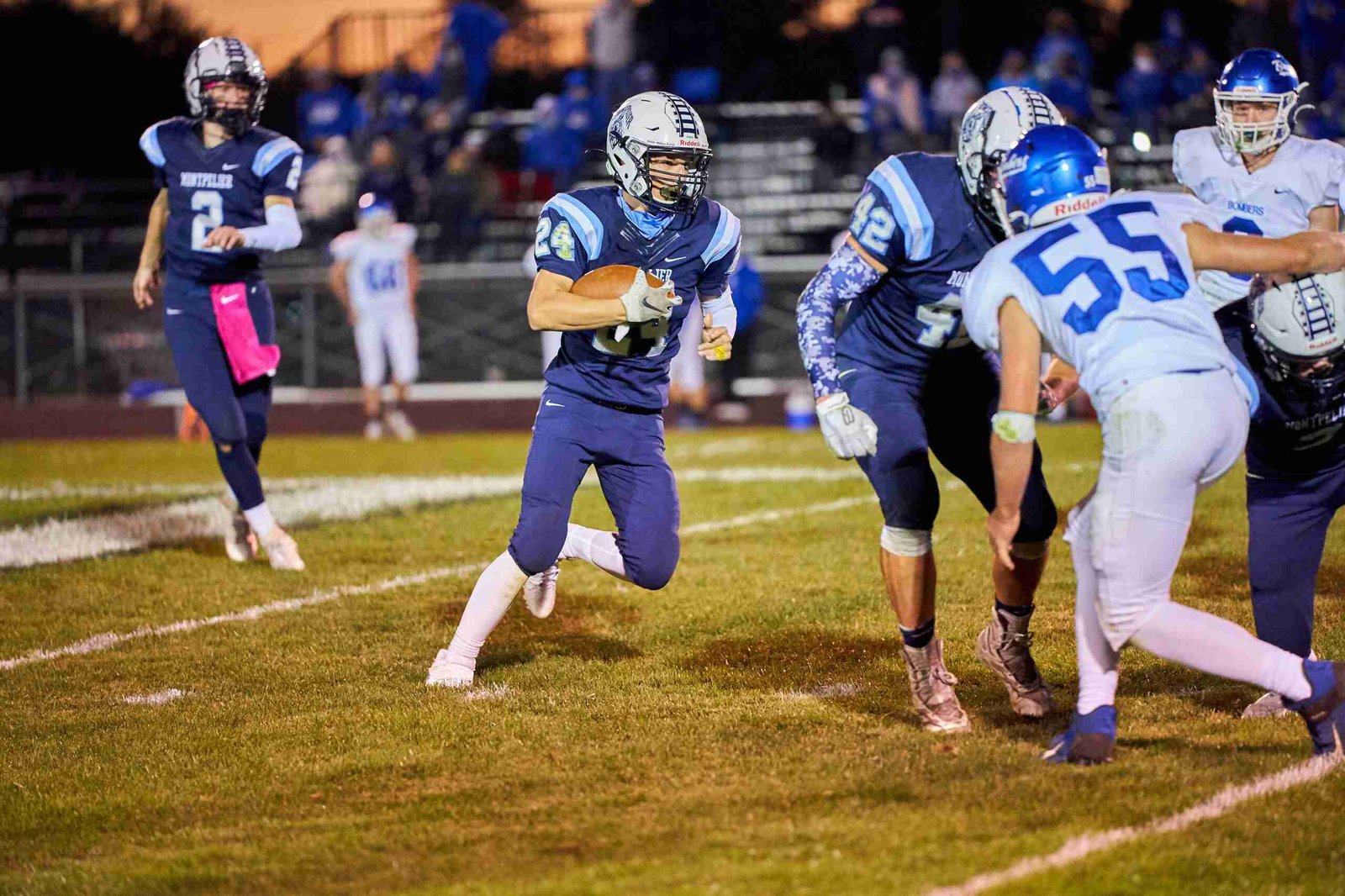 BACKFIELD LEADER … Running back Jacob Lamontagne returns for the Locos looking to build off his 152 yards rushing last season. (FILE PHOTO)
---
By: Nate Calvin
Joe Brigle begins the second season of his second stint as the head coach of the Locomotive program. Montpelier is coming off a 1-7 2020 campaign in which they were 1-4 in the Toledo Area Athletic Conference (TAAC).
"We struggled to find consistency in our play. We had too many 1st year players at the varsity level. The team worked hard every single day and I'm very proud of their efforts", commented Brigle when looking back on the 2020 season.
Eight starters are gone from last year led by three-time letterwinner Gavin Wurm, who earned 1st team All-TAAC at linebacker and was also 2nd team All-TAAC at running back.
Other starters who graduated for the Locos include: Holden Cieslak-LB/RB; Tylor Yahraus-S/WR (2nd team All-TAAC WR); Collin Crisenbery-S/WR (2nd team All-TAAC RB/DB); Blake Altaffer-DE/TE (2nd team All-TAAC Special Teams); Gavin Stratton-C/DE (1st team All-TAAC OL); Dylan Eitniear-CB/WR; Kasch Bible-NT/RB
Quarterback Landon Brigle (29/76, 380 yds, 3 TDs/5 INTs) leads a contingent of ten returning letterwinners for Montpelier along with running back Jacob Lamontagne (two letters, 57 carries for 152 yds, one TD), and Monte Treesh-OL/DL (3 letters).
The Locos expect to have decent team speed and have good depth along the offensive line. "Offensively, we need our playmakers on the edge and the passing game to improve", said Brigle.
On the defensive side of the ball, Brigle likes the experience returning due to playing so many young players last season but does view tackling, consistency, and toughness as areas of concern.
"Our team must buy into the recipe of strong tough defense, efficient offense and consistent special teams", stated Brigle when looking ahead to this season. "Our players have really worked hard this off-season at getting stronger. Numbers could be an issue this year, so we have to be in great shape.
LEAGUE OUTLOOK: "Northwood is the team to beat until someone beats them", said Brigle. "Edon will be solid and could challenge Northwood with Cardinal Stritch and Ottawa Hills returning great teams, and Hilltop continues to improve and will have some playmakers. Should be a competitive league this year."
ABOUT THEIR SCHEDULE: Montpelier opens the season August 20th at Antwerp and starts TAAC play at Cardinal Stritch on September 10th.
Nate can be reached at publisher@thevillagereporter.com
---