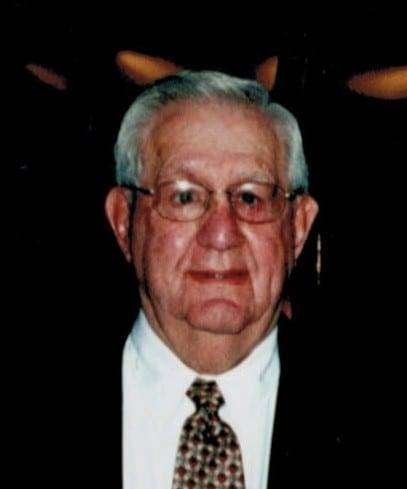 Billy L. Sharpe, age 89, of Liberty Center, peacefully passed away Sunday morning at Country View Haven in Napoleon.  He was born in Liberty Center on May 26, 1926 to the late Royal P. Sharpe and Opal (Heilman) Puckett.  On June 22, 1947 he married the late Phyllis E. Gramling.
Billy was a WWII Veteran having served with the U.S Navy from 1944-1946.  Along with being a farmer he had several places of employment including an auto mechanic with Tommy Bichan in Liberty Center and Snyder Automobile in Napoleon.  Later he worked for L.S. Dunbar Co. of Napoleon, the Gambles store in Wauseon and last the Liberty Hardware as a clerk and repairman.
He is survived by his children, Susan (W. Tennyson) Krugh, John (Dawn) Sharpe, Bill (Sharon) Sharpe and Shelley (Kurt) Davis; grandchildren, Kerry (Heather) Krugh, Joe (Rachel) Krugh, Kim (J.D.) Hite, Rachel (Zeb) Orr, Stephanie Sharpe, Elizabeth (Todd) Spangler, Tyler Sharpe, Sarrah (Norm) Zeiter, Scott (Kristin) Sharpe, Emily (Nick) Hill, Hillary, Sydney and Alexis Davis and 26 great grandchildren. In addition to his wife and parents, he was preceded in death by a sister, Nancy Funkhouser.
Friends will be received from 4:00-8:00 PM on Wednesday, December 30, 2015 at Barnes Funeral Chapel, 5825 St. Hwy. 109 in Delta.  A funeral service for Billy will be held at 10:00 AM at Liberty Chapel United Methodist Church, 9474 Co Rd V, Liberty Center Ohio 43532 on Thursday, December 31, 2015.  Pastor Brad Martin will be officiating.  Interment will follow at Young Cemetery in Liberty Center with Military Honors.
In lieu of flowers, contributions may be made to Liberty Chapel United Methodist Church or the Gideons International, P.O. Box 313, Archbold, Ohio 43502, in his name.  Online condolences may be sent to the family through our website at www.barnesfuneralchapel.com.