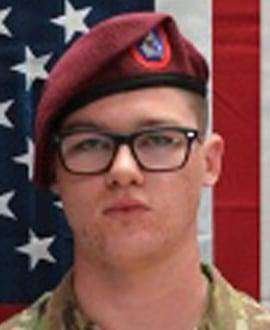 PFC Brandon Jay Kreischer died on Monday, July 29, 2019, during combat operations conducted in Kandahar Province, Afghanistan. Brandon was a 2018 graduate of Bryan High School, Bryan, Ohio, where he participated in choir, Light Shine Singers, wrestling, football and track. 
He was an avid weight lifter and enjoyed working out, going to movies, music, reading and Wednesday night youth group at Bryan First Church of Christ. He achieved his lifelong goal of joining the Army on April 25, 2017. He did his basic training as an infantryman and later airborne school at Fort Benning, Georgia, becoming a paratrooper assigned to the 82nd Airborne stationed at Fort Bragg, North Carolina, prior to his deployment. 
Brandon is survived by his wife, Grace Aubrey Kreischer, whom he married on January 28, 2019, in Fayetteville, North Carolina, and his unborn son, Callum, expected in December. Also surviving are his parents, Brianne (Jason) Barlow, of Stryker; his siblings, Sage (Mercedez) Saladin-Barlow, of Edgerton, Ohio, and Rylan Garza, of Bryan; his grandparents, Carrie Cook, of Bryan, Jim and Lisa Esterline, of Montpelier, Ohio, Cindy Krass, of Stryker, and Mike and Wanda Barlow, of New Haven, Indiana; numerous aunts, uncles and cousins, including a special aunt and uncle, Angie and Ray Pelland, of Stryker; and his beloved harnessed cat, Gunther. He was preceded in death by his grandparents, Bill and Sharon Staniski and John Kreischer, Jr. 
Visitation will be held on Friday, August 9, 2019, from 3:00-8:00 P.M. in the Bryan High School gymnasium, Bryan. Services will be held on Saturday, August 10, 2019, at 11:00 A.M. in the Bryan High School gymnasium with Pastor Brock Rohrer officiating. Private interment will follow in Evansport Cemetery with grave side military rites conducted by the United States Army 82nd Airborne Honor Guard. 
Memorials are requested to Brandon Kreischer Memorial to benefit Grace and Callum Kreischer, established at F & M Bank.  Deposits may be made at any F & M Bank branch or mailed to P.O. Box 216, Archbold, OH 43502.
---