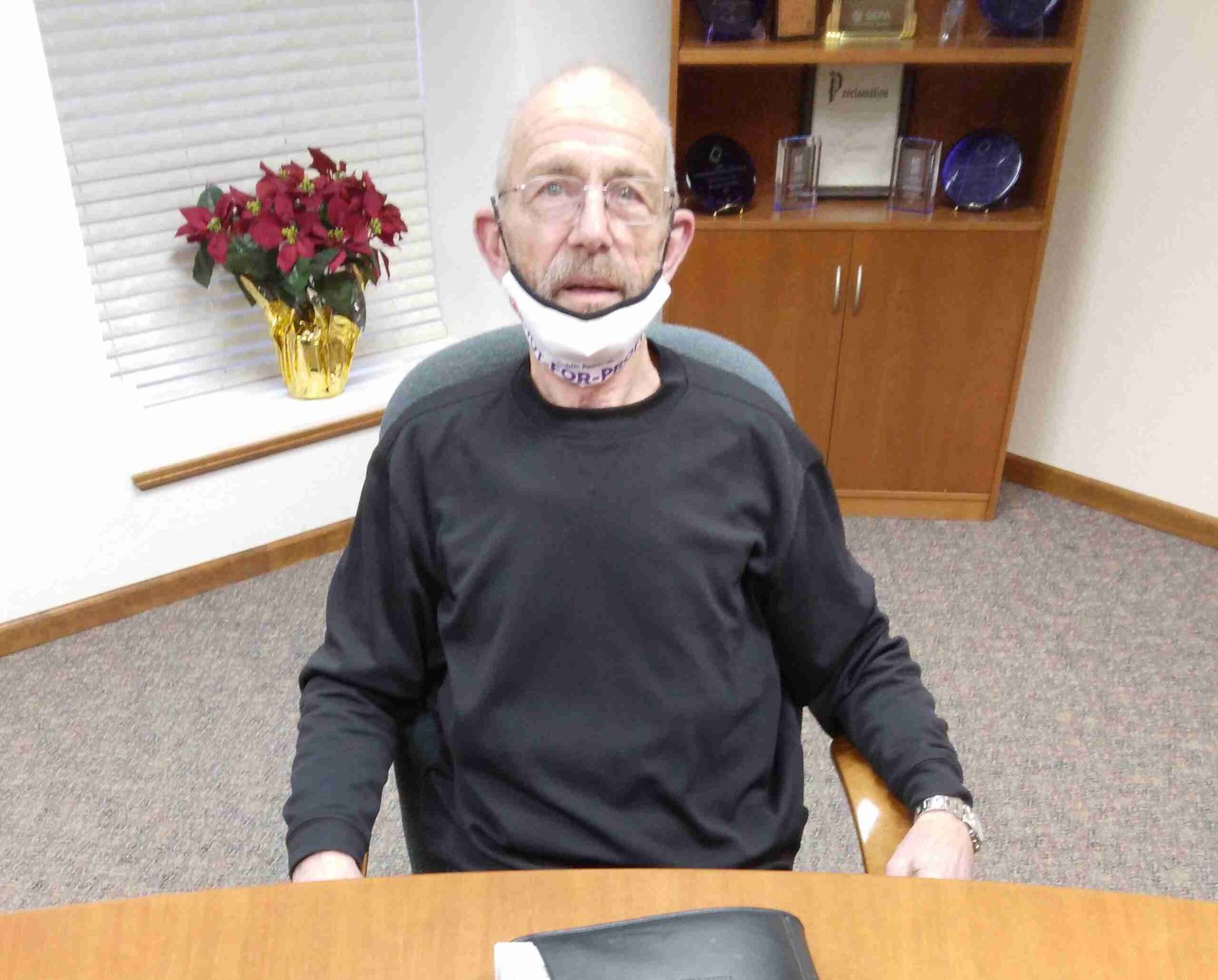 APPOINTMENT … Bryan Board of Public Affairs member Dick Long will serve as an alternate on the board of directors for the Ohio Municipal Electrical Association. (PHOTO BY DANIEL COOLEY, STAFF)
---
By: Daniel Cooley
The Bryan Board of Public Affairs (BPA) meeting of January 4, 2022 began with the Pledge of Allegiance. All five BPA members, Jim Salsbury, Annette Schreiner, Karen Ford, Dick Long and Tom Sprow, were in attendance. Everyone attending the meeting wore masks.
"The mask wearing is because of the high rate of Covid in (Williams) County," said new BPA president Jim Salsbury. "It is only a recommendation at this time."
In the first order of business, the BPA approved the minutes of the BPA's December 30, 2021 special meeting.
Next, the BPA approved of a Resolution appointing Mayor Carrie Schlade to the Board of Directors of the Ohio Municipal Electrical Association (OMEA) and for Dick Long to serve as an alternate.
That was followed by the naming of the committee assignments for 2022. Here are the following committees: Finance: Long and Ford; Water: Schreiner and Long; Communication: Salsbury and Sprow; Electric: Salsbury and Long; Technology: Ford and Sprow; HR: Salsbury and Schreiner; Bryan Industrial Park Advisory Committee: Nathan Gardner and Salsbury and OMEA Alternate: Long.
The semi-monthly disbursements were then presented and the BPA approved of the paying of the bills.
Next, utilities director Gardner mentioned that the Bryan Solar Station measured at over 2.6 million kilowatt hours. "We haven't seen it that high since the beginning, so it has a long life yet," Gardner said.
"Also, the 306 East South Street house has been demolished. Thanks goes to the water crew for getting rid of that eyesore."
Next, Salsbury thanked Sprow for the past year of serving as president. "It was an honor serving for this past year," Sprow said.
Long recommended that everyone get vaccinated in order to slow the pandemic down. The meeting was then adjourned, by a unanimous vote.
Dan can be reached at publisher@thevillagereporter.com
---