---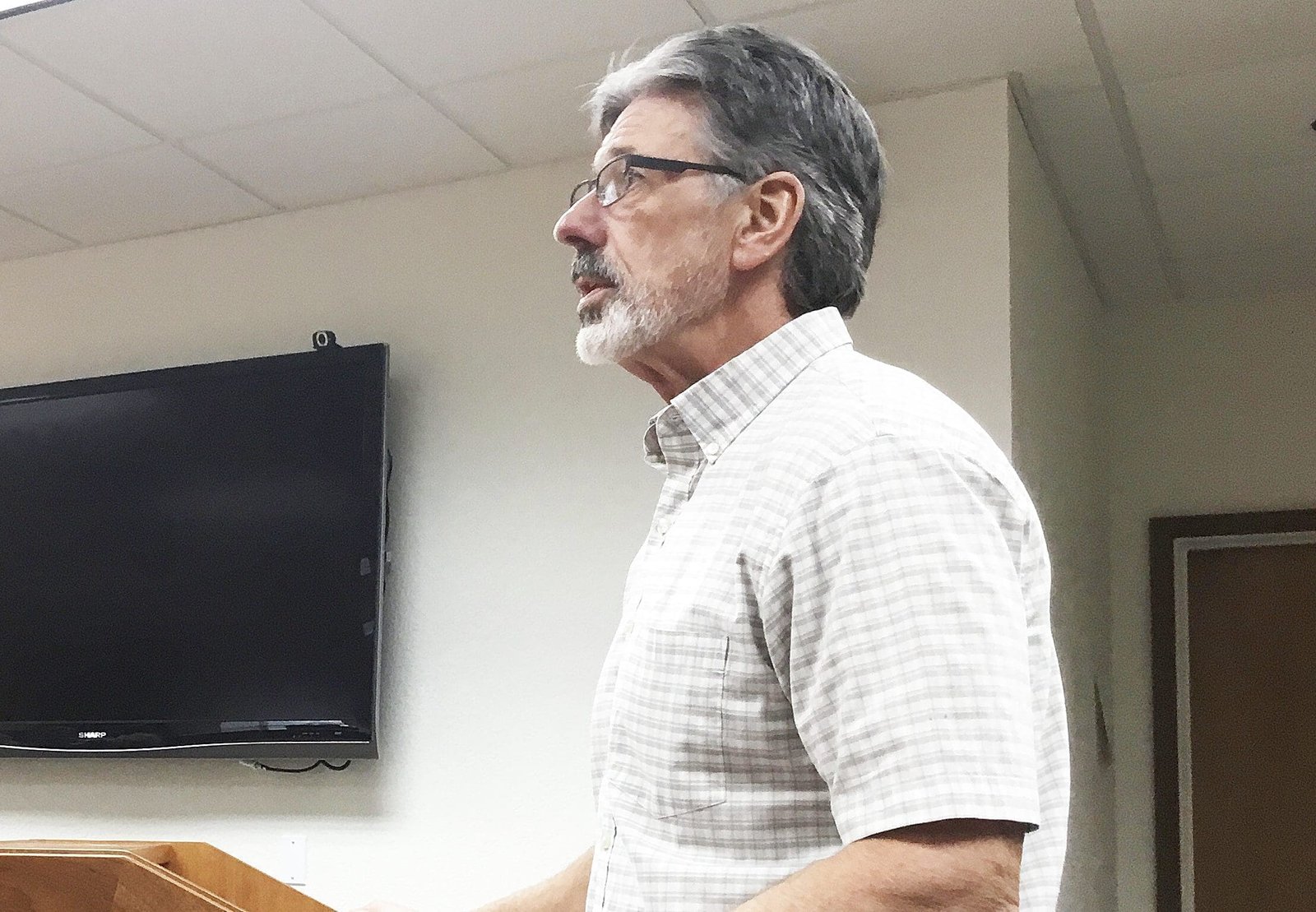 POWER REPORT … BMU Power Production Superintendent Jim Coressel surprised all present at the BPA December 29, 2022 meeting, with his report of all that happened behind the scenes to keep the power on during the three days of extreme cold over Christmas weekend. (PHOTO BY REBECCA MILLER, STAFF)
---
By: Rebecca Miller
Customers who are served by the Bryan Municipal Utilities and Ohio Gas in Bryan, Ohio have much to be thankful for as the country comes out of a three-day arctic blast over 2022 Christmas weekend.
Power outages were happening all across the midwest and northeast United States, but due to some quick action and wise choices, that did not happen to very many residents in this area.
During the December 29, 2022 wrap up meeting of the year for the Bryan BPA, Jim Coressel, BMU's Power Production Superintendent, gave a report that had jaws dropped and eyes wide.
Coressel explained to those gathered for the board meeting that everyone was caught off-guard by the length of the extreme cold snap.
They expected it to last a day to a day and a half as they usually do, but for some reason the cold front paused, causing the drop in temps and the wind chill factors to stay unusually low for a longer period of time.
Coressel said that what happened over Christmas weekend needed to be discussed while it was still "fresh in our minds, so that you would understand what kind of cost and what kind of things we endured and why we were able to do those things."
This weather event caused American Municipal Power (AMP), on Friday December 23, to call for an "AP High" or electric peak load.
Coressel shared a large number of technical details, but the gist of it was that the computer site for PJM, Pennsylvania/Jersey/Maryland Regional Transmission Organization (RTO) which regulates the electric power companies in Northwest Ohio as well as those states, was registering numbers that were off the scale on Friday afternoon and evening.
Around 7 that night the PJM website locked up and as AMP and no one else had ever seen numbers as high as it was saying at that point, "we kept running even though we hit 22.5 at 5 p.m. We kept running because we were flying blind."
He went on to explain that it was a good thing that they did keep the power running at full bore because eventually the numbers did drop to more normal numbers and they are still waiting to be sure it is stabilized.
He shared how this was higher than what we can hit during a summer heat wave when too many air conditioners are running.
An emergency was called as PJM did not have any excess electrical generation. Gas valves and lines were starting to freeze up and other things were happening that caused PJM to suspend all the rules that limit what can be used from suppliers.
Everyone was just trying to keep things running. Bidding was up and running and PJM was trying to keep from going into reserves.
The whole PJM area was under 5 degrees and that covers our area. Coressel was online for hours keeping eyes on what needed to be done to keep the lights on and the heat running.
Normally during the peak time, the LPM (Locational Marginal Pricing) goes to $300 to $400 for electrical megawatt per day.
On Friday night, December 23rd it hit $4000! It stayed above $1000 all night long and was $2000 all day Saturday, the day before Christmas.
Coressel shared that some of his information that he had gathered for his report came from an article in the December 27, 2022 Wall Street Journal.
He continued that one of the natural gas meters in Bryan froze up and some states had to do rolling blackouts because they had no gas or because they had limited gas available.
Coressel connected with Bob Eyre of Ohio Gas on Saturday, "and he kept us in fuel," he said.
"Ohio Gas did a great job for us and saved us a lot of money," he mentioned later. There would have been huge penalties for buying the gas on Saturday, as it was trading on that day up to five times the normal cost.
"Bob got us in on the $20 range so the bill will be higher for those two days," but not as high as it could have been.
"We hit a peak on Friday and that typically gives us high returns on savings. If we had not run on Saturday we would have lost another $100,000" and they would have had to pay the $450,000 electricity penalty from PJM.
He apologized for causing such a huge amount of absorption of info, but explained that as this was not anticipated he felt they needed to hear the story.
He clarified that as BMU was able with the assistance of Ohio Gas, to keep the Bryan area provided.
"We got caught with our hands in our pockets," he said, but the BMU and Ohio Gas crews stayed on it and were able to make it through without running out of power.
Following a short discussion amongst the board members with Coressel, Chairman Jim Salsbury stated, "Scary to think how close we came!"
They all thanked everyone behind the scenes who was involved in the electric rescue over that three-day period with the brutal weather conditions, with Salsbury stating "Your guys always come through."
Derek Schultz, BMU Operations Manager, also thanked the water crews who went out on a couple calls.
Bryan Mayor Carrie Schlade thanked Coressel and all of the employees at BMU, on behalf of the city, for "coming out in full force for getting the community through."
Coressel added that one of the reasons they were able to push so many megawatt "back onto the grid" was that the large corporations were shut down for the Christmas holiday, freeing up all the electricity they would have needed if they had been open and working.
"That kept Bryan completely covered. It is nice to be able to help other people out."
Board member Tom Sprow thanked Coressel for the explanation, saying that unless he had done that many would never know all that was going on behind the scenes on their behalf.
In other business, the board approved the payment of bills, chose Dick Long as the 2023 Chair and Jim Salsbury as Vice Chair, and congratulated Kevin Vollmer again on his retirement as December 30, 2022 was his last day on the job.
With no further business, the board adjourned until the new year.
In further discussion following the adjournment, Coressel explained that the cost will run around $200,000 because "you have to pay a penalty when you pull stuff out of storage unauthorized. Bob Eyre managed to keep that flowing when many others were unable to."
Crews were out working on keeping everything running. Additional fees will come as well but he was unable to project what that would be.
"As all the rules were suspended, we just ran it wide open, producing to the max," so that everyone in Bryan did not lose power. They were able to "maintain the system and help our neighbors."
Rebecca can be reached at rebecca@thevillagereporter.com
---