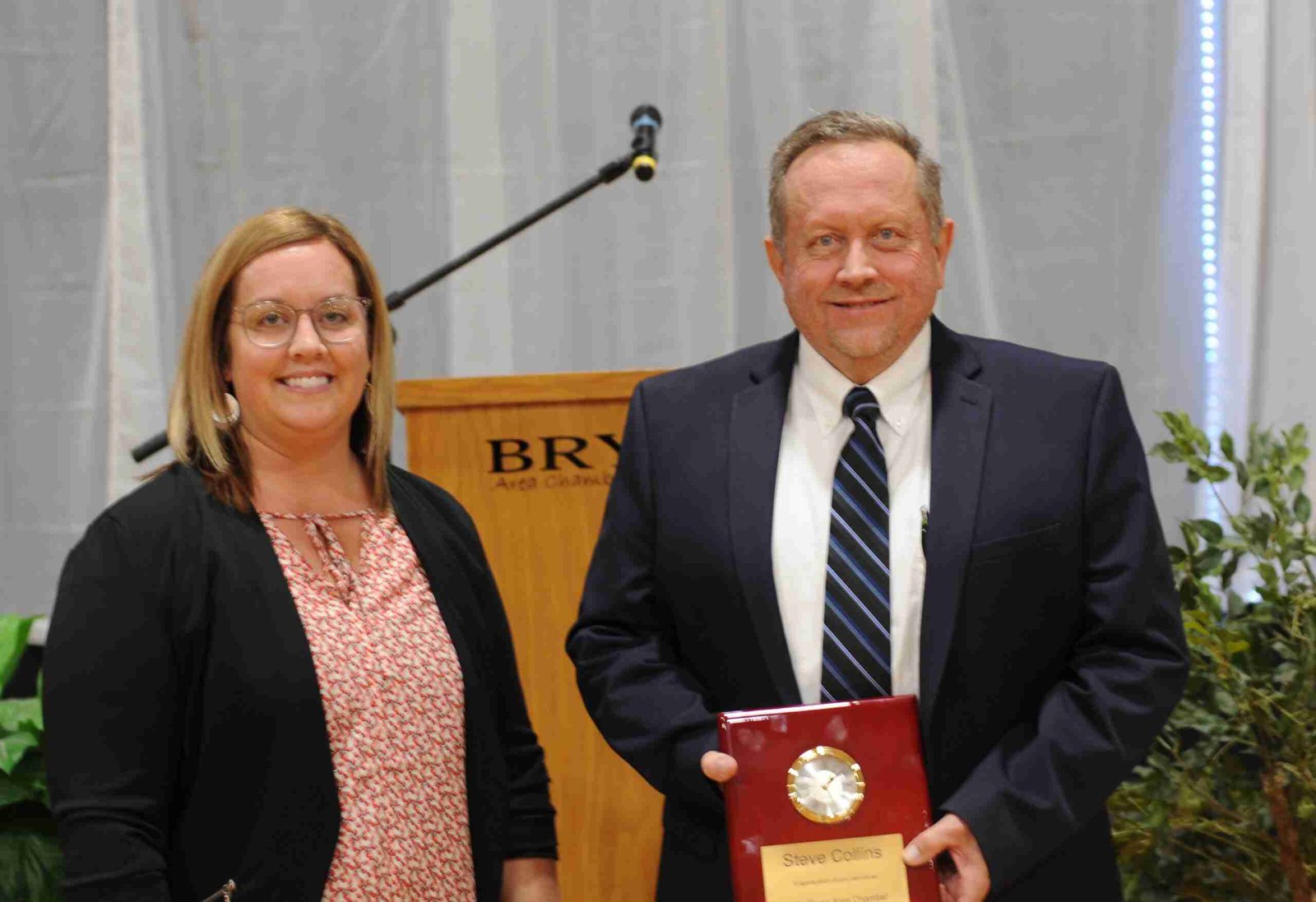 NEW PRESIDENT … Steve Collins Chamber President, passes the gavel to Michelle Gibbs 2022's Chamber President. (PHOTO BY TRISHELLE SMITH, STAFF)
---
By: Trishelle Smith
The Bryan City Chamber of Commerce kicked off its 2022 celebration of passing the gavel. The Chamber has not been able to meet since COVID. The party kicked off with a catered dinner from Grants.
The evening flowed elegantly, Mayor Carrie Schlade gave the invocation before the event started. CCEO-AP Executive Director, Daniel Yahraus, kicked off the speech portion of the night.
Yahraus talked about coming back strong after COVID with this upcoming year looking more eventful. One event they are bringing back this year is in person After Hours, May 12.
He invited the public to come out and enjoy the event. He advised that during COVID the Chamber was able to donate five thousand dollars' worth of gift cards from local restaurants to area first responders.
Yahraus advised that council decided to make hand sanitizer and distribute it to local businesses in Williams County.
Since COVID, the chamber has dropped in memberships. He is excited for this next year and a great Board of Directors who come in with fresh ideas. He recognized the Board, staff members, and those in the audience who benefit from the Chamber.
He then introduced the current president of the Chamber, Steve Collins. His closing remarks were "you are what makes Bryan, Bryan." He challenged the audience to think what they can do tomorrow to make Bryan more successful.
Steve then passed the gavel onto Michelle Gibbs, the new 2022 Chamber of Commerce President. Michelle introduced herself to the audience.
She is a Williams County native from Pioneer. She is the HR manager at Ohio Art. She can be found at the ball field alongside her husband and three kids.
She is blessed to live in a community where she can live, work, worship and raise children in an amazing community. She advised 2022 looks promising and eventful.
During the month of April, the Board will be holding a membership drive educating businesses about the benefits of being a chamber member.
She assures the audience that 2022 will be a more promising year. The event closed gratitude remarks to event staff and to the YMCA for hosting the event.
Trishelle can be reached at publisher@thevillagereporter.com
---