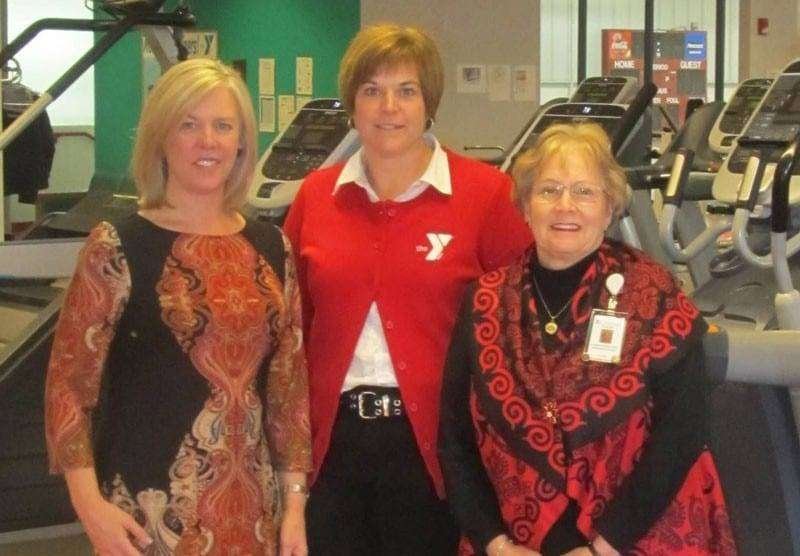 Angola, Ind. – Thanks to a collaborative gift from Cameron Memorial Community Hospital and Parkview Health, the YMCA of Steuben County will be working with both organizations to implement additional programs for its members and the community. "As committed partners, the YMCA of Steuben County is so honored and grateful to receive this generous gift from Cameron Memorial Community Hospital and Parkview Health. We are extremely appreciative to have such wonderful partners who are working side by side with the YMCA to make our community healthier," said Krista Miller, YMCA of Steuben County , CEO.
In addition to supporting current programming of the YMCA, the gift will specifically be used for the creation and implementation of three new programs for the Steuben County community. The YMCA Diabetes Prevention Program (YDPP) will support individuals at risk for type 2 diabetes through lifestyle intervention and behavior modification. The year-long program, which is slated to be introduced in 2016, will focus on nutrition and exercise modules that will assist the attendee in attaining certain health and lifestyle goals. Participants will be surrounded by a supportive group of people all looking to achieve the same goals.
Darkness to Light (D2L) is a national program that provides individuals, organizations, and communities with the tools to protect children from child abuse. Using an evidence –informed platform, D2L programs teach adults to prevent, recognize and react responsibly to child sexual abuse. D2L enlists the support and assistance of concerned adults in communities including educators, staff and volunteers in youth serving organizations, day care staff and volunteers, parents and caregivers.
Finally, the YMCA of Steuben County will be working to add a Youth Obesity Program through YMCA-USA. This family-based weight management intervention program addresses childhood obesity in our community. "Much of Parkview's support to build healthy communities is delivered outside of our hospitals' walls," said Jill Ostrem, Senior Vice President of Health and Well-being, Parkview Health. "The opportunity for Parkview to partner with Cameron Memorial Community Hospital to support the YMCA brings together three mission-aligned organizations who want to positively impact the community through important programming."
The three entities will continue to work together during the coming year to assist in implementation, track progress and impact the community with these health-minded programs. "We are so excited and encouraged about the opportunity to leverage our collective influence to make such impactful health and wellness changes in our community," said Connie McCahill, Cameron Memorial Community Hospital President and CEO. "As both Cameron and Parkview continue to study the role of wellness in our community, we hope these programs are just the start of the overall improvement of health and wellness in Steuben County."
For more information call (260) 667-5337.
INFORMATION PROVIDED