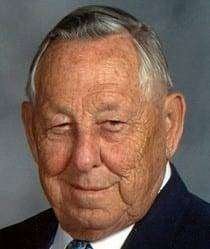 Cletus "Pete" E. Dreher, 93, of Bryan, passed away on Thursday, October 25, 2018 at Fountain Park Inn and Villas in Bryan. He was born on December 28, 1924 in Bryan, Ohio to Aubrey O. and Bessye A. (Six) Dreher.
Pete graduated from Bryan High School in 1943.  Pete was an excellent athlete and excelled at the 220 hurdles in track and only lost once in his senior year at the State meet in Columbus.
After high school Pete went on to serve his country in the US Army Air Corps during WWII.  Pete served in the 15th Division in Italy and flew for 27 missions in a B-24.  He earned air medal – two oak leaf clusters, European Theatre Ribbon – 5 Bronze Stars, WWII Victory Medal, American Theatre Ribbon and Good Conduct Medal.
Upon his return from overseas Pete put his GI Bill to good use and received his Bachelor's Degree in Education and Business from the Defiance College.  Pete then attended the Bowling Green State University and earned his Master's Degree in physical education.  While attending school Pete never lost sight of the ultimate finish line of marrying Marian E. Rosenberry on December 1, 1945 in Angola, Indiana.
In 1981 Pete retired from the Montpelier Exempted Village Schools after 25 years of being an educator in physical education, business economics and social studies.  For more than 20 years Pete was the athletic director at Montpelier and during his 25 years at Montpelier, Pete was the Head Track Coach and had two State runner-up track teams in 1962 and 1970, as well as many individual state track finalists.  Pete also was an assistant football coach and started the wrestling program at Montpelier. Pete was the only head wrestling coach for Montpelier to earn a NWOAL League Title.
Pete was a member of the Wesley United Methodist Church in Bryan and a lifetime member of the Bryan Moose Lodge.  In 1971 Pete was inducted into the Ohio Association of Track Coaches Hall of Fame, the Honorary Hall of Fame at Defiance College in 1998 for education, coaching and athletic director, and in 1983 the Ohio Athletic Directors Hall of Fame.  Pete was a member of the Williams County Hall of Fame, the Montpelier Athletic Hall of Fame, National Interscholastic Administrators, Ohio Retired Teachers for 25 years.
He was also an El Zaribah Shriner in Phoenix, Arizona, a York Rite Mason in Scottsdale, Arizona and a member of Masonic Blue Lodge in Bryan.  In 1982 in honor of Pete's accomplishments and dedication to the Montpelier School System the Track was named the Pete Dreher Track. During his retirement he enjoyed golfing with his family and friends. Pete was a season ticket holder for the University of Michigan football program so that he could enjoy the Big Ten. He enjoyed being in the sun, spending winters in Arizona, spending time at the cottage at Hamilton Lake and Sunday family dinners.
Pete is survived by his wife Marian; one son Todd (Julia) Dreher of Spartanburg, SC; daughter-in-law, Kathy Dreher-Morawski of Point Place, OH; eight grandchildren, Toni Callan, Kelli Dreher, Kara (Rick) Custar, Hillary (Shawn) Moore, Hannah Dreher, Hope Dreher, Anastasia (Mark) Doran, Uri Dreher; four great grandchildren Josie Callan, Jack Callan, Kendyl Moore and Parker Moore.
He was preceded in death by his parents, one son Dean K. Dreher on May 25, 2007, and one grandson Peter R. Dreher on January 1, 1986.
Visitation for Pete will be on Tuesday, October 30, 2018 from 11:00 am-1:00 pm at the Thompson Funeral Home on Main Street in Montpelier.  A funeral service will take place immediately follow visitation at 1:00 pm at the funeral home with Reverend Deb Widdowson to officiate.  Interment to follow at Shiffler Cemetery in Bryan with Military rites by the Montpelier Veterans.
Donations may be made to the Montpelier Area Foundation-Dreher Track Scholarship or the Williams County Humane Society.
---