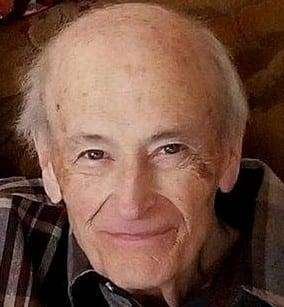 Daniel L. Bishop, 85 years, of Bryan, passed away Monday, February 12, 2018 at Community Hospitals and Wellness Centers, Bryan.  Daniel was born May 30, 1932 in Bryan, Ohio, the son of the late Daniel P. "Rusty" and Annette (Crum) Bishop.  He was a 1950 graduate of Bryan High School.  Daniel was an Army veteran of the Korean Conflict, where he received the Korean Service Ribbon, Two Bronze Stars as well as the United Nations Service Medal and the National Defense Medal.  He married Betty Jean Smith on December 10, 1954 in Angola, Indiana, and she preceded him in death on January 2, 2006.  Daniel worked for General Telephone Company for 37 years, retiring in 1985.  He was a member of the VFW Post 2489 and the NRA.  Daniel was a very patriotic individual, proud of his service to our country.  He enjoyed fishing with his friends, as well as attending Gun Shows, NASCAR racing, following anyone who drove a FORD.  He loved spending time with his family, especially his grandchildren and their academic and athletic events.
Surviving are his two daughters, Pamela Bishop of Bryan and Dina (Michael) Culler of Bryan; nine grandchildren, James Bishop, Collin Bishop, Sarah (Milo) Estevez, Elizabeth Saylor, Salli Jones, Nick (Rachel) Jones, Bernie Jones, Sean Culler and Samuel Culler; six great-grandchildren; Dacey, Oliver, Mia, Lillyann, Wyatt and Jayden; one sister, Margaret Newton of Horton, Michigan; sister-in-law, Genny Bishop. He was preceded in death by his parents, wife, Betty Jean, one son, Craig; stepmother, Irma Bishop, two brothers, Richard and James Bishop and one sister, Patricia Stahler.
Private graveside services will be held at a later date in Williams Center Cemetery with Military Graveside Rites accorded by the Bryan VFW Post 2489.  Arrangements are under the care of Oberlin-Turnbull Funeral Home, 206 North Lynn Street, Bryan.
Those planning an expression of sympathy are asked to consider memorial donations be given to Bryan VFW Post 2489, 709 South Walnut Street, Bryan, Ohio 43506.
You can send your condolences or share your memories with the family by visiting Daniel's obituary page at www.oberlinturnbull.com