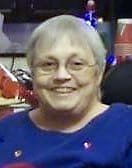 (Gifted Crafter & Accomplished Baker)
Deborah Lynn Davison, age 67, of Toledo, with her family by her side, passed away under hospice care at Swanton Valley Rehabilitation and Care Center Friday night, September 15, 2023.
She was born in Toledo on September 25, 1955 to the late William Herman Sr. and Hazel (Hovermale) Herman who survives.
After graduating from Woodward High School, Deb attended college where she received licensing as an STNA.
She was gifted in the art of crafting, often remembered for creating unique and personalized shirts and sweatshirts. Deb was also an accomplished baker, of which cakes were her specialty.
Deb was blessed with a loving heart and enjoyed volunteering at Reynolds Elementary in the library and helping many years with the Girl Scouts, where she was a Scout Leader. Deb's love also extended to her family and four legged pets.
She is survived by her mother, Hazel Herman of Perrysburg; daughters, Christie (Christopher) Griffin of Taylorsville, KY and Elizabeth (Brian) Hildebrand of Delta; brothers, William (Barbara) Herman Jr. and Charles (Kristie) Herman; sisters, Karen Herman, Laura (Jay) Rydman. Mary Riley Stalfort and Amy (Andy) Lesick; grandchildren, Joshua and Aubrey Hildebrand and Andrea Blackwell; along with loving cousins and friends.
Friends will be received from 4:00 PM to 6:00 PM on Wednesday, September 20, 2023 at Barnes Funeral Chapel and Crematory, 5825 St Hwy 109, Delta, Ohio 43515 with a memorial service celebrating Deb's life beginning at ­­­­­­­6:00 PM on Wednesday also at the funeral home.
In lieu of flowers, those wishing a show of sympathy are asked to consider memorial contributions to the Lucas County Humane Society, 827 Illinois Ave, Maumee, Ohio 43537 in her memory.
Online condolences may be sent to the family through our website at www.barnesfuneralchapel.com.
---