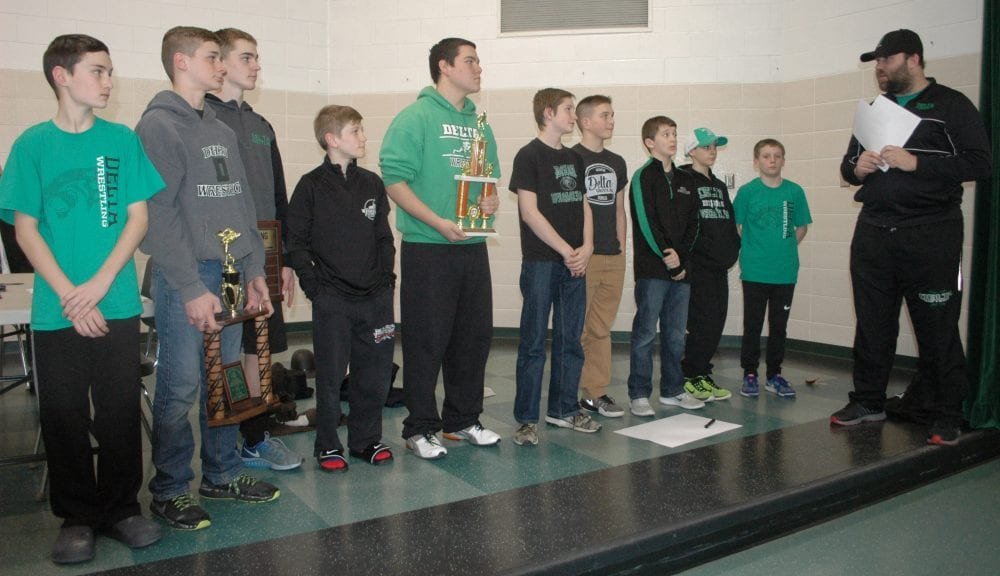 Successful students at Pike Delta York Schools were celebrated at the March 15 meeting of the Board of Education.
The board had its meeting at the Middle School cafeteria-auditorium. Several middle school students were among those recognized by the board.
This included Maddie Tack as Middle School Student of the Month. Tack was also a part of a trio ( who performed a skit about the Women suffrage movement in Britain for National History Day called "The Empty Box.) Tack was joined by Jaydyn Friedman, and Leigh Morris.
The League Champion Middle School Wrestling team was honored as well.
Principal David Ford recognized the teachers who helped out with the Panther Den before/after school program.
Past Elementary Student of the Month Aubree Perdew was honored.
The high school student of the month was Alexa Tenney and the elementary school student of the month was Megan Ersam.
National History Day Presentation, "The Empty Box", Jaydyn Friedman, Leigh Morris, and Maddie Tack.
The board approved the 2017-18 school calendar. There was some debate about scheduling graduation on a Thursday night, May 24, but Superintendent Ted Hanselman said the date is one that will not conflict with track and field events. Baseball and softball games are easier to reschedule.
Parents have said scheduling graduation on the Sunday of Memorial Day weekend is impractical, High School Principal Kristie Reighard, said.
The board approved an overnight trip for 20 district students to compete in the State National History Day event in Delaware, Ohio , April 28-29. Parents will be responsible for travel and lodging.
Twenty-five students competed at the district level in Bowling Green March 4. The theme this year was Taking a Stand in History and the students selected many interesting topics for their projects, teacher Jane Foor said. The top three projects in every category and each level, junior and senior, qualified for the state competition. Twenty of the 25 PDY students received medals and qualified for state competition.
The students will be competing on the Ohio Wesleyan University campus.
The qualifiers are:
Individual Website Junior The Federalist Papers: Taking a Stand for the U.S. Constitution -Alana Hardesty
Individual Paper Junior The 95 Theses: A Brave Stand Against the Corrupt Catholic Church – Megan Schermond
Individual Paper Junior Crazy Horse and his Stand Against the U.S. Government – Kaleb Barnes
Group Website Junior An Independent Texas: Sam Houston's Stand During the Mexican War Holden Barnes and James Ruple
Group Website Junior Branch Rickey's Stand: Striking Out Baseball's Color Barrier Evan Hanefeld, Kris Burns, and Rylee Hanefeld
Group Performance Junior The Empty Box Jaydyn Friedman, Leigh Morris, and Maddie Tack (Woman Suffrage)
Group Performance Junior Andrew Jackson's Stand for Indian Removal Which Lead to the Trail of Tears Emma Deffenbaugh, Kyle Baumhower, and Lily Shadel
Group Exhibit Junior Irena Sendler's Stand: Smuggling Jewish Children Out of the Warsaw Ghetto Allison Buckenmeyer and Claire Westphal
Group Documentary Junior Khrushchev and JFK's Standoff: The World Holds its Breath for Thirteen Day- Nicholas Mazurowski and Zack Mattin
Group Documentary Junior The House Under a Crazy Star: The Zabinskis' Stand Against Hitler's Final Solution – Ally Sprow and Reily Underwood
High school students Sydney Schauwecker and Hailey Hoffman made it to the final round of judging (top six) but did not advance to state.
They created a senior group documentary entitled Shining the Lights of Truth: How Ida B. Wells Took a Stand for Civil Rights and the End of Lynching.
The board also approved an overnight trip for students who qualified for the State Destination Imagination competition April
Students competed at the Region 10 tournament, Feb. 25, and 13 of the 14 PDY teams received medals and trophies.
Seven teams placed first and one high school team placed second. Those teams moved on the state level.
The teams will travel to Mt. Vernon, OH, April 7-8.
Parents will be responsible for transporting their child to and from the tournament.
The teams are as follows:
Elementary/Middle School Teams
The Six Unknown Superstars – 1st – Adrienne Buckenmeyer, Trevor Nowak, Ethan Huffman, Morghyn Tippens, Jordinn Heinemann , Taylor Bernal; Mrs. Buckenmeyer – Team Manager
Nothing's Out of Reach According to Flying Giraffes – 1st – Danica Ford, Maverick Mercer, Hayden Bates, Jadon Lohman, Evelyn Demaline, Will Tack; Jane Foor – Team Manager
3 Peeps and 2 Awesome Geniuses – 1st – Joel Arroyo-Sierra, Natalie Friess, Hannah Barnes, Avery Tedrow, Cooper Tenney; Carmen Tedrow – Team Manager, Jana Friess – Team Manager
Middle School Teams
What are those … Twinkle Toes? – 1st – Leigh Morris, Allison Buckenmeyer, Layla Stickley, Gretchen Culler, Maddie Tack, Koby Albring, Dianne Eckenrode; Jamie Morris – Team Manager
We Found DI in Team – 1st – Ally Sprow, Jaydyn Friedman, Kaitlyn Warner, Kaleb Sutton, Kalvin Tenney, Anthony Pelton; Jane Foor – Team Manager
Middle/High School Teams
*Internally screaming* – 1st – Sydney Schauwecker, Bellae White, Hailey Hoffman, Tonya Schauwecker – Team Manager
New Phone … Who DIs – 1st – Courtney Riches, Joe Richardson, Hailey Hoffman, Sydney Schauwecker; Jane Foor – Team Manager
High School Team
Gone with the Colorz – 2nd – Mariah Baker, Lily Strong, Mary Westphal, Addy Gomoll, Sky Gomoll; Jake Gomoll – Team Manager; Buffy Gomoll – Team Manager
The rest of the teams' placements:
The Tec Bominators – 2nd and won special Spirit of DI Award; FDI – 5th; DI of the Brainstorm – 2nd; Look, Mom! We're in the Program – 2nd; DI Vanished – 3rd; Make-a-lots – Rising Stars – received medals.
The district saw 12 additional students achieve the Third Grade Reading Guarantee using Terra Nova. Twenty more students still need to meet the promotion score.
The middle school's Panther Den report from Principal Ford shows 65 percent of the students are on the free or reduced lunch status. The program has seen attendance rise from 27 at the first of the school year to 91.
Eighty-nine percent of parents feel more connected to their community.
Twenty-one students have been referred to the program in the past two months.
The program is paying off academically with 32 students improving at least one letter grade in a core subject and 50 total letter grade improvements among those 32.
Twenty-one students on first or second honor roll.
Elementary School Principal Ellen Bernal reported increases of students in grades K-3 being on track in reading and math from the first of the school year. In reading, the number of students not on track went from 61 to 44 (a 27.8 percent improvement and for math, the numbers went from 40 to 31, a 22.5 percent increase.
High School Principal Kristie Reighard, said the students enjoyed the Cinema Drive presentation on distracted driving. The event featured a talk from Delta Police Chief Nathan Hartsock on the types of traffic stops he makes on teens.
Three teachers and 20 female students toured North Star Blue Scope Steel as part of the Women in Steel Initiative. The entourage listed to women at mill following the tour.
James Pruitt may be reached at publisher@thevillagereporter.com