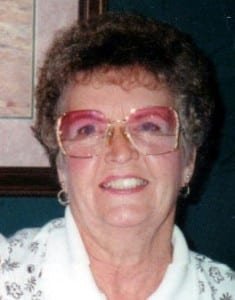 Donna B. Merrifield, 81 of Edon died Wednesday morning at Evergreen Manor Nursing Home in Montpelier.  She was born on June 21, 1931 in Sylvania Township to Vernon Ray and Della (Bishop) Mahan.  Donna graduated from West Unity High School in 1949.  On August 27, 1952 she married Richard H. Merrifield, and he survives.
Donna retired in 1994 after 32 years of working as an assistant cashier for the National Bank of Montpelier.  She was a member of the Eagle Creek Garden Club.
She is survived by her husband of over 60 years Richard, a sister Velma Moor of Montpelier, sister-in law Ruth (James) Hurd of Montpelier and numerous nieces and nephews.
Donna was preceded in death by her parents, brother Donald Mahan, sister Elma Jackson, niece Sabrina Mahan and nephew Charley Moor.
Visitation for Donna will be on Sunday March 3rd from 4-8 pm at the Thompson Funeral Home in Montpelier.  Services will be on Monday at 2pm at the funeral home with Reverend Robert Damschroder to officiate.  Interment will follow at Riverside Cemetery in Montpelier.  Donations may be made to the Montpelier Church of Christ.  Online condolences can be made at www.thethompsonfuneralhome.com