(PHOTOS BY RICH HARDING, STAFF)
---
By Rebecca Miller
Lots of heart could be seen in this production of The Wizard of Oz musical, done by students from grades one through twelve in Edgerton Schools. Adding the younger students gave the musical the feel of a Parents' Night Program from the past.
Parents and grandparents, aunts and uncles, as well as friends and school supporters all turned out to see the kids perform.
The high school students who played the lead roles did a nice job of carrying their parts, especially considering the fact that they had big shoes to fill from the famous movie!
Bre Reilford, the senior who played Dorothy, has a lovely, clear singing voice and did beautiful justice to the well-known songs that the audience restrained from joining in on when she sang.
Scarecrow, played by junior exchange student Annika Middel, Tinman, played by senior Karissa Merillat, and The Cowardly Lion, played by senior Tommy Adkins were all delightfully fun to watch.
There were moments when they let loose and enjoyed themselves as they did a great job with such a long play.
It lasted from 7 – 9:40, with a 15-minute break in between acts, and that is a lot of lines to learn and songs to sing!
The other members of the cast included:
Greta Brown (senior) as a crow, a Winkie, a tree, and Emerald City Citizen and an Ensemble singer
Maddie Brown (senior) as Miss Gulch and the Wicked Witch of the West
Dominique Fort (senior) as Winkie General, a tree and a member of Ensemble
Chloe Merrillat (senior) as Aunt Em and Good Witch Glinda
Nicholas Roth (senior) as Uncle Henry, the Emerald City Guard, and a spook
Charity Rupp (senior) as a crow, a Winkie, a tree, and a member of the Ensemble
Jeromy Gonzales (junior) as Professor Marvel and The Wizard of Oz
Jordon Hohler (junior) as Nikko, a crow, Emerald City Citizen, a mushroom, and Ensemble member
Angel Sims (junior) as Toto in the Land of Oz
Libby Cheek (sophomore) as Apple Tree, Winkie, and Ensemble member
Alexis Vermillion (sophomore) as an Apple Tree, Winkie, Emerald City Citizen, and Ensemble member
Anna Vermillian (sophomore) as an Apple Tree, Winkie, Emerald City Citizen and Ensemble member
Grace Herman (freshman) as a crow and Ensemble member
Jewel Cheek (freshman) as an Apple Tree, Winkie, and Ensemble member
Chloe Blakely (eighth grade) as a crow, Winkie, Jitterbug, and Ensemble member
Sarah Vollmer (eighth grade) as a crow, Winkie, Jitterbug, and Ensemble member
Mikayela Burkhart (eighth grade) as an Apple Tree, Winkie, Jitterbug, Emerald City Citizen, Ensemble member, and Children's Music Leader
Dezarae Goebel (eighth grade) Jitterbug and spook
There was also a very special little creature in the show, Khloe Bowie Hug, a delightful little black dog who made her debut in acting, as Toto.
She seemed to be completely at ease with Dorothy carrying her around, and even did well with any handoffs to others that were required by the script.
Besides the four main characters who did a great job with their parts, there were a few others who brought chuckles or smiles to the audience.
Angel Sims characterization of Toto was delightful. Never speaking a single word, except for an occasional "bark", Sims' facial expressions and head tilts brought her character to life.
Chloe Merillat who played Aunt Em and Glinda has a voice that is sweet and easy to listen to. Nikko, the Leader of the Flying Monkeys, acted by Jordon Hohler was quite the ape and made the children laugh.
Nicholas Roth did a nice job with Uncle Henry and switching to the Emerald City Guard in the Land of Oz.
The much-hated Miss Gulch who becomes the Wicked Witch of the West in the Land of Oz, was done over the top by Maddie Brown, as she should be. She was a good villain.
The use of microphones nowadays, sometimes makes the voices too loud, as was the case when the witch laughed, but her character was well balanced and enjoyable to watch.
And of Course, The Wizard himself, played by Jeromy Gonzales, was very convincing. The method used to portray him as loud and scary, putting a large shot of him on the back curtain as he tried to intimidate Dorothy and her friends, was effective.
His mild manner, as Professor Marvel and as The Great Oz, did well in calming the characters.
Erin Jackson, a freshman, was the Stage Manager for The Wizard of Oz, with Dezarae Goebel, Baylee Barnette and Samara Veres as the Stage Ninjas.
This stage crew did a great job of changing sets as quickly as possible between scenes and making sure the right props were on stage.
Junior, Sam Thompson held down the post for all of the Lighting involved, while the rest of the Production jobs were carried by adults.
Advertising and Programs were done by Stephanie Feeley; Set was built by Superintendent Kermit Riehle and friends; Sound was run by Production Director Eric Harter; and Costumes were assembled by a number of different people.
Assistant Director Nora Jackson made some of them, some were rented and all the little children's costumes were put together by their families.
The music was partially a sound track, but accompanist, Marie Moore played for the majority of the solos. Alica Krill also helped with some vocal coaching during practices.
The children who joined in as The Munchkins and as the Citizens of Oz sang beautifully and made their families proud.
All in all it was a good "down home" production.
Rebecca can be reached at rebecca@thevillagereporter.com
---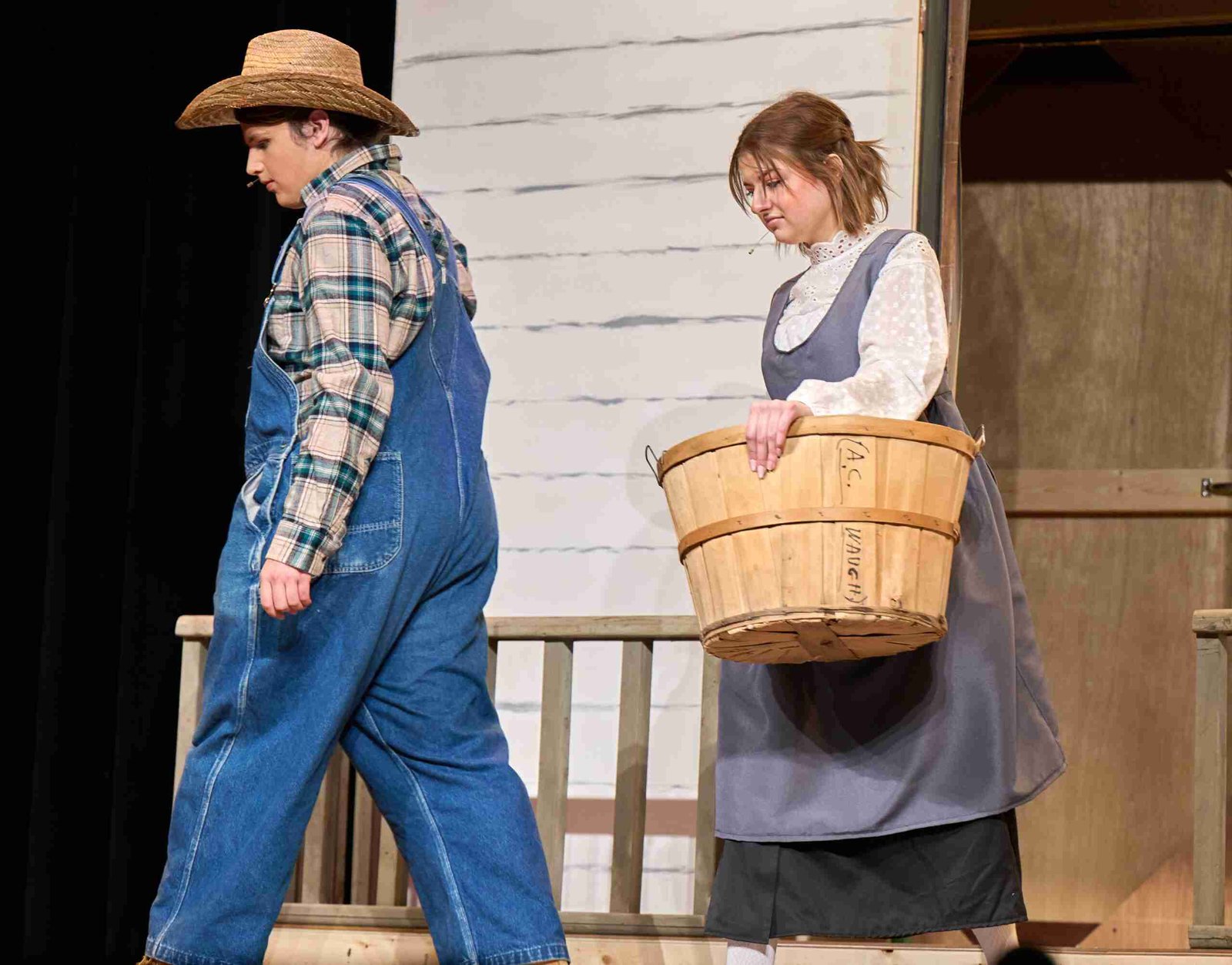 ---