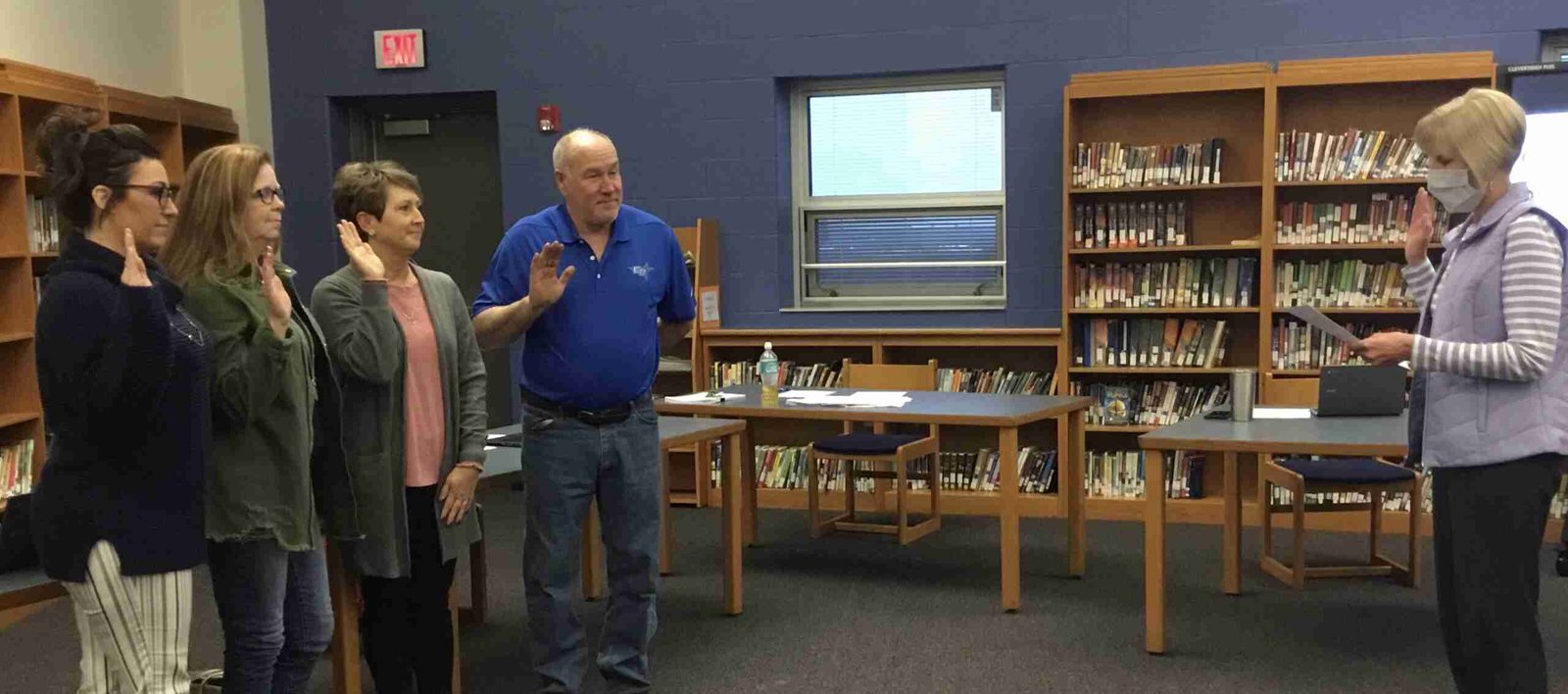 SWEARING IN … Edon School Board members Ashley Reed, Patty Eicher, Jamie Schaffter and Dave Wehrle were all sworn in by Treasurer Deb Nester, for the 2022 year at the January 13, 2022 meeting. (PHOTO BY REBECCA MILLER, STAFF)
---
By: Rebecca Miller
Organizational items taken care of during the specific meeting for that, by the Edon School Board on Thursday, January 13, 2022 included Oath of Office administered to Ashley Reed, Patty Eicher, Jamie Schaffter and Dave Wehrle; electing Cody Best and Jamie Schaffter to continue as President and Vice President; setting the dates for meetings to continue to be held on 2nd Monday of each month (except for March 7, June 27, and Sept.19); setting Board Service Fund at $5000; and Legal counsel as Ennis Britton (Bryan, Ohio). They also approved Cody Best as OSBA Legislative/Student Achievement Liaison, established School board compensation at $40 per meeting and a sports pass.
The Committees and Boards appointed for this year will be: Policy – Jamie Schaffter and Ashley Reed; Park Board Representative – Patty Eicher; Athletic Events Council Rep. – Patty Eicher; Bldgs/Grounds and Transportation – Cody Best and Dave Wehrle; Arts/Music Representative – Dave Wehrle; Finance & Audit – Cody Best and Jamie Schaffter, Parents Club – Ashley Reed.
Treasurer Deb Nester was appointed as Board Designee for Public Records Training.
The Organizational meeting, which began at 5 p.m., adjourned at 5:15 and the board went into the Regular meeting at 5:30 p.m. After Roll Call and the Pledge of Allegiance, Superintendent Anthony Stevens gave each of the Board members a Certificate of Appreciation for all that they do for the school, as January is School Board Recognition Month.
The board voted to approve:
-Minutes of December 13, 2021
-Financial reports for December 2021 (December 2021 compared to December 2020 revenues are down over last fiscal year by $240,139 and expenses are down for the fiscal year by $202,098.)
-Amended Certificate request from County Auditor
-Then and Now Certificate for November 2021
-Donations: $716 from Visions Photography for general use; $498.36 from Edon Parents Club for Elementary; $250 from WC Dairy for FFA; For Post Prom – $50 from Edon Farmer's Co-op, $100 from Seibenaler Construction, $500 from Ohio State Eagles, $200 from Dyco Mfg., $300 from Miller Body Shop, and $50 from Dr. Michael Miller; $95 anonymous gift to NHS; and $857 from Football Moms for Football One Man Sled.
:and Disposals – items no longer needed
-December Substitute list from the Northwest Ohio Educational Service Center
-Changes to the Music Trip scheduled for the week of March 13, 2022 (explained in Superintendent's Report)
In the Elementary Principal report, Jen Ripke, informed the board that the Third Grade Fall State results arrived last month and they have a 25% passage rate on the state ELA assessment with the State of Ohio having a 41% passage rate. She added that it appears that the writing of sentences and paragraphs is what they need to work on the most.
The District Spelling Bee Champ is 8th grader, Shianne Trausch, and the runner up is 7th grader Peyton Robinett. These two students will compete at the County Spelling Bee which will be held at Stryker on January 24th at 7 p.m.
The dyslexia committee has received a copy of the second draft form handbook from Ohio Department of Education. Right now, there are requirements for districts to have staff certified to work with identified dyslexia students.
The committee will meet to have discussion about the drafts prior to sharing with all staff at the February in-service. She expressed her thanks to the Parents Club for the Secret Santa Shop, to Mr. Stamper for handling the District Spelling Bee, to Nurse Heather for organizing the Mobile Dentist, and to Ms. Edwards for all of her behind the scenes help with holiday support for Edon families.
Mr. Stevens shared in his Superintendent's Report that for the Spring Music Trip they will be going to Nashville instead of Washington DC as DC has a mandate for vaccine proof in all indoor places.
They held a meeting to which parents and students were invited and were presented with two options, either Orlando, Florida or Nashville, TN. Mrs. Frastaci and Mrs. Kipfer had worked with the travel agency to put together these two options and ultimately the overwhelming majority of the group submitted feedback that Nashville was the choice.
The school has received notification the WC Juvenile Court has filled vacant Attendance/Truancy officer position by assigning the two juvenile probation officers to fill this role. Mr. Stevens expressed his appreciation to the court for this resolution to the issue created by the loss of the school's previous attendance officer.
The WC Health Department was at the school for a Food Inspection and they were given a good report.
On the evening of Thursday, January 6th, there was an incident in which the weight room had a significant amount of water flooding it. They got most of it cleaned up that evening but it has taken a little longer to get the rest of the moisture out and it was scheduled to reopen on Friday, January 14th.
He spoke with pride and joy as he announced to the Board that the "Varsity Football Team will be recognized for being in the top eight teams in the State Academic All-Ohio.They were 5th on the list."
"On top of having a really good season, this gives you a good idea of how successful these young men are both on the football field and also in the classroom. We also had two athletes selected to the North/South Game."
"So the awards just keep rolling in and that is a great thing to see for a great group of kids." He plans to have the team in to a Board Meeting after they get the plaque for the accomplishment. "We are just blessed with wonderful students and I am super excited about it."
There was a discussion of the "Real World Experience" in which the Juniors and Seniors got to participate. Different board members expressed their pleasure in the idea and the success, as well as sharing some ideas to make it even better in the future.
Superintendent Stevens presented some specs to the Board for the Home Bleacher/Press Box Project. He expressed his desire to make choices for some of them and leave other details to whoever gets the job.
Following a lengthy discussion it was agreed that they want it to be done by the end of the summer of 2022, they want approximately 85 feet in length, minimum of 48 inches above grade, eleven rows, minimum of 8×30 press box (no bigger than 10×30), 500 seats, width of front walkway will be minimum of 72 inches,
Mr. Best asked that they recognize Mr. Carl Sonneberger who passed away recently, as he was a long-time employee and coach at Edon Schools.
In Action Items, the Board approved:
-Accepting the Resignation of Landon Bloir, Varsity Assistant Baseball Coach from a paid position for the 2022 season AND the Approval of a supplemental contract to Landon Bloir as a Volunteer Varsity Assistant Baseball Coach, due to the nature of his work schedule.
-Recommendation to reject the Proposals for the Home Bleacher/Press Box Project #2 AND to Approve the Specs that were just discussed in the Board meeting, for the Home Bleacher/Press Box Project #2.
The Board then went into an Executive Session for the purpose of discussing Negotiations, Confidential matters as required by federal/state laws, statutes, and Security Arrangements. With no action taken, the meeting adjourned.
Rebecca can be reached at rebecca@thevillagereporter.com
---