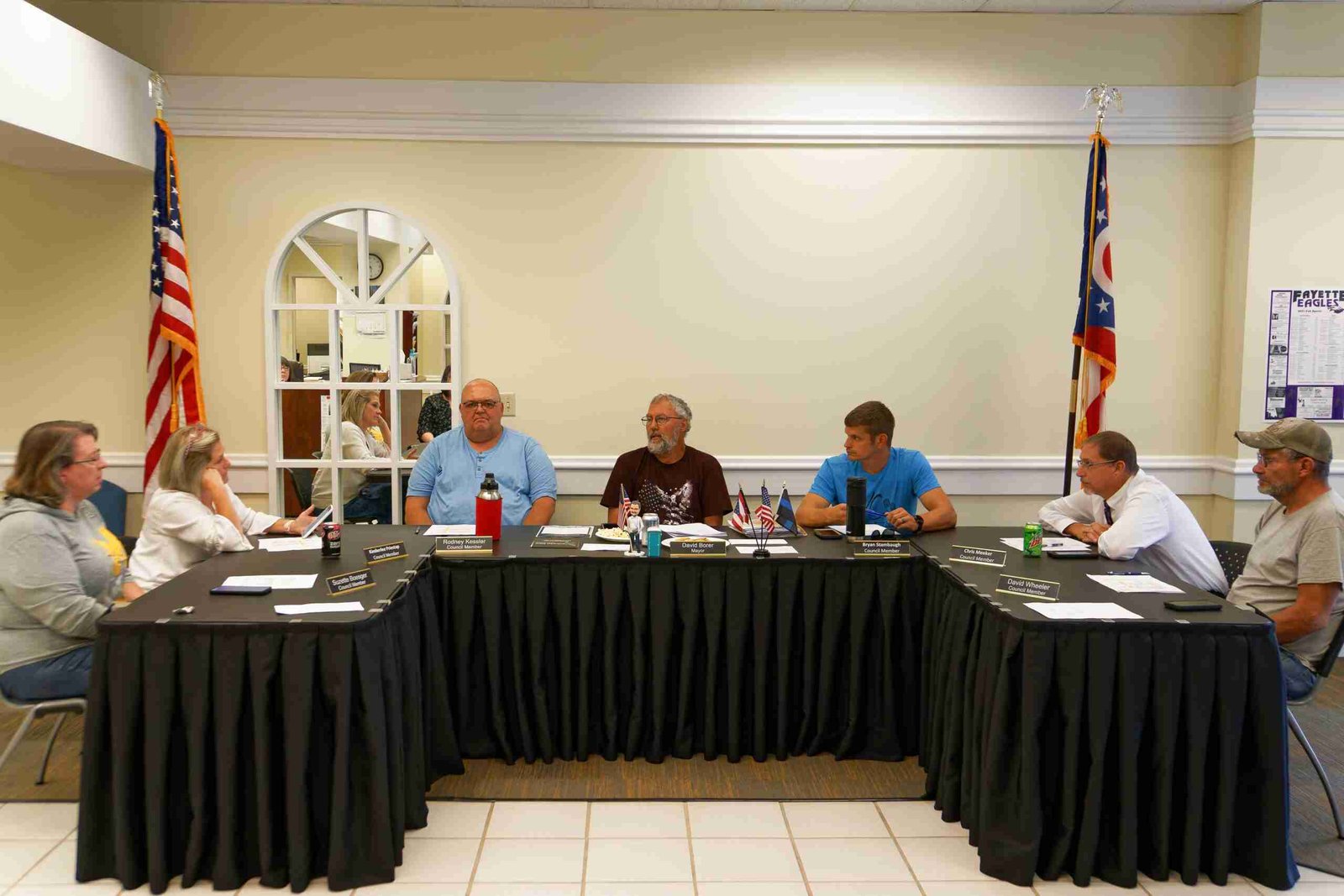 APPLICATION APPROVAL … The Fayette Village Council discusses the event application for the Fayette Fall Fest. (PHOTO BY JACOB KESSLER, STAFF)
---
By: Jacob Kessler
The Fayette Village Council held their meeting on Wednesday, August 8th. The meeting was called to order at 6:00 p.m. followed by a prayer and the Pledge of Allegiance.
Roll call then took place with all council members present. No amendments were needed to be made to the agenda for the nights meeting.
With no visitors, the council then approved the minutes from the previous meeting on August 25th before moving on to the mayor's report.
The mayor let everyone know that Northwest State Community College will be holding a State of the Community College Address on September 30th from 8 a.m. to 9:30 a.m. A breakfast will be provided and there will be guest speakers.
There was also thanks sent from the Legion to the council regarding the help received from Rodney Kessler. Mr. Kessler had helped take down the flags at the cemetery.
Council then moved on to hear the administrators report. An item on the agenda will be for the property tax assessment to certify annual special property tax accounts.
A meeting had taken place on September 2nd regarding the State of Ohio Infrastructure Grants.
The meeting was very informative, and it was said that the state should reply back to applicants on their status within 45 days of turn in date. A motion was made to accept the report which was approved.
In the Village Fiscal Officers report, a new bill list was printed. Some changes had to be made to a few line items to fix amounts to the correct number.
There was also communication received from the insurance company regarding the cost to add an additional event. The increased cost would be $250. A motion was made to approve the Fiscal Report which passed.
A motion was then made to pay the bills in the amount of $66,540.60 which was approved. With no ordinances or resolutions on the agenda for the night, council moved to new business. A motion was made and approved to certify the tax assessments.
Council then also discussed the upcoming Fayette Fall Fest with the decision being to make a motion to approve the application for the event and pay the additional $250 needed for insurance. The motion was voted on and passed.
Council then moved to adjourn at 6:18 p.m.
Jacob can be reached at jacob@thevillagereporter.com
---