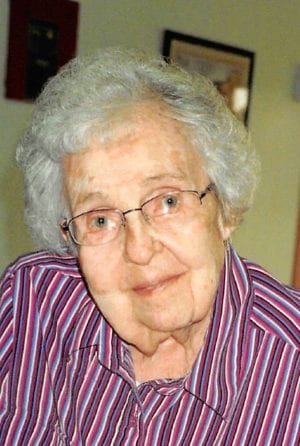 Frances J. Bohner, 102, of Hillsdale Michigan passed away April 27, 2016 at Country Living of Hillsdale. She was born on November 12, 1913 to Ellwood and Frances (Johnson) Bollinger. The youngest of seven children, she grew up on a farm near Pioneer, Ohio and graduated from Pioneer High School in 1931 as the salutatorian of her class.
Frances worked for several families taking care of the elderly and new mothers. She married her high school classmate, Kenneth Bohner, on November 9, 1934 in Angola, Indiana. They had two daughters. Judith was born on May 30, 1939 and Jeanne was born on June 8, 1945.
Frances worked alongside Kenneth on the family farm and was a homemaker. In 2009, Frances and Kenneth moved from their farm near Pioneer, Ohio to Country Living of Hillsdale in Michigan. She often said she was thankful to be living in such a nice place with wonderful caregivers! Their daughter Judith passed in 1998 and then Kenneth in 2011. Frances and Kenneth were married nearly 77 years.
Frances was a member of the Silver Creek Church of the Brethren where she taught Sunday School and played piano. She was a 50+ member of the Amboy Extension Club in Hillsdale. She also worked on the Amboy Township election board for several years.
Frances was a humorous and fun-loving person. She enjoyed working crossword puzzles and playing Scrabble. She was an avid reader, sometimes checking 7+ books out of the library a week! She often drove her friends and family to appointments and was always willing to help anyone in need.
Frances is survived by daughter Jeanne (Roger) McCaskey of Osseo, Michigan. Frances has five grandsons: Ken (Carol) Hartman, Andy Hartman, Matt (Becky) Hartman, Brian (Betsy) McCaskey and Jason (Beth) McCaskey along with six great grandchildren: Kyle, Joel, Jonathan, Kaylee, Emma and Alyssa, a sister in-law Margaret Gray and several nieces and nephews.
Frances was preceded in death by her parents, husband Kenneth, daughter Judith R. Hartman, four brothers, Loyal, Nelson, Paul, Donald Bollinger, two sisters, Hazel Whisler and Mary Carpenter.
Visitation for Frances will be on Monday, May 2nd from 10 am – 11am at Pioneer United Methodist Church in Pioneer. Services will follow at 11am at the church with Pastor Terry Bobzien to officiate. Frances will be laid to rest at Floral Grove Cemetery in Pioneer.
Memorial contributions may be made to Williams County Public Library – Pioneer Branch or Southern Care Hospice of Jackson, Michigan. Online condolences can be left for the family at www.thethompsonfuneralhome.com.