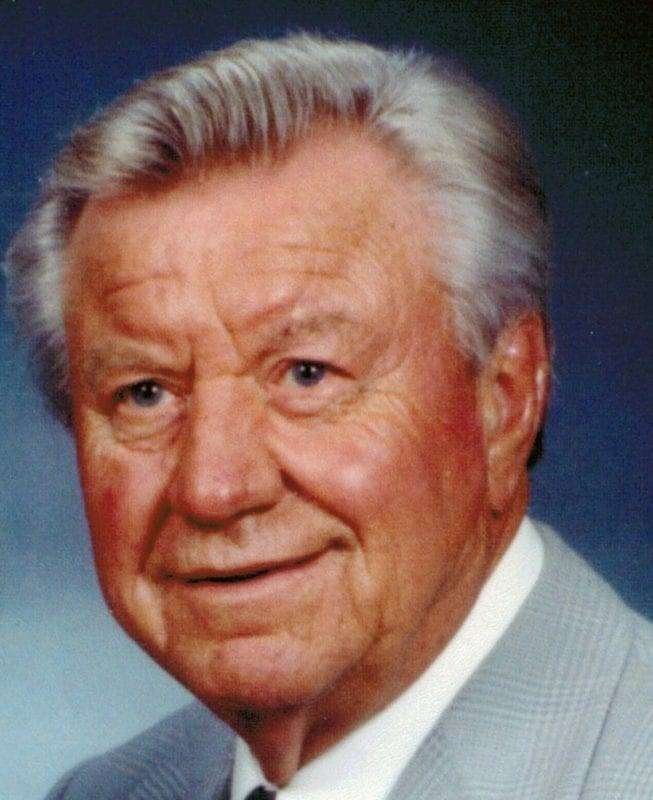 Gaylord W. Wagner, age 91 of Wauseon, peacefully passed away at home early Monday morning, November 27, 2017.
Gaylord was born on June 6, 1926 in Hoytville, OH to the late Jay Wagner and Anna (Ferrell) Wagner.
He was a graduate of Milton Center High School. Gaylord was a WWII Veteran having served with the U.S. Navy from 1944 to 1946.
On November 29, 1947 he married Norma Wise. Gaylord was owner and operator of Wagner Motor Sales in Wauseon for 41 years starting in 1958 with Chevrolet, Oldsmobile, and Buick, then acquiring Pontiac and Cadillac in 1961. Gaylord was an active member of the First Christian Church since 1958, the Chamber of Commerce and other civic organizations.
Left to cherish his memory is his wife of 70 years, Norma Wagner; children, William (Suzanne) Wagner of Wauseon, Pamela (John) Biddulph of Indialantic, FL and Sherri Wagner of Wauseon; brother, Wilbur (Johann) Wagner; seven grandchildren; eight great grandchildren and one great great grandchild.
Along with his parents, he was preceded in death by his sister, Shirley Wagner.
In lieu of flowers, memorial contributions may be made to First Christian Church, 129 E. Elm Street, Wauseon, Ohio 43567, Heartland Hospice, 3450 W. Central Ave, Suite 230, Toledo, Ohio 43606 or Promise in Brevard, P.O Box 120028 West Melbourne, FL 32912-0028 in his memory.
Arrangements are entrusted with Barnes Funeral Chapel, 5825 St Hwy 109 in Delta. Online condolences may be sent to the family through our website at www.barnesfuneralchapel.com.