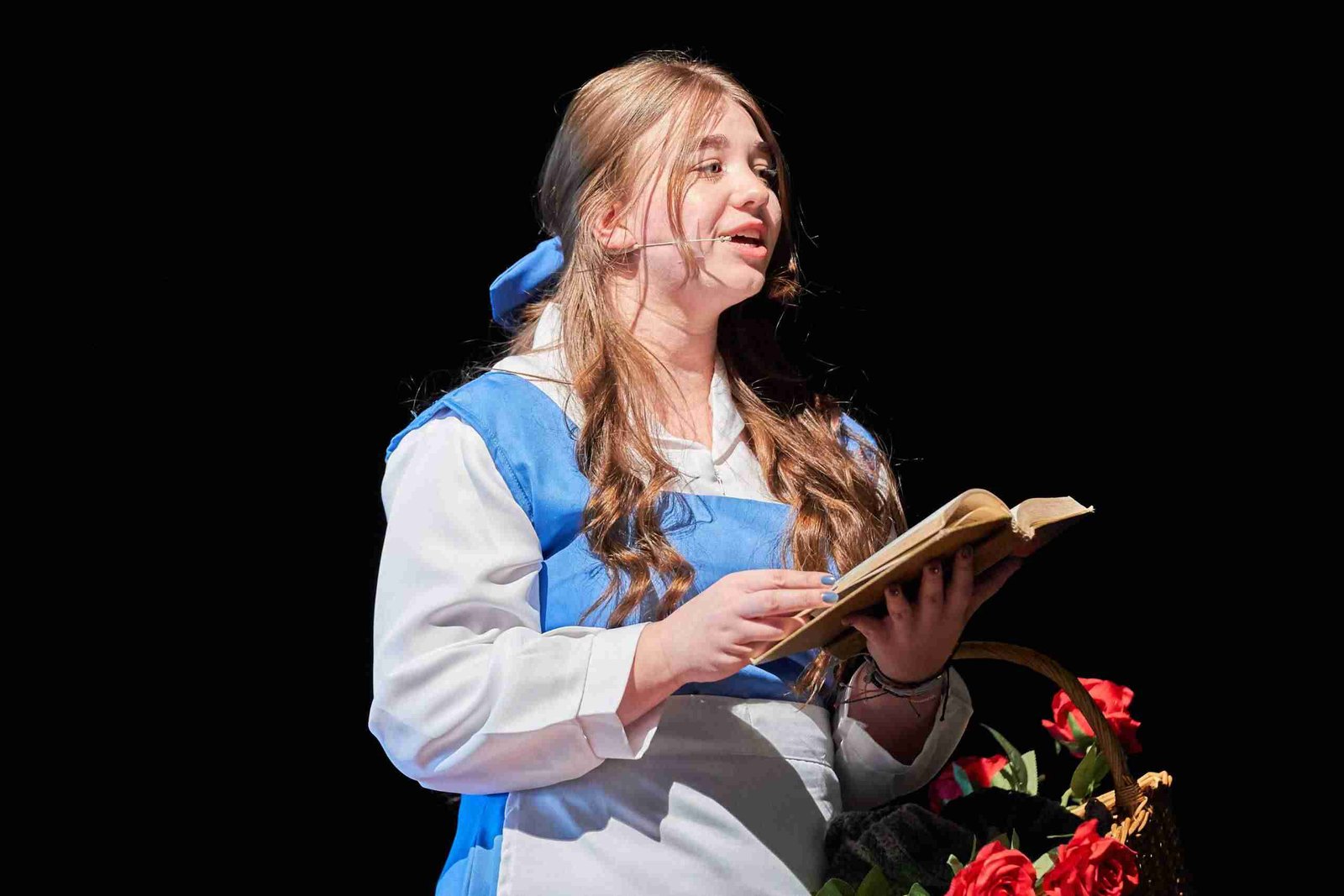 PHOTOS BY RICH HARDING, STAFF
---
By: Rebecca Miller
The well known musical Beauty and the Beast, with music by Alan Menken and Lyrics by Howard Ashman and Tim Rice, was directed at Hilltop this past weekend by Mr. Eric Cooper.  Cooper was excited but a little nervous as he is the Band Director and this was his first go at directing a Dramatic presentation.
This is his second year as the band director at Hilltop and he was honored to be asked to direct the Spring musical along with Assistant director Morgan Pendleton.
From the program for the production, "Based on the original Broadway production that ran for over thirteen years and was nominated for nine Tony Awards and the Academy Award wining motion picture, Disney's Beauty and the Beast, Jr. features some of the most popular songs ever written by Alan Menken and the late Howard Ashman, along with new songs by Menken and Tim Rice."
The cast for the Hilltop production was made up of Keely Burdine as Belle; Elijah Kuszmaul as Gaston; Ethan Siebenaler as Beast/Prince; Dylan Siebenaler (who stole the Friday night show) as Lumiere; Katie Geis (who is a freshman at Kent State) as Cogsworth; Ella Cummins as Lefou; Ingrid Hoffman as Mrs. Potts; Arend Schuurman as Chip; Allison McKinney as the enchantress, a villager and as Babette; Brook Moreland as Madame De La Grande Bouche;  Jadyn McClary as Monsieur D'arque, the baker, a villager and servant; Aiden Terrill as Belle's father Maurice; Keyin Altman as Narrator, villager and servant;  Marissa Bennett as Silly girl #1, librarian, villager and servant; Alaina Russell as Silly girl #2, villager and servant; and Conner Sanders as Narrator, villager and servant.
The Stage and Booth Crews were made up of Dominik Schmitt on spot light;  Jamie Chester on sound and mics;  Ella Calvin on lights;  Hayden Tarkington on the Curtain and Stage crew;  Eden Mahlman, Savannah Westfall, and Destiny Wilson on sets and Stage crew.
The costuming for this show was absolutely incredible. The costumers, led by Home Ec Teacher Mrs. Helen Philips and involved mother Mrs. Linda Calvin, did an amazing job of gathering, sewing and assembling costumes that looked they had been purchased at high dollar from a professional costume designer.
Chip, whose face was all that was seen, was delightful as he rolled across the stage in his little cabinet with a teacup over his head.  Lumiere's shiny golden costume added whimsy to his excellent acting, clear singing voice and humorous accent.
Mrs. Potts' costume must have taken hours to make and added tremendously to her character. All of the costumes were excellent, and Director Cooper said that the only piece they had to purchase specifically was the Beast Mask which was worn well by the handsome prince while he was the beast.
Despite some microphone issues for the narrators and nerves at the beginning of the show, this High School troupe pulled it off. Parents, grandparents and other family members and friends could be seen exchanging proud glances as "their" performers did their parts.
The sweet singing voice of the actress who played Belle, Keely Burdine, tied all the parts of the show together and kept the dramatic arts rolling.
Rebecca can be reached at publisher@thevillagereporter.com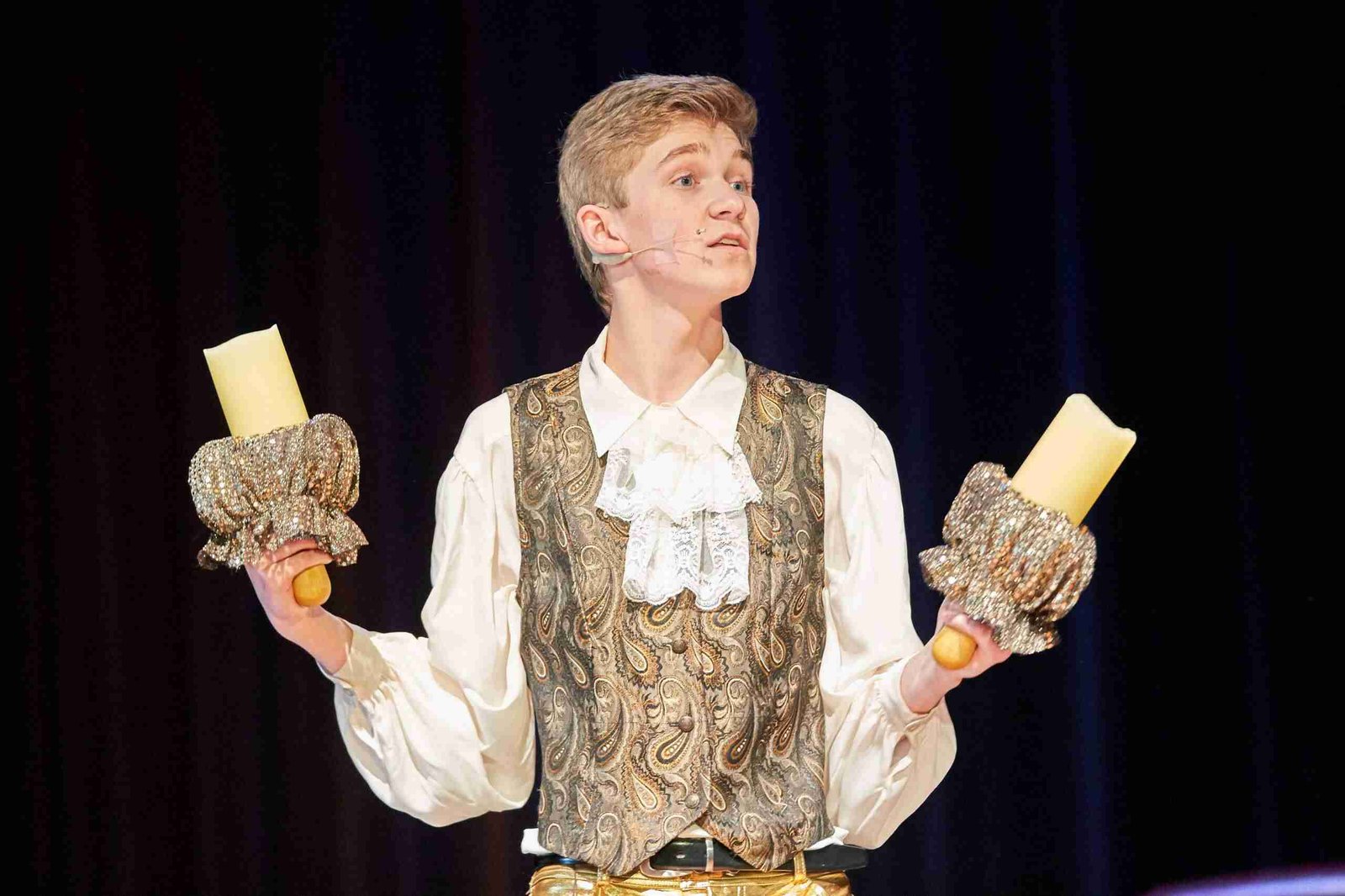 ---