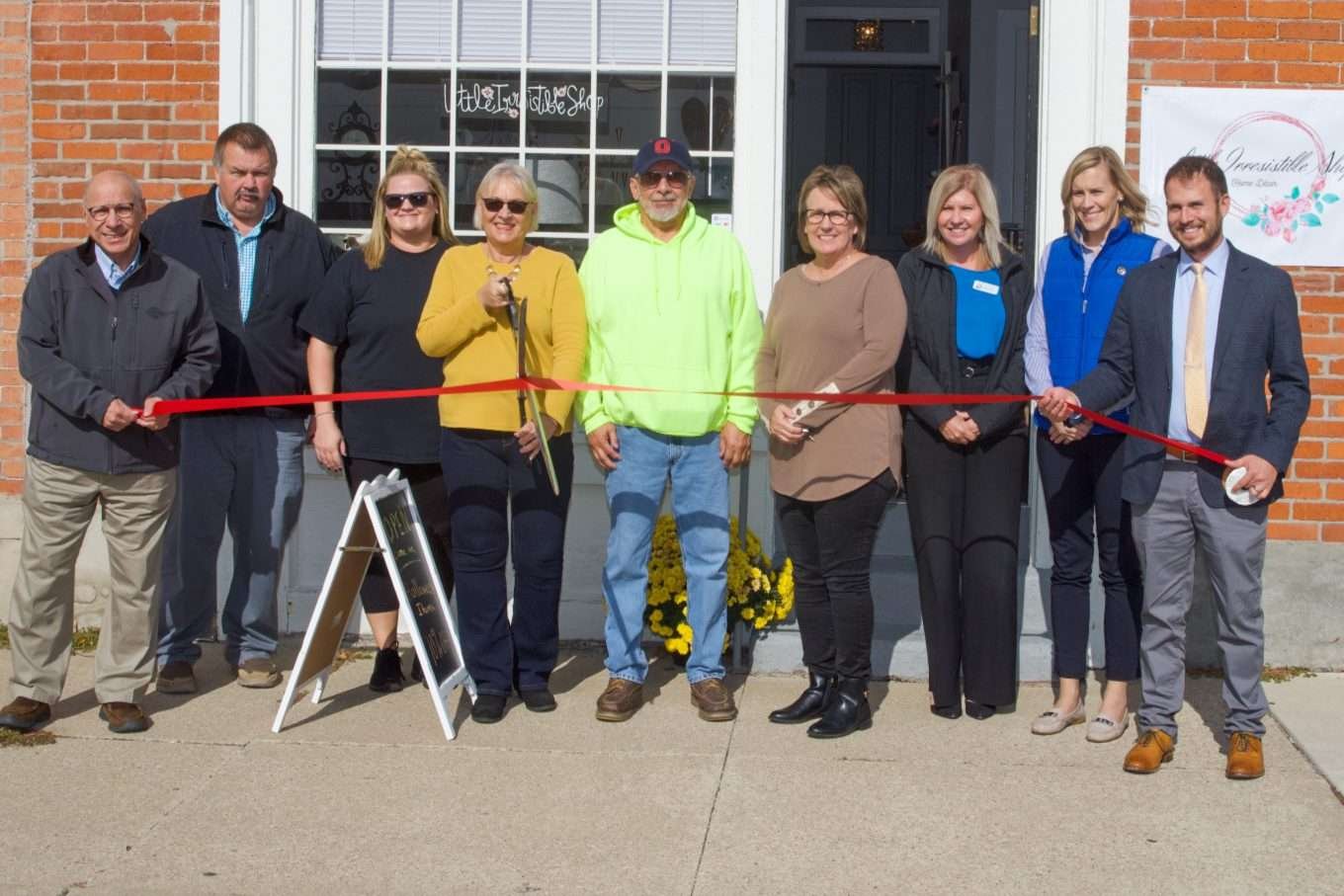 GRAND OPENING … Nancy and John Martinez stand with friends and members of the Wauseon Chamber of Commerce to perform the ceremonial ribbon cutting for the grand opening of their new shop. (PHOTO BY JACOB KESSLER, STAFF)
---
By: Jacob Kessler
The Little Irresistible Shop in Wauseon held their Grand Opening celebration complete with a ribbon cutting on Thursday, October 28th. The Shop is located at 107 East Elm Street in Wauseon just off of Fulton Street and near the Library, First Christian Church and the Post Office.
Nancy Martinez, who was known for quite some time as the owner of NanSee EyeWare in Wauseon, started the shop after her retirement.
"I retired a little over a year ago and I couldn't stand it. I like doing this sort of stuff, so I had to come back," said Nancy. Together with her husband John they have worked to get the store ready to open within the past month.
Little Irresistible is a Home Décor shop that is one of a kind. It features many re-purposed and redefined items that have been worked on by Nancy.
"The things we sell are more of a Farmhouse Style to beautiful upscale furnishings and gifts as well as distinct décor for elegant living. We find the things that you can't," said Nancy.
Nancy went on to explain that her whole house is done with re-find items like this. It is something that she likes to do and was doing a lot during retirement. But retirement did not give her the ability to interact with people or the city like she used to.
"I like people and I love to help them. I also love supporting Wauseon as much as I can. I could have gone anywhere but I chose to stay in Wauseon," said Nancy.
Members of the Wauseon Chamber of Commerce came to the shop and presented the two with a new plaque before taking a look around. Everyone then proceeded outside to perform the ceremonial ribbon cutting. Afterwards the visitors were offered snacks for the grand opening.
The store is open on Thursdays from 11:00 a.m. to 4:00 p.m. Fridays from 11:00 a.m. to 5:00 p.m. and Saturdays from 10:00 a.m. to 2 p.m. Next time you are in downtown Wauseon, stop on by the shop to see what they have to offer. Some of the items may be irresistible.
Jacob can be reached at jacob@thevillagereporter.com
---