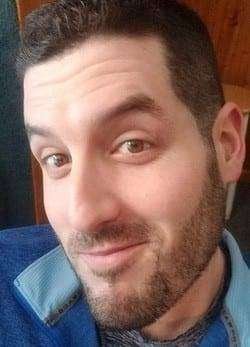 Jeremy Lynn Neuenschwander was born on March 30, 1990 and entered Heaven on March 27, 2019. He spent the first three hours of his life announcing his arrival to the world by screaming the entire time.
Jeremy loved reading, sports, music, radio, all useless trivia, smoking meat, barbequing and making people laugh.
Jeremy is survived by his parents, Chris and Toni Neuenschwander, brother, Trevor Neuenschwander, the love of his life, Amanda Bird and the should have been in laws, Cheryl and Paul Bird, Jessica and Jamie Double, Melissa and Clay Barber and Chris Bird. He is also survived by his "other" parents, Shari and Scott Powell and sisters, Kelli (Joe) Hatfield and Alli (Nick) Zinser. He is also survived by several Aunts, Uncles and Cousins that he enjoyed making memories with.
Jeremy was the master of the scoreboard show on WMTR radio. He often had the audience laughing over his remarks of taking the other team to the woodshed and giving them the business.
To honor Jeremy, we request that you wear sports gear to the visitation and celebration of life. He loved all sports and was usually reading about them, watching them or announcing them. It would make him smile to see all the sports gear to honor him.
A Celebration of Jeremy's Life will be held on Saturday at 10:30 AM at St. John's Christian Church with Pastor Erich Christman officiating. Interment will follow in the Archbold Cemetery. Friends may call at St. John's from 12-8 PM on Friday. Short Funeral Home in Archbold has been entrusted with the arrangements.
The family suggests that memorials be given to the Wauseon Machine Relay for Life Team, CHP Hospice or the donor's favorite charity.
---