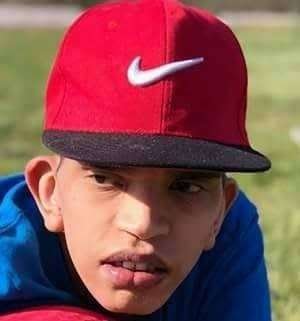 Juan Gabino Suarez, age 28 of Wauseon, passed away on Wednesday, July 4, 2018, at the Fulton County Health Center.
He was born in Bryan on June 3, 1990 to Juan and Maria Bueno, and they survive.  Juan graduated from Wauseon High School and was employed at Triangular Processing.  He was a very social person with a quirky sense of humor and loved to give people a hard time.  Juan enjoyed attending live sporting events, especially hockey, basketball, and football.  He was always carrying a ball with him wherever he went.  Juan was a member of the Fulton County Special Olympics soccer team – The Jaguars.  He loved to dance, be outdoors on the swing or trampoline, attend Camp Courageous, and especially be with his dog, Mia.
Besides his parents, he is survived by his siblings, Crystalina (James, Jr.) Batdorf, Eric (Tara) Suarez, Jay Jay (Kaycee Ford) Bueno, and Julian Bueno; nieces and nephews, Jalen, Logyn, Jazlynn, Jency, Braxton, and Liam; and paternal grandfather, Gabino Aranjo.  Juan also had a second mother in his life who survives, Debbie (John) Spiess and her family, Kathryn (Michael), Lauryn, Alayna, and Jacob.  He is preceded in death by his maternal grandparents, Leopoldo, Sr. and Josephine Suarez, paternal grandmother, Rosa Amelia Aranjo, and cousin, Irene Suarez.
Funeral services for Juan will be held on Thursday, July 12, 2018, at 11:00 AM, at the First Christian Church in Wauseon with Pastor Michael Doerr, officiating.  Interment will follow at the Wauseon Union Cemetery.  Visitation will be held at the Edgar-Grisier Funeral Home in Wauseon on Wednesday, July 11, 2018, from 1:00 PM until 4:00 PM and again from 6:00 PM until 8:00 PM.  In lieu of flowers, the family requests memorial contributions to the Benevolence of the Family, c/o Crystalina Batdorf, or the Fulton County Special Olympics Jaguars.  Online condolences to the family may be offered at www.grisierfh.com.  The Edgar-Grisier Funeral Home in Wauseon has been entrusted with arrangements.
---