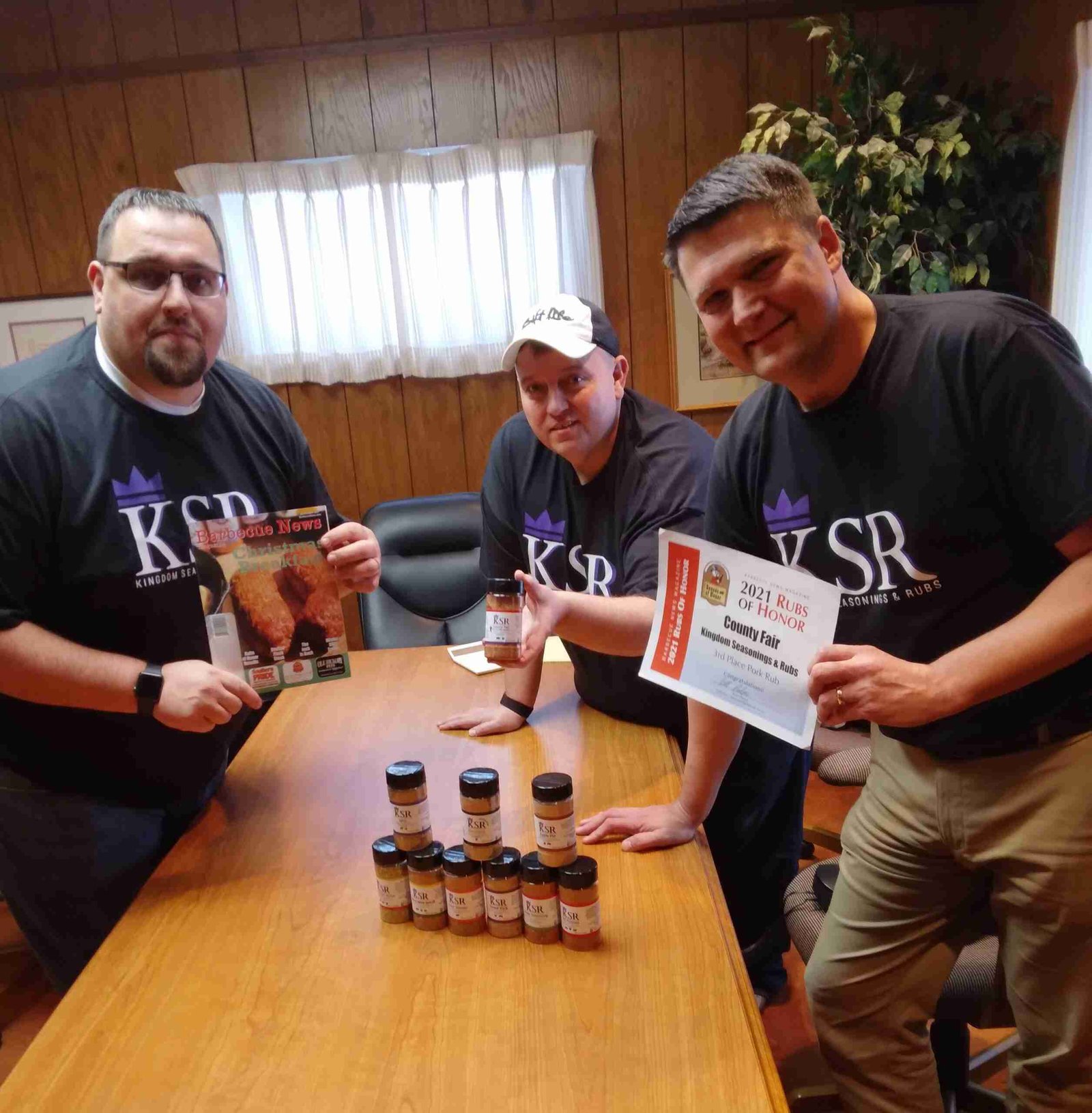 AWARD WINNERS … Left to right, are Kingdom Seasonings and Rubs employees Tim Slye, Mike Harmon and Scott Rupp. Not pictured is David Rupp. Slye displays the magazine that talks about their third-place national finish and Rupp holds up the award. (PHOTO BY DANIEL COOLEY, STAFF)
---
By: Daniel Cooley
Kingdom Seasonings and Rubs has only been in business for one year and does not yet own a store. Just the same, when the company learned about a national rub competition, they decided to enter. Little did they know they would be rewarded big time, with a third-place national finish.
"These judges taste hundreds of things and we were going up against the likes of Famous Dave's and Melissa Cookston," said Tim Slye.
"So, I was shocked that we took third, especially when we don't even have our own store."
The group, made up of Slye, Mike Harmon, Scott Rupp and his son David Rupp, took third place with Harmon's creation of County Fair rub. But there was a mild bit of disappointment for the group.
"We were hoping to get some feedback from the judges, on how to get started and how to get better, but all we got was OMG, we loved it," Scott Rupp said.
"Beyond that, all they told us they were disappointed we didn't put in our Country Fair sweet kick. Next year, we'll be sure to enter it and we plan to enter some more things. We are currently working on five new rubs."
The idea for creating a ribs company came from Scott Rupp's Bible Study, the Man Cave. The Man Cave came about because the study originally started in Scott Rupp's basement.
"We were thinking, what could we do to get more revenue for our study and talk to more men," Scott Rupp said. "Mike and I often cook together and make our own rubs, so we went with that idea."
"We had a big cookout where we made ribs, pork butts and chicken and the guys all raved about our rubs that we used. So, we thought, maybe we have something here. All of our rubs and dips, too, are our own creation."
Kingdom Seasoning and Rubs currently works out of Scott Rupp's kitchen. While they are not allowed to ship their product, they have been able to get their product in a few stores.
You can find their rubs, 12 different kinds, along with five different dips, at Ace Hardware in Wauseon, Pettisville Meats, Sunday's Market, Brookview Farms and Junky Monkey in Holgate.
And when it gets warm, you can find the group's rubs at some area events, like Picker's Paradise in Napoleon, Stryker's Sunday Funday and Field of Dreams, near Liberty Center.
Dan can be reached at publisher@thevillagereporter.com
---