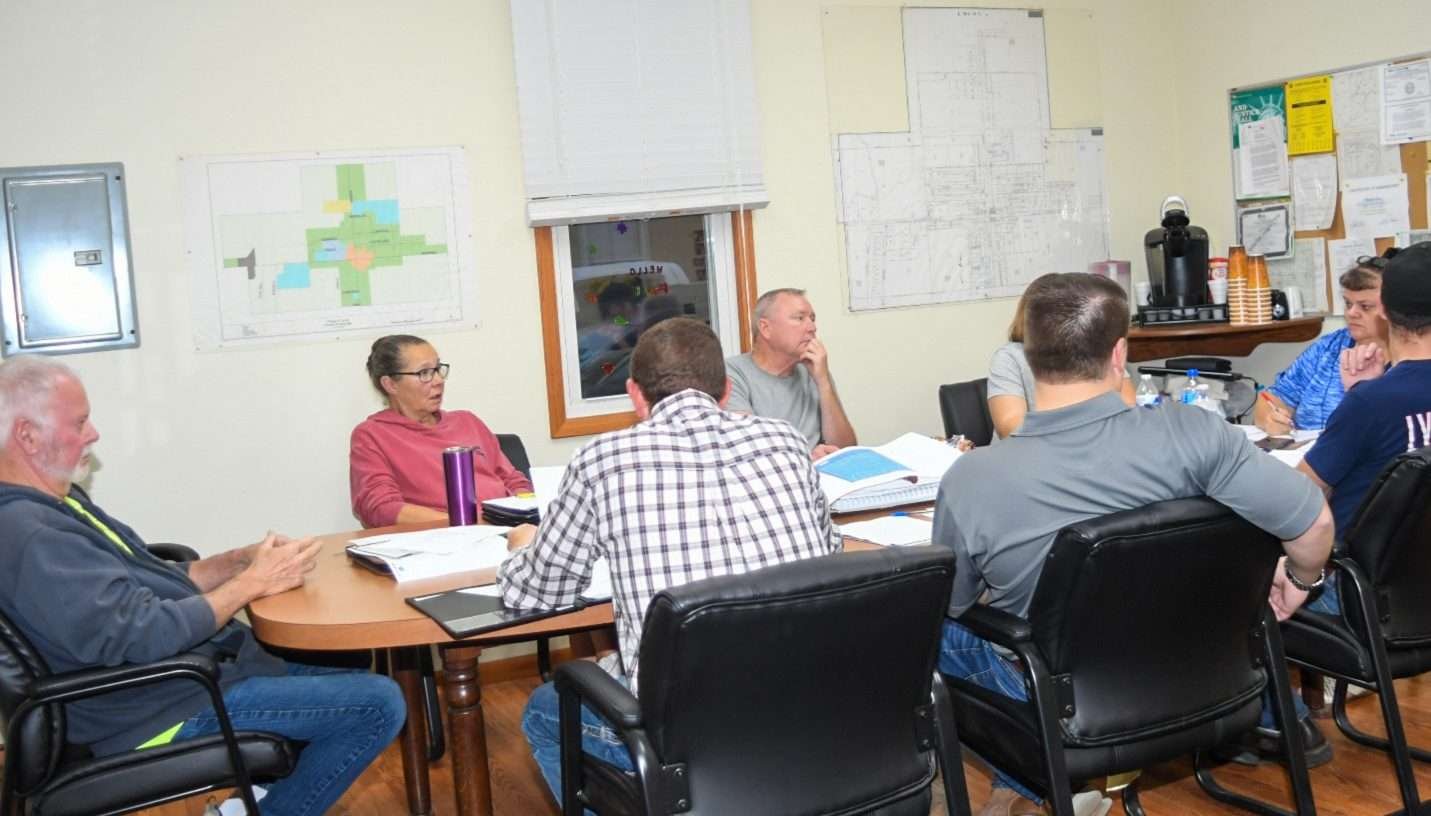 GETTING READY FOR THE HOLIDAYS … The Lyons Village council discusses the upcoming Christmas Parade. (PHOTO BY JACOB KESSLER, STAFF)
---
By: Jacob Kessler
The Lyons Village Council held their meeting on Monday, October 4th. The meeting was called to order at 7:01 p.m. followed by the Pledge of Allegiance and roll call. Council first moved to approve minutes from the previous meeting as well as the financial report.
With no public present and the mayor absent, council moved on to hear the employees report. The last of the EPA questions were sent in. Another question was sent back regarding the timeline for the water tower project.
Worthington Steel cancelled their community day that was taking place to install the new court at the village basketball and pickleball court.
It will now instead be done on October 16th by members of Council. Ohio Rural Water will be coming to perform their mapping project soon.Council then discussed getting trees put out in the park earlier this year than normal. A tree lighting was also discussed.
Moving to the committee meeting, Evergreen Viking Football players came and worked with the Village to fix up flower beds around town. Christmas decorations have arrived and will be looked at soon to see where they will be putting each one.
It was asked if there was any update on the stoplight. It was decided to put a bag over it for now until it can be looked at further.
In old business, the Village has received the final papers it needs to take possession of the cannon at the park. An update on PayStar was given in regard to online water billing.
So far, around 60 people have signed up to use the new online billing service in its first week. A meeting to go over the handbook was then scheduled for October 18th, at 6:00 p.m. with the next regular meeting taking place on November 1st.
The house across the street was then discussed regarding an attempted purchase. A communication was received from ODOT in regard to when they come through to redo 120.
The Museum in Wauseon is having a Christmas at the cabin day. There will be a Santa and a bonfire with elves. Next year's budget was also discussed in regard to making a list of what they will need to do.
It was asked when the Christmas parade was. The date is currently set for December 11th. A motion was made and passed to accept funds from the Auditors meeting for next year in the amount of $23,120.81.
Another motion was made and also passed to accept the funds from the ARP COVID money and be able to spend it.
The Sheriff's report was then read. 36 hours were used patrolling the Village limits in August resulting in the handling of 12 complaints and 2 warnings. Council then moved to adjourn at 7:48 p.m.
Jacob can be reached at jacob@thevillagereporter.com
---