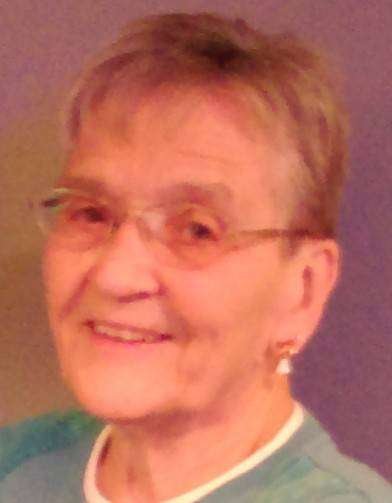 Mary Lou Nemire, age 83, of Stryker, passed away Thursday afternoon, October 31, 2019, at Fairlawn haven Nursing Home in Archbold. Prior to her retirement in 1999 she had worked at Sauder Woodworking and the Sauder Outlet Store in Archbold for many years.
Mary Lou was born in Bryan, Ohio on January 5, 1936, the daughter of Paul and Helen (Moll) Ruffer. On May 5, 1956 she married Donald Penrod and he preceded her in death in 1993. On February 12, 2000 she married Vernon Nemire, and he survives. She was a member of St. john's Christian Church in Archbold. Mary Lou loved reading, crossword puzzles, Scrabble and her roses.
Surviving beside her husband, Vernon, are children, Michael (Colleen) Penrod of Archbold, Scott (Becky) Penrod of Fremont, Indiana, Eric (Sherry) Penrod of Archbold, Susan (Greg) Stuckey of Fayette; grandchildren, Joshua Penrod, Collin Penrod, Tristan Penrod, Austin Penrod, Tim Kerr, Todd Kerr, Tom Kerr, Chad Penrod, Kyle Penrod, Cody Stuckey, Jason Stuckey; and 14 great-grandchildren. She is also survived by two sisters, Donna (Willie) Buehrer, Barb (Ward) Stuckey; brother, Bill (Carol) Ruffer; and two sisters-in-law, Joan Ruffer and Norma Ruffer.
She also leaves behind her beloved cat, "Bandit". She was preceded in death by her first husband, Donald; both parents; and two brothers, Dick Ruffer and Kent Ruffer.
Visitation for Mary Lou will be held from 2:00 P.M. until 6:00 P.M. on Monday, November 4, 2019, at St. John's Christian Church in Archbold. Funeral services will be held at 11:00 A.M. Tuesday, also at the church, with Pastor Erich Christman, officiating. The family requests that memorial contributions be given to the Alzheimer's Association or St. John's Christian Church.
Online condolences may be offered to the family at www.grisierfh.com. Grisier Funeral Home in Stryker has been entrusted with arrangements.
---