---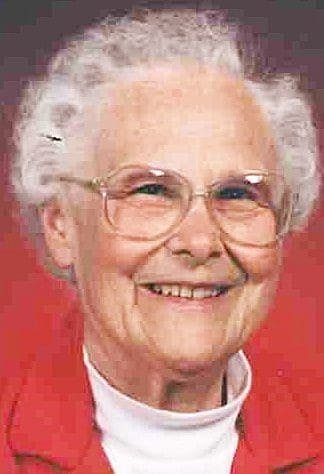 Mary Elizabeth Rosebrock, 89, of Sherwood, Ohio passed away surrounded by her family on Monday, February 27, 2023, at Glenn Park of Defiance Senior Living.
Mary was born June 12, 1933, in Defiance County, Ohio, daughter of the late Adrian and Marie (Sohn) Dickey. She was a 1951 graduate of Sherwood High School.
She married Edgar W. Rosebrock on November 10, 1951, and he preceded her in death on March 6, 2011.
Mary was a loving farmer's wife, mother, and grandmother always taking care of her family and supporting them in their activities.
She was a hard worker and a true partner in farming with her husband, Edgar. Mary was an active member of St. John Lutheran Church, Sherwood, Ohio where she was a member of the quilting club.
In her free time, Mary enjoyed sewing, crocheting, reading and vegetable gardening. Above all, she enjoyed hosting her family and spending time with her grandchildren and great-grandchildren.
Surviving are her three children, David (Lu Ann) Rosebrock of Sherwood, Ohio, Sharon (Alex) Renollet of Sherwood, Ohio, and Mark (Sandy) Rosebrock of Defiance, Ohio; 9 grandchildren, Amanda (Ed) Salinas, Adria Rosebrock, Adam (Danielle) Renollet, Nicholas (Danielle) Renollet, Nathan Renollet, Eric (Somer) Renollet, Rachel (Clint) Smith, Tyler Rosebrock, and Sarah Rosebrock; 10 great-grandchildren, Julian Salinas, Garret Salinas, Anthony Renollet, Rosalie Renollet, Koltyn Renollet, Isaac Renollet, Lacey Renollet, Micah Renollet, Klayra Renollet, and Elsie Renollet; brother, Ernest (Ginny) Dickey.
Mary was preceded in death by her parents; husband, Edgar; infant son, Edwin Dean Rosebrock; sister, Thelma Nearing; brother, Lee Dickey.
Visitation for Mary will be held Thursday, March 2, 2023 from 10:00-12:00 noon at St. John Lutheran Church, 9088 Openlander Road, Sherwood, Ohio. Funeral services will begin at 12:00 noon in the church with Pastor Eric Moquin officiating. Interment will follow in the church cemetery. Services are in care of Oberlin-Turnbull Funeral Home, 203 E. Elm Street, Sherwood, Ohio 43556.
The family requests memorial contributions be made to St. John Lutheran Church.
Condolences and memories may be shared with the family at www.oberlinturnbull.com
---