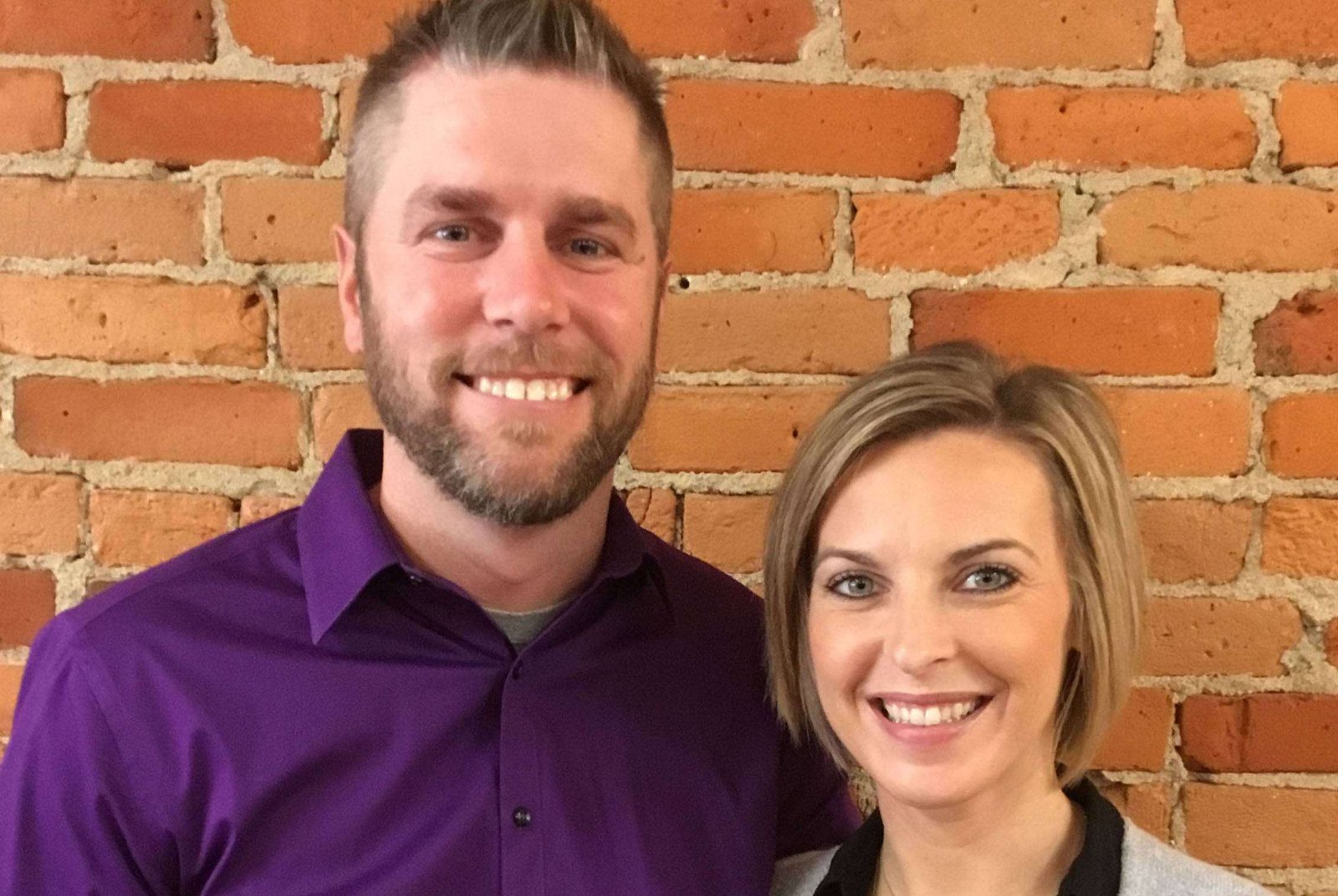 ---
By: Rebecca Miller
Chasity Yoder, Executive Director of United Way of Williams County, is very happy to have the public meet this year's Campaign Chairs, husband and wife team Zeb and Stacy Lillard.
The Lillards were presented to the UWWC board members as a possibility by Jeff Erb, who is a co-worker with Zeb, at Saneholtz McKarns. Lillard is the Operations Manager for all the stores that the company owns. Stacy works as a realtor with Frey and Sons in Archbold and they make their home in Montpelier.
When they were invited to take the position in the Spring of 2019, they had a question and answer time with Yoder and Executive Assistant Jamie Vonalt, and learned what would be expected of them were they to accept the position. "We slept on it and discussed whether we could do it and agreed that it does fit in with our job and home schedule," Zeb explained in an interview. "They had explained to us about the events and other opportunities in which we can be involved and we participate as often as it is possible."
Stacy had chosen to be a contributor through payroll deduction when she worked at Spangler Candy from 2008-2017. That was her introduction to United Way, and she shared that now she has a much greater understanding than what she had then. "I didn't understand the scope of all that United Way does," she said, adding, "I had a very different perspective and now that we are involved as the Campaign Chairs, I have come to realize how much they do and how many people's needs they meet. We are getting quite an education as we do this."
Before being asked to be Campaign Chairs, they had attended a few United Way events, so were slightly aware of some of the opportunities they would have. Since stepping into this position, they now know that United Way of Williams County helps fund nearly forty different programs and that around 36,000 people in Williams County are touched by at least one of these programs. Zeb stated that he is pleased with the efficiency of how they use the money and how they get so much done with just the two paid employees and all the volunteers. "The money is going to the people it's raised for and it is staying in the county," he added.
The Lillard's shared a long list of programs and ministries that receive funding from the money collected by The United Way, including: Disaster Services – American Red Cross of Western Ohio, Membership Scholarship Program – Williams County Family YMCA, Counseling – The Center for Child and Family Advocacy, Bridging the Need with Financial Support – Cancer Assistance of Williams County, Clubhouse – Maumee Valley Guidance Center, Summer Food Service Program – NOCAC, VORP Victim Offender Reconciliation Program – Shalom Ministries Inc., Volunteer Guardian Program – Williams County Senior Center Support Fund, Hospice – Community Health Professionals, Western Region Counseling Services – Lutheran Social Services of Northwestern Ohio, Future Williams County Community Gardens – Williams County Community Gardening Association, Patient Services Program – Kidney Foundation of Northwest Ohio, Let Me Play Fund – United Way of Williams County, Mental Health First Aid – Maumee Valley Guidance Center, Earn While You Learn – CPC Women's Health Resource, Girl Scout Leadership Experience – Girl Scouts of Western Ohio, Scouting: Youth Development – Black Swamp Area Council, Boy Scouts of America, Car Seat Program – Williams County Health Department, Information & Referral – A Renewed Mind, Northwest Ohio CASA, Outreach Program – Never Let Go Ministries, School Programming – Project Respect, Hidden in Plain Sight – ECHO, Substance Abuse Prevention Campaign – ECHO, Dolly Parton's Imagination Library – United Way of Williams County , House of Ruth Domestic Violence Shelter – The Center for Child and Family Advocacy, Financial Empowerment Program – NOCAC, Food Pantry – Helping Hands Ministries, Food Pantry – Open Hands, Caring Hearts, Bed Brigade, Utilities – H.E.L.P., Rapid Re-Housing Assistance – Sarah's Friends, Shoes and Socks – Just for Kickz, Legal Assistance to Low-Income Williams County Residents – Legal Aid of Western Ohio, Inc., and We Care Cabinet – United Way of Williams County.
They also put on events throughout the year to raise money for internal programs, bring awareness, and to bring the community together.
There is an annual 5K & Kids Fun Run that is held in August at the Williams County Fairgrounds which benefits the Let me Play Fund. The Let Me Play Fund helps with expenses for extra curricular activities like sports fees, equipment and even nonathletic activities like 4-H, bands and others.
Local Radio stations WBNO/WQCT host a Day of Giving Radio-a-thon with DJ's Andy Brigle on 100.9 and Jim Funderberg on 96.5 that will take place this year November 21st from 6AM-6PM. January is when they hold their Annual Trivia Night at Quality Inn in Holiday City. This is always sure to be a great night of fun! All of the proceeds from this event support the We Care Cabinet, a program that provides personal care items to food pantries all throughout Williams County.
"We are really looking forward to an event in March 2020," Stacy said. "They are planning their First Annual Boots & Bowties for Books event. This event will help us raise money for the Dolly Parton Imagination Library. The event will be held at the Williams County Veterans Memorial Building in Montpelier.
Whether your style is a refined black tie and a long gown, sporting your favorite Dolly Parton costume, or a bolo tie with shined-up boots and a hat, we'll welcome you and your partner for a great night of dinner, dancing, a local favorite -Joe Vasquez Band, silent auction times, and of course lots of fun supporting a great cause! "Through this program a parent or grandparent who lives in Williams County can sign up their child or grandchild right on the UWWC website at unitedwaywc.org and they will send a book a month until the child's fifth birthday."
Zeb added that this program the largest funded program, but UWWC is also ranked 5th highest in the state for eligible children enrolled, with 49% of eligible children currently enrolled. "We are pretty proud of that!" Yoder added.
Zeb and Stacy also have gotten opportunities to speak at different events including the 2019 Kickoff at the Williams County Fair in September, right before the High School Band Show. Zeb is in Montpelier Rotary and invited both Yoder and Vonalt to speak to the group. Another presentation he got to be a part of was when we presented to the Montpelier Middle and High School teachers to talk about United Way and the impact that they have in the community.
Montpelier Schools will be offering their employees the opportunity to support United Way of Williams County though Payroll Deduction which is the easiest way to give. The goal is to share this with as many groups, organizations, and employers as we can in the county.
Individuals can also support United Way of Williams County by going to their website at unitedwaywc.org and signing up there. The Lillard's agree that it is important for everyone to do something and not let life be "all about me." Mr. Lillard shared from his heart, "There are so many great causes out there worthy of our hard-earned money, but when supporting United Way of Williams County, you know the money is staying right here in Williams County, supporting programs, and positively impacting so many lives right here in our community. "
"It is an honor for us to be able to do this. We are grateful to have the opportunity and grateful to all who support United Way of Williams County in whatever way that they do."
Rebecca can be reached at publisher@thevillagereporter.com
---