1ST GRADE … (left to right)— Maci Gibbs, Fay'Lona Johnson, Corbyn Muehlfeld, Keaton Saneholtz, Cheylene Bolenbaugh, Zyi York, Michael Prasser, Everleigh Swan.
---
Montpelier Elementary School held its monthly Little Loco Leaders assembly for the month of December on December 18, 2020. The word of the month was "Perseverance," and specific students were recognized by their teachers for always trying their best, and not giving up even when things are hard.
Students made a snowman for the hallway and wrote about a time that they had to show perseverance.
Students were also given the opportunity to drop their name in a bucket for being a "Loco Leader" to have a chance to be drawn out randomly at the assembly as well. The students were given prizes donated by Bill's Locker Room III, Kommon Kravings, Subway, Saneholtz-McKarns, Ring's Pharmacy and Montpelier Academic Boosters.
Third grade through sixth grade students are also recognized for their positive actions related to the word of the month. These students are given a ticket as a "Loco Leader" every time they are recognized by a staff member at the school.
At the end of each month, one student from each classroom is drawn and they are given a prize that is donated to the school by Subway, Kommon Kravings, Saneholtz-McKarns and the Montpelier Academic Boosters."
2ND GRADE … (left to right)— Keagan Smith, Cannon Carroll, Jameson Frank, Harrison Rose, Michael McDonald, Lolabelle Brown, Brody Vanderpool.
3RD-6TH GRADE MONTHLY PRIZE WINNERS … Front Row (left to right) – Toby Champion, Addison Witte, Trevor Powers, Alea Hutchins, Weston Brown, Libbey Bishop. Back Row (left to right) – Jaden Cape, Drake Farley, Olivia Thompson, Lillian Mahan, Ethan Moor, Libby Bishop.
KINDERGARTEN … (left to right)— Elli Reliford, Noah Cromie, Dha'mii Foster, Braelyn Harter, Annaleise Sickel, Parker Smith.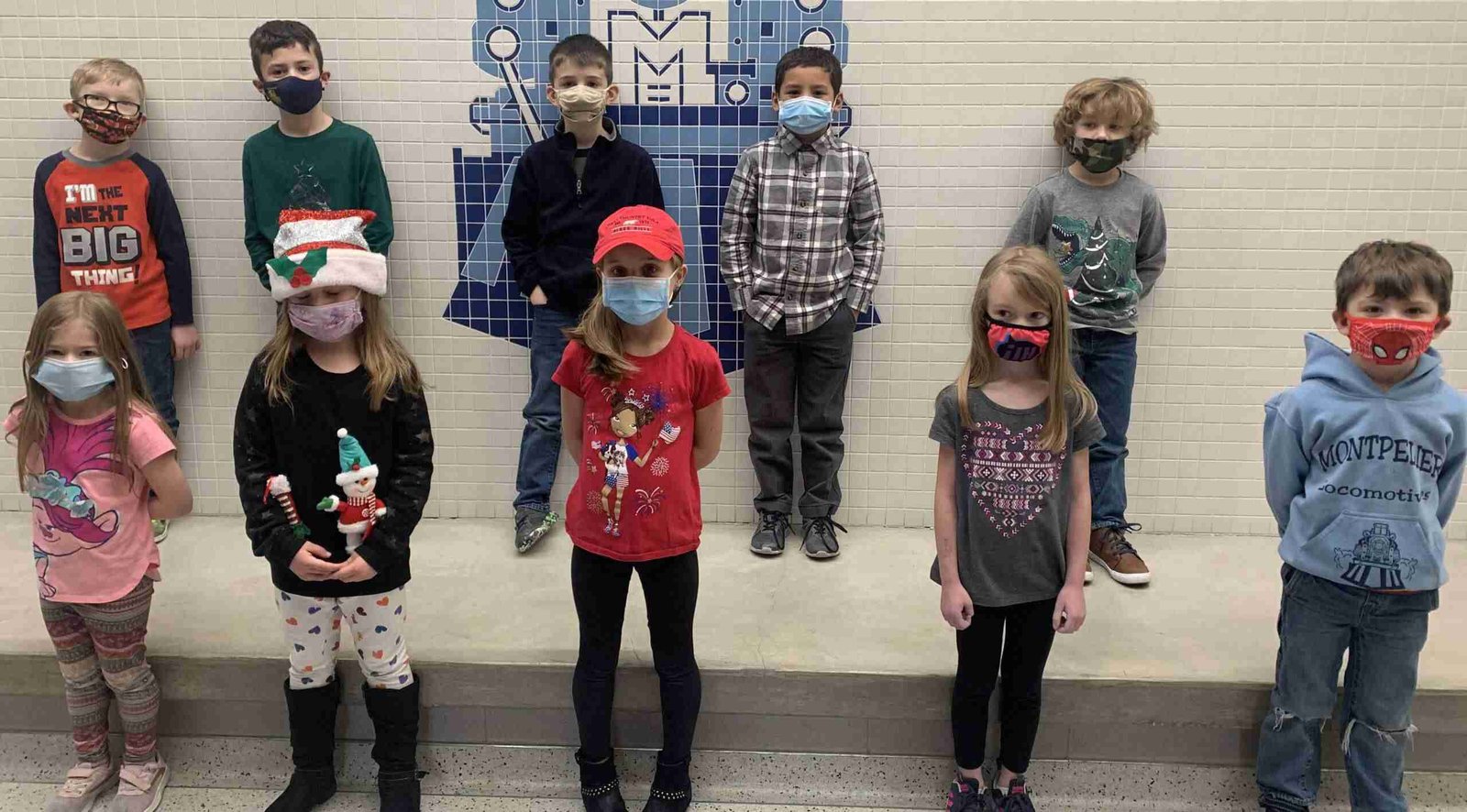 K-2 BUCKET FILLERS … Front Row (left to right)— Hailey Cavazos, Elsa Gearig, Cheylene Bolenbaugh, Alexandria Esterline, Alex Wells. Back Row (left to right)— Hayden Hildenbrandt, Jax Brancheau, Sawyer Rosendaul, Maliek Haynes, Rhett Hutchison.
---