---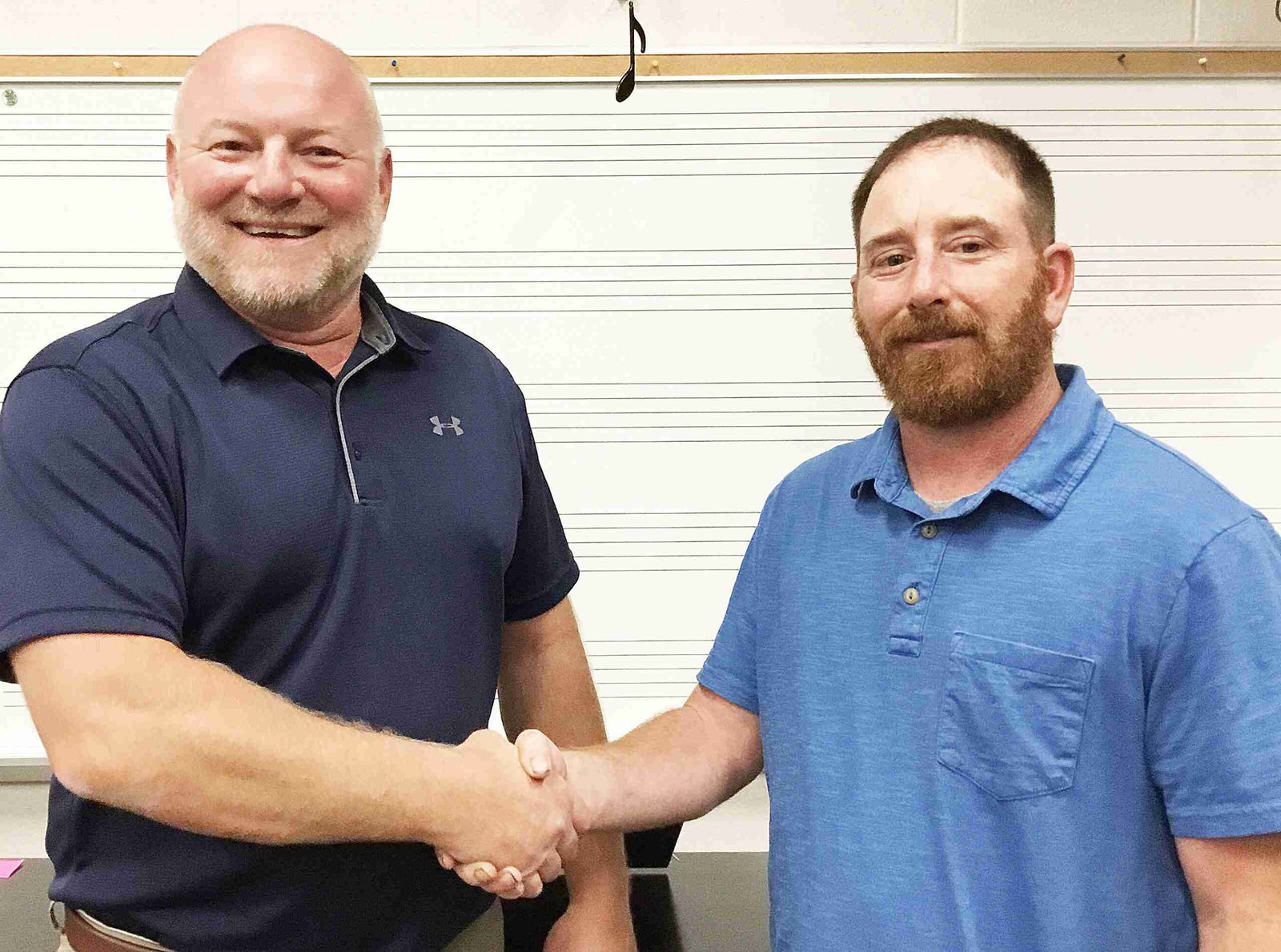 WELCOME ABOARD … Montpelier Board of Education President Nathan Rose officially welcomed the new Transportation Supervisor, Nathan Siegel, to the staff at Montpelier Schools, following the June 28, 2022 school board meeting. (PHOTO BY REBECCA MILLER, STAFF)
---
By: Rebecca Miller
In her Legislative Report to Montpelier Board of Education at the June 28, 2022 meeting, Board Member Patti Rockey asked Superintendent Jamie Grime to explain House Bill 99.
This bill will go into effect on September 12, 2022 and re-allows school boards to control which staff members, if any, will have conceal/carry weapons.
House Bill 140 will go into effect on September 13, 2022, and is the "Ballot uniformity and transparency act for putting levies on the ballot." Senate Bill 347 establishes the SERS contribution act, putting on a base cap.
In the Treasurer's Report, Carla Rice informed the Board that the school ended the school year in the positive with the total carry over net of 7.2 million, which was a million higher than the forecast. June 30th is the "closing the books day" for the fiscal year.
In other business the board approved:
-Motion to waive the reading of the minutes and approve them for Regular meeting on May 17, 2022 and Special meeting of June 21, 2022
-Financial Reports for May 2022
-Donations: from Montpelier Civic League – $600 with $400 to HS PBIS and $200 to AR Program; from Athletic Boosters $2000 to Volleyball; from John Dwyer Scholarship $942.52 to Scholarship Fund – Jack Fifer; and from Rotary Club $500 to Archery Club.
-Fund to fund transfer in the amount of $1,057.48 from Dwyer Scholarship Fund-VanTong FY 18 to Dwyer Fund – Fifer FY22
-Establish Golf Simulator Fund for the purpose of maintenance on the golf simulator. The initial funding of $500 will be transferred from the Jason Saneholtz Memorial Scholarship fund
-Fund to Fund transfer from the Jason Saneholtz Scholarship Fund to the Bolf Simulator Fund in the amount of $500
-Amended certificate and appropriation changes
-Return of an advance approved by board resolution #71-21 to General Fund from the Cafeteria Fund in the amount of $50,000. (Cafeteria Fund had healthy balance, still has $65,00, and should get through the summer fine.)
Board member Shawn Owen asked if the Federal Government will continue to pay for meals for ALL students. The answer given by Carla Rice was that at this time, the government is saying they will no longer be doing that.
Students can still apply for Free and Reduced lunches as they could before that program began during covid. She indicated that they will wait and see what happens, but at this time they have been informed It is ending.
-Temporary appropriations for FY2023 in the total amount of $16,849,916.11 for all funds for next school year.
-Certificated Staff:
-Accept resignation of Bailey Gerken, Kindergarten teacher, at the end of 21-22 year
-Approve Amanda Barnes as a Kindergarten teacher for 22-23
-Accept resignation of Jessica Nofziger, second grade teacher, at end of 21-22
-Approve certificated supplemental contracts for 21-22 and 22-23 – Steven Brancheau Assistant Football, Anthony Coleman Assistant Football, E. Bess Cooley Assistant Volleyball, Brandon Shoup Head Boys Golf, Jason Hohnston JH Golf, David Apple Head Boys/Girls CC, Kaley Thorp JH CC, Michael Bumb Head Girls BB, Andrew Robinson Head Softball
-Approve Kaitlin Brancheau, E. Bess Cooley and Stephanie Friend for the E3 Program at $21 per hour up to 15 hours per year for 21-22 and 22-23 school years
-Approve Jill Altaffer, Kaylee Fortney, Noell Chester, Jimmie Phillips, Katie Thiel, Kendra Michaelis for Crisis Prevention Intervention at $21 per hour for 22-23
-Employment of Classified Staff:
-Approve changes to the 22-23 administrative salary schedule that was originally approved at the June 22, 2021 regular board meeting (resolution #60-21) The salary changes are as follows: Maintenance Supervisor $61,000, Cafeteria Supervisor $32,000, and School Social Worker $61,000
-Approve Krista Adams as school nurse at $26.50 per hour, 190 days at 8 hours per day for 22-23
-Employ Nathan Siegel as the Transportation Supervisor, effective August 1, 2022 for a three-year period to end July 31, 2025, at a beginning salary of $60,000, with 260 work days, and 20 days of vacation.
He will be paid his hourly rate of $28.85 for any hours worked prior to August 1, 2022, starting July 11, 2022. (Superintendent Grime and the Board all welcomed Siegel personally as he had chosen to attend the meeting in person.)
-Accept the resignation of Kara Custar, paraprofessional, effective June 21, 2022
-Approve the resignation of Troy Roth, lunch room monitor at the end of 21-22
-Add Kelly Briner, Sara Luke, and Chasity Schmitt to the substitute aide list and Kelly Briner to the substitute cafeteria list for 22-23
-Approve Paul Ledyard as Concession Manager for 22-23 at $4,500 to be paid out in three payments, plus mileage for getting supplies
-Pay Diann Sanders for hours worked past her contracted days at the current rate of $23.21 per hour, effective June 10, 2022 through August 12, 2022
-Approve Classified Supplemental Contracts for 22-23 – Troy Roth Assistant Football, Todd Friend Assistant Football, Matthew Meyer JH Football, Samuel Brubaker JH Volleyball, Kayla Briner 9th Volleyball, Rosalyn Reid Volleyball Volunteer, Barbara Figgins JH Volleyball, Matthew Dye Head Girls Golf, Kailee Mitchell Head Cheer Fall/Winter, Jaimie Mason JH Cheer Fall/Winter, Nickolas Ramos Head Boys Basketball, Troy Roth Head Wrestling, Toby Hutchison Head Baseball, Troy Roth Head Track and Field, Kaitlin Harter Archery, and Amy Riggenbach Archery
-Approve CPI training at regular hourly rate for. Denise Thorp, Jan Roth, Cathy Bowman, Phyllis Johnson, Kandy Houk, Brooke Funk, Gloria Reader, Amy Riggenback, Bailey Yahraus, Wendy Chamberlain, Matthew Meyer, Kaitlyn Tingle and Kristyl Fleurkens
-Purchases and Service Contracts:
-Services agreement with Kent State University to provide speech services for 22-23 at cost of $73,230.81 (Board member Patti Rockey questioned possibility of getting someone in person or sharing with another district.
Superintendent Grime said that if they want to do that, they can look into it, but Telehealth has been accomplishing this requirement quite well so far and in the past they have not been able to find anyone with that degree who is willing to come live and work in a small community.)
-Technical Services Agreement with NBEC to provide technical services through NWOCA effective July 1, 2022 to June 30, 2023
-Fiscal Year 2023 NWOCA membership fees at a total cost of $37,873.06
-Accept the bid for milk from Sellers Dairy Company to provide milk for the 22-23 school year with Sellers being the only bid received.
-Accept the bid for waste removal services from Republic Services for FY23 with that being the only bid received
-Memorandum of understanding with the Village of Montpelier for Juvenile Resource Officer services for 22-23 in amount of $50,625
In other business the Board voted to approve Jeremy Clinger be appointed to the Four County Board beginning May 18, 2022 and ending December 31, 2025, replacing Nathan Rose.
Also approved was a recommendation for cell phone/uniform stipends for 22-23 to be set at $35 per month cell phone stipend for Superintendent, Treasurer, Athletic Director, Maintenance Director, Custodian 1, Transportation Supervisor and Bus Mechanic.
It will be set at $20 per month cell phone stipend for HS Principal, Elementary Principal, HS Assistant Principal, Technology Director, Curriculum Director and School Social Worker. $400 per year uniform stipend is set for Maintenance Director, Bus Mechanic, School Nurse, Transportation Supervisor, Custodian 1 and Custodian 2.
The Board adopted a resolution seeking a waiver from the Ohio Department of Education requirements to implement a Career-Technical Expansion program for students enrolled in grades seven and eight, for the 22-23 school year.
School Lunch prices were approved for the 22-23 school year with Grades K-8 at $2.75, Grades 9-12 at $3.00, Adult at $3.75 and extra milk will be $.50. Student Breakfast will be $1.50 and adult breakfast will be $2.00.
At this point in the meeting, the Board went into Executive Session for "appointment, dismissal, discipline, promotion, demotion or compensation of an employee or the investigation of charges or complaint against an employee, official, licensee or student" and "considering confidential information related to the marketing plans, specific business strategy, production techniques, trade secrets, or personal financial statements of an applicant for economic development assistance, or to negotiations with other political subdivisions respecting requests for economic development assistance."
There was no action taken and the meeting adjourned.
Rebecca can be reached at rebecca@thevillagereporter.com
---