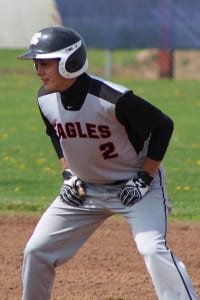 By: Spencer Durham
THE VILLAGE REPORTER
"Humble", "hardworking", "positive."
Ask anyone who knows Josh Sawyer and they will probably use at least one of those words to describe the North Central graduate.
Sawyer is coming off a senior year which saw him blossom into not only the starting shortstop, after bouncing around the diamond his first three years, but also the staff ace.
In Josh's four years of high school he was very involved with not only athletics but other clubs as well. Sawyer participated in FFA, SOAR, band, student council and was a part of the school's musical productions.
But it is on the baseball field where Sawyer truly excelled. Despite the tough season record wise, and a controversial ending in Sectional play, Josh put together a stellar senior year on the diamond as he led the Eagles in a number of offensive categories including batting average, hits, runs and stolen bases.
Sawyer played mostly shortstop this spring but in the past played just about anywhere, according to North Central Head Coach Eric Smeltzer.
Not knowing what position one might be playing when they come to the field can be a distraction for some players but Smeltzer said Josh took to it well over the course of his four years.
"No matter where we put him he went out and did well," said Smeltzer, adding, "He accepted his role, learned from his mistakes and became a leader."
Sawyer's batting average increased each season along with his overall abilities.
Saywer credits his improvement to, "Basically hard work," but added that a conscious effort each time he stepped into the cage helped as well.
In addition to leading the team at the plate, Sawyer was the team's best pitcher finishing with a record of 6-0 and an ERA of 2.83.
Coach Smeltzer admitted, "Josh doesn't even like to pitch but he did what we asked of him."
Sawyer's ability to play multiple positions and play them well is what made Josh a valuable part of the team added Smeltzer.
Sawyer said of his senior year, "Personally, I'm happy with how I played I just wish the season would've gone better."
Sawyer's accomplishments did not go unrecognized however, as he took home a number of team awards including Best Pitcher and Best Offensive Player. Sawyer was also named 1st team BBC and selected to the Five County All-Star Team.
Sawyer will also be participating in the Mizuno Senior All-Star Series later this month. The series will showcase the best 80 senior baseball players in the state and will played at Bill Davis Stadium, home of the Ohio State Buckeyes.
Sawyer was nominated for the event by Smeltzer.
Smeltzer said of his nomination, "It goes to show what happens when you give your best effort and work hard," and that he is excited for Josh, "It's a good opportunity and will give him a chance to face some better competition."
Josh admitted that he is nervous for the showcase but excited to face the state's best players.
What stands out even more than his abilities on a baseball diamond is Josh's makeup and personality off the field.
Sawyer is not the kind of person who is going to brag himself up or talk about his stats from last night's game.
"He doesn't let a win or a loss change his attitude," said his mother, Renee Burnett.
When asked what sets Josh apart she said, "He always gives 100%, always has a smile on his face and a positive attitude."
Josh said that when he's not playing baseball his favorite thing to do is fish.
Josh's mother said this is reflective of Josh's easy going nature.
"He's not out partying…He's got a good head on his shoulders"
Josh graduated in May with a 3.3 GPA and will attend Trine University in the fall. Josh plans to study business and sports management. After college Josh said he would like to work for professional a baseball or basketball organization.
Although Josh did not receive a formal offer to play baseball at Trine he says he plans to try out in the fall.
Josh baseball abilities, combined with his hardworking and positive attitude make it a safe bet that he will probably catch on, in one way or another, as a member of Trine's baseball team.
Spencer may be reached at
publisher@thevillagereporter.com